ZestMeet
Powerful organizers & speedy participants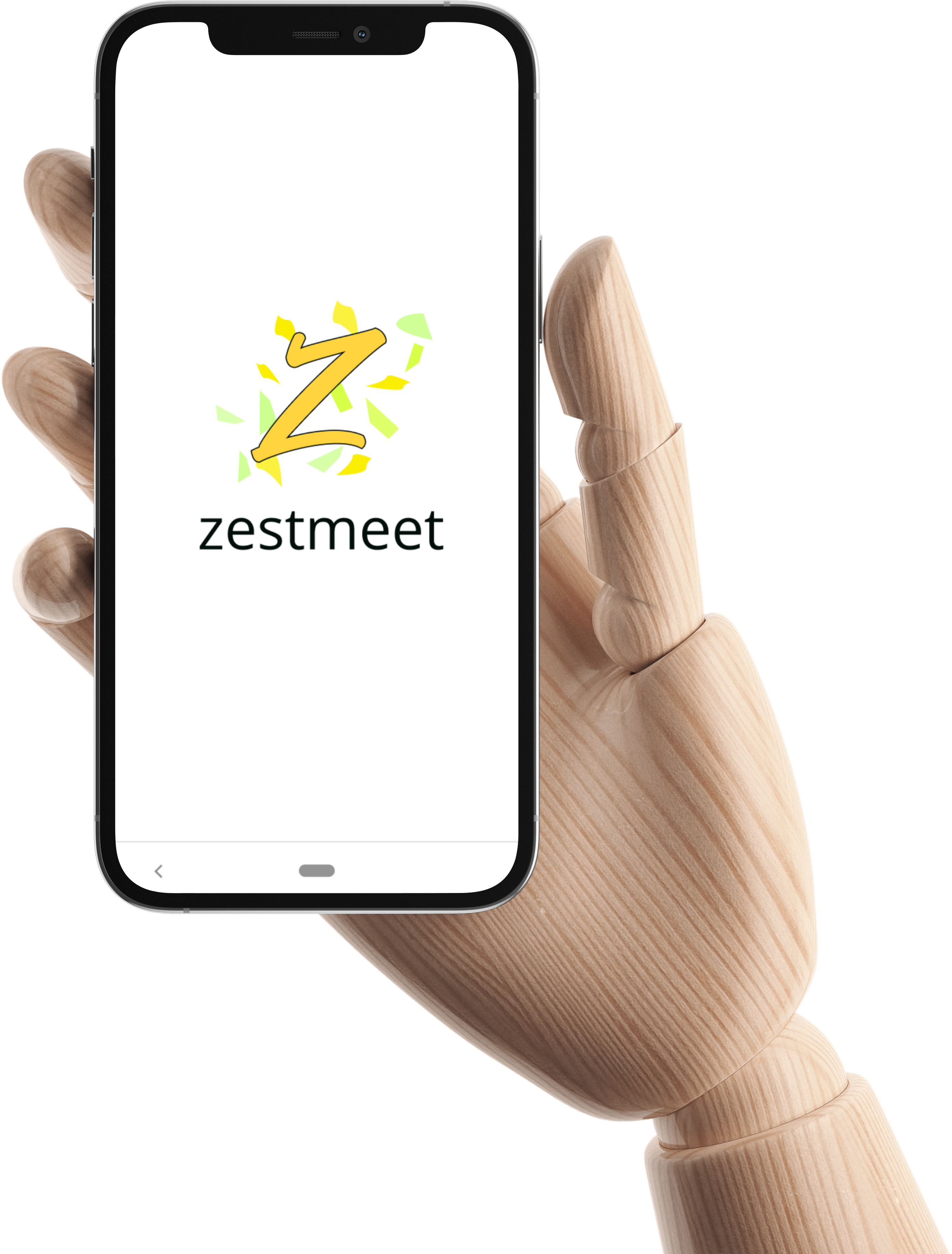 What's this all about?
🍋 About ZestMeet
ZestMeet is a web app that optimizes activity and meeting scheduling for organizers and participants. ZestMeet helps organizers efficiently poll for the most optimal times with powerful add-ons and third-party integrations. Organizers are also able to keep their participants in mind—ensuring participants can speedily respond to the poll and continue on with their lives.
📂 About this project
This case study was designed as part of the capstone project for BrainStation's UI/UX Bootcamp Diploma Program. The challenge was intended to challenge our skills as we navigated through the vast topics of UI and UX. From its inception, the project took approximately 10 weeks to complete.
🎩 Roles
UX Research

UI Design

Wireframing

Information Architecture

Prototyping

User Testing

Branding
🔧 Tools
Pen & Paper

InVision Boards & Prototype

Figma

Zeplin
Problem Space
Meetings for work and meetings with our friends & families have been making up much of our daily lives.
A source from Harvard Business Review identified that scheduling meetings face-to-face is 34 times more effective than digital ones. However, how many times have you committed to something in-person only to regrettably learn that your impulsive agreement led to scheduling conflicts or distasteful cancellations?
Furthermore, with the recent pandemic accelerating our digital lifestyle changes, surveys have shown that we are not only meeting more online but much more in general. With this kind of frequent meetings, it is definitely unreasonable to expect organizers to consistently schedule the best time for their meetings.
The challenge here was to identify a digital solution that reduces the friction in scheduling for both users organizing and users participating.
Objective
The challenge here was to identify a digital solution that reduces the friction in scheduling for both users organizing and users participating.
The aim is to make scheduling activities with others as easy as possible— addressing pain points in users organizing and participating.
A solution should allow users to initiate and partake in scheduled activity efficiently—reducing the friction and cognitive load when organizing and participating in scheduled activities.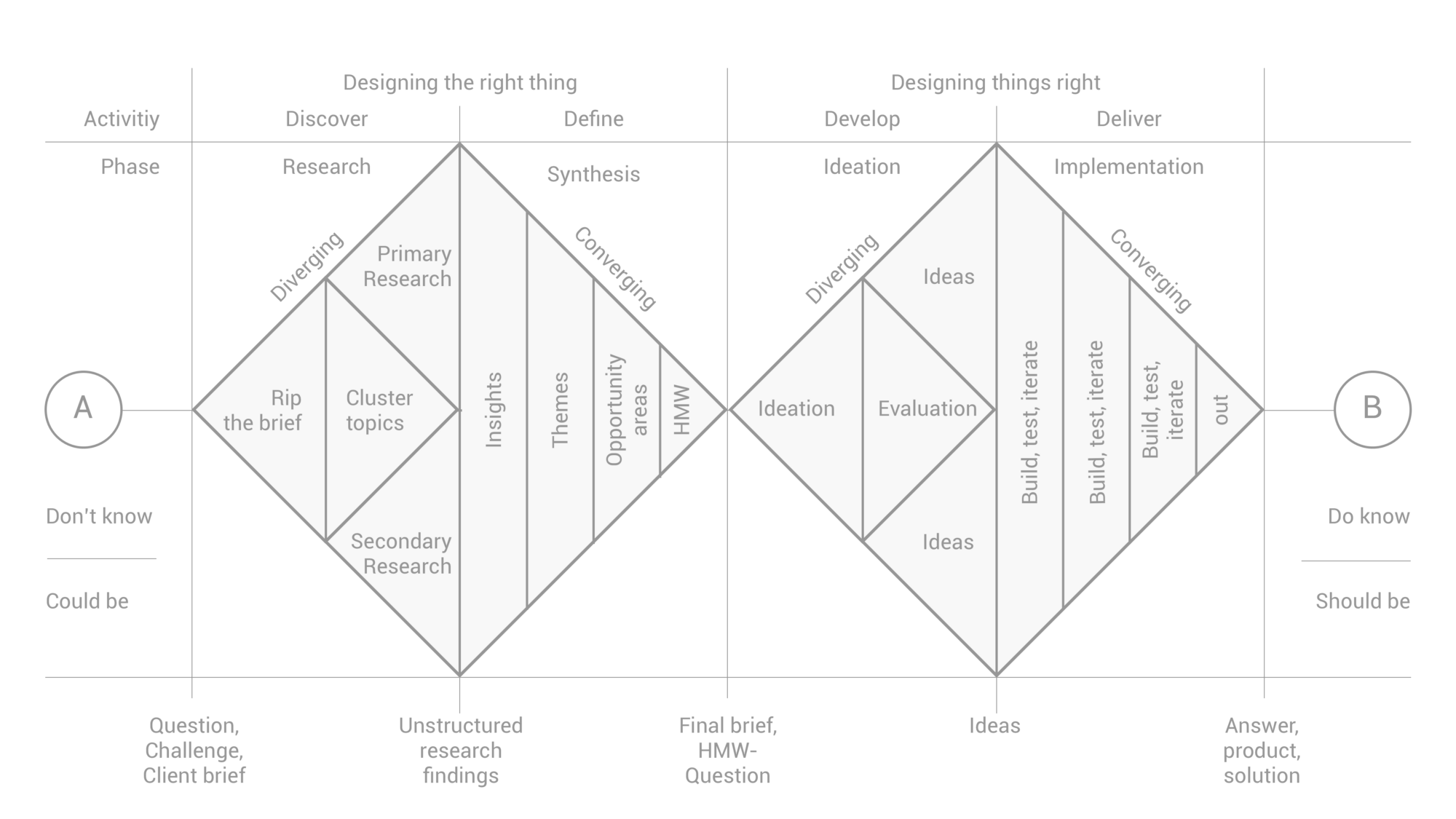 Methodology
Double Diamond
To tackle this challenge, I primarily employed Dan Nessler's revamped Double Diamond process. Nessler takes design thinking and human-centred design to a new level and lays it out into 4 clear phases separated by 2 stages—composing a diamond, each.
Doing the right thing
Discover / Research — insight into the problem (diverging)

Define / Synthesis — the area to focus upon (converging)
Doing things right
Develop / Ideation — potential solutions (diverging)

Deliver / Implementation — solutions that work (converging)
I chose to employ this methodology because of its structural flexibility and agility. This method allows me to diverge and explore the field, converge and narrow my scope, then explore once more when ideating for solutions before converging to the final solution.

What's out there?
Various digital calendars like Google Calendar and Apple Calendar allow users to manage their time and track their meetings. Calendly, Doodle, and When2meet are some popular digital solutions that go beyond the calendar by addressing group schedulings; they generally do so by allowing organizers to send participants a selection of available times to select from.
The solution should
note that users may already track their time in digital services like Google Calendar, Apple Calendar, and Notion

note that people already communicate using various platforms like in-person, emails, SMS, iMessage, WhatsApp, Facebook Messenger

be a supplementary tool that can lend itself to these existing platforms. To adhere to accessibility and efficiency, the solution may prefer to be a web application and mobile web application.
Hypothesis
I believe that designing a digital solution that reduces friction and cognitive load for general event schedulers and participants will improve their efficiency and enhance their satisfaction when securing an event.
I will know this is true when my research shows that people acknowledge that their scheduling process could be improved.
Assumptions
Organizers want to schedule their events ASAP

Organizers want the best for their participants

Organizers struggle to initiate because of the complication of scheduling

Participants want to schedule their events ASAP

Participants are frequently slow and unresponsive to digital scheduling

Existing digital solutions can be improved
Interviews
Doing the secondary research first gave me a better sense of how to approach my interviews. I was able to conduct effective interviews with organizers and participants at various degrees of activity—categorizing all of their content into summarized pain points, motivations, and behaviours.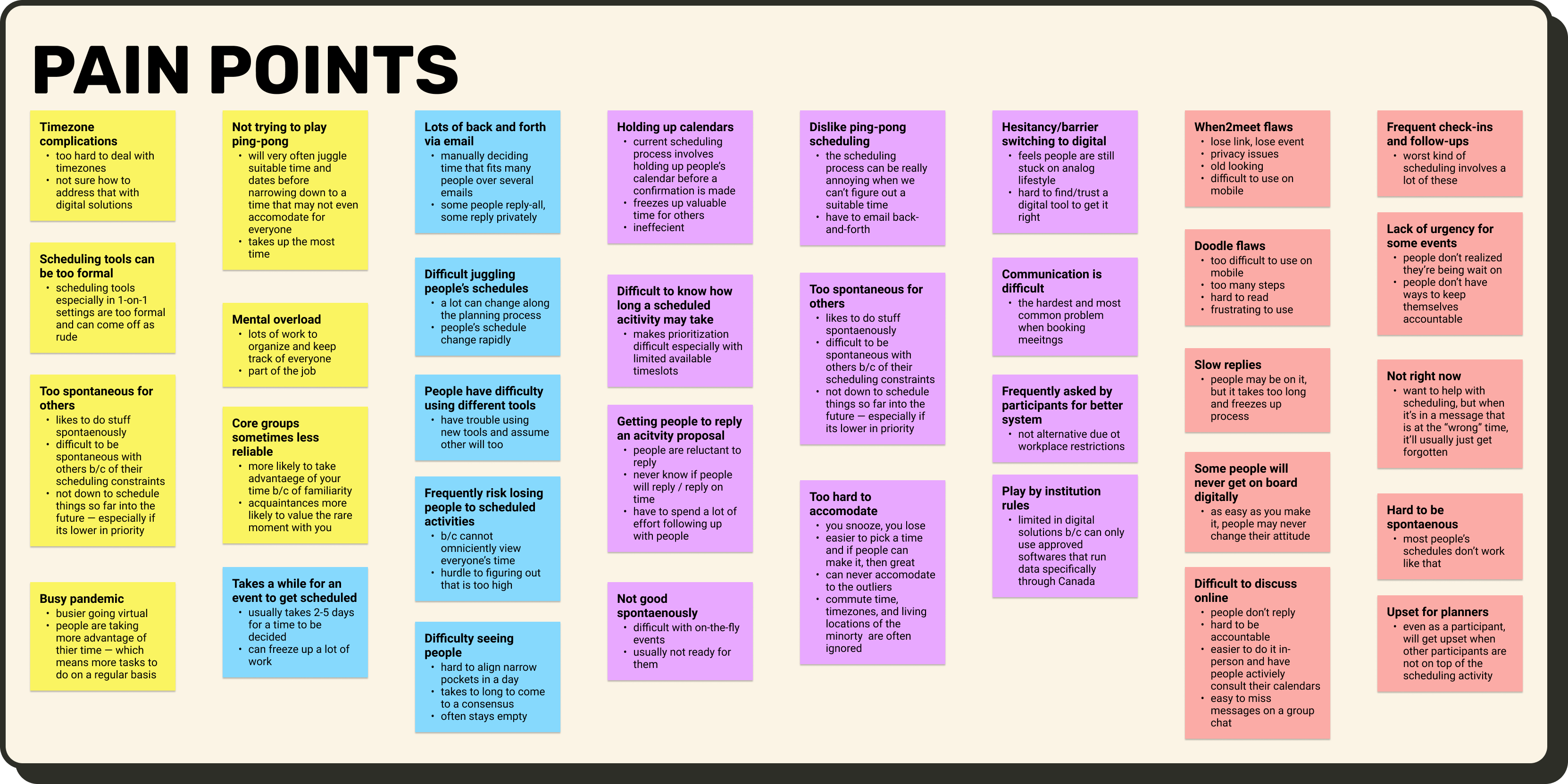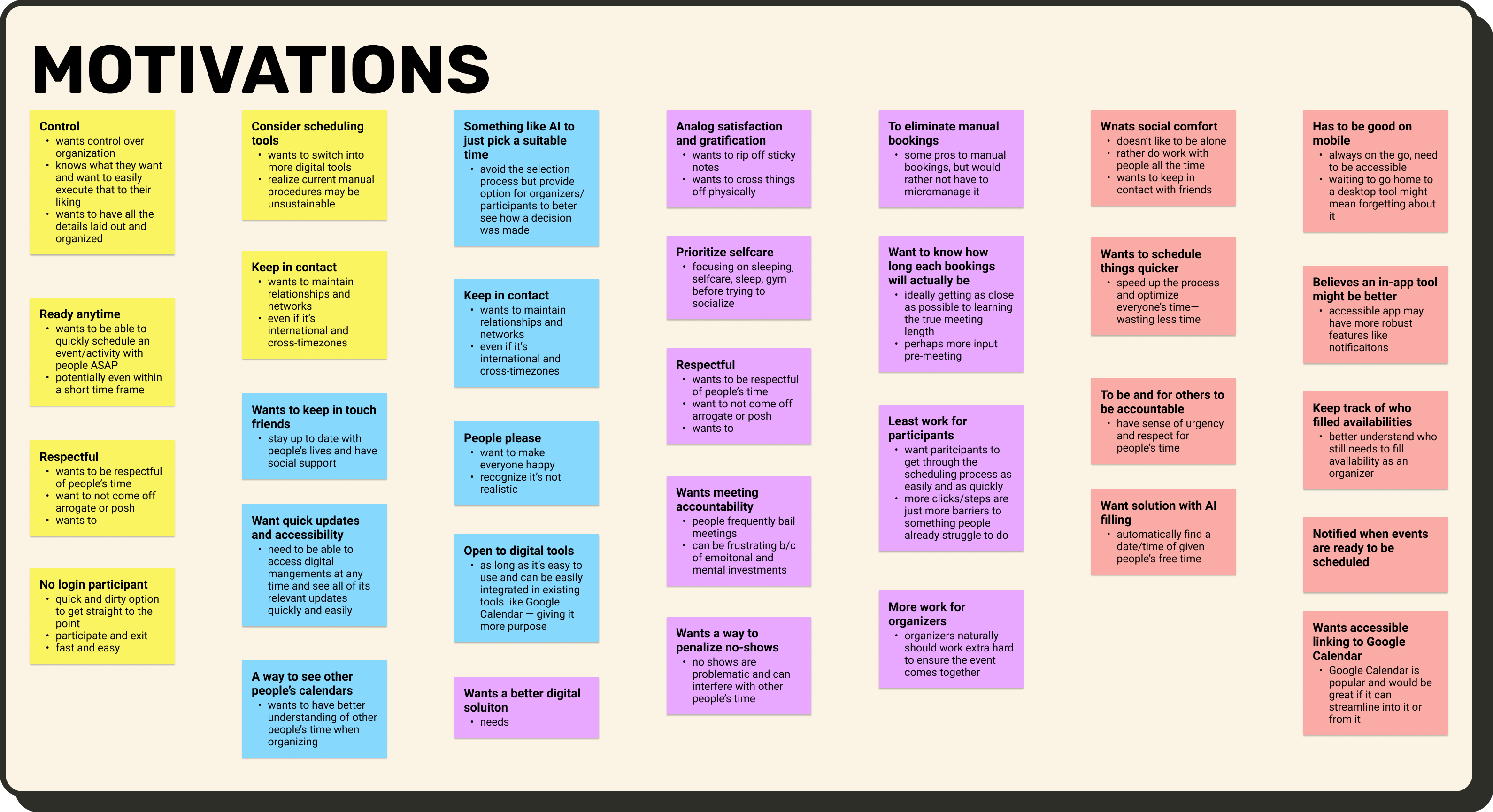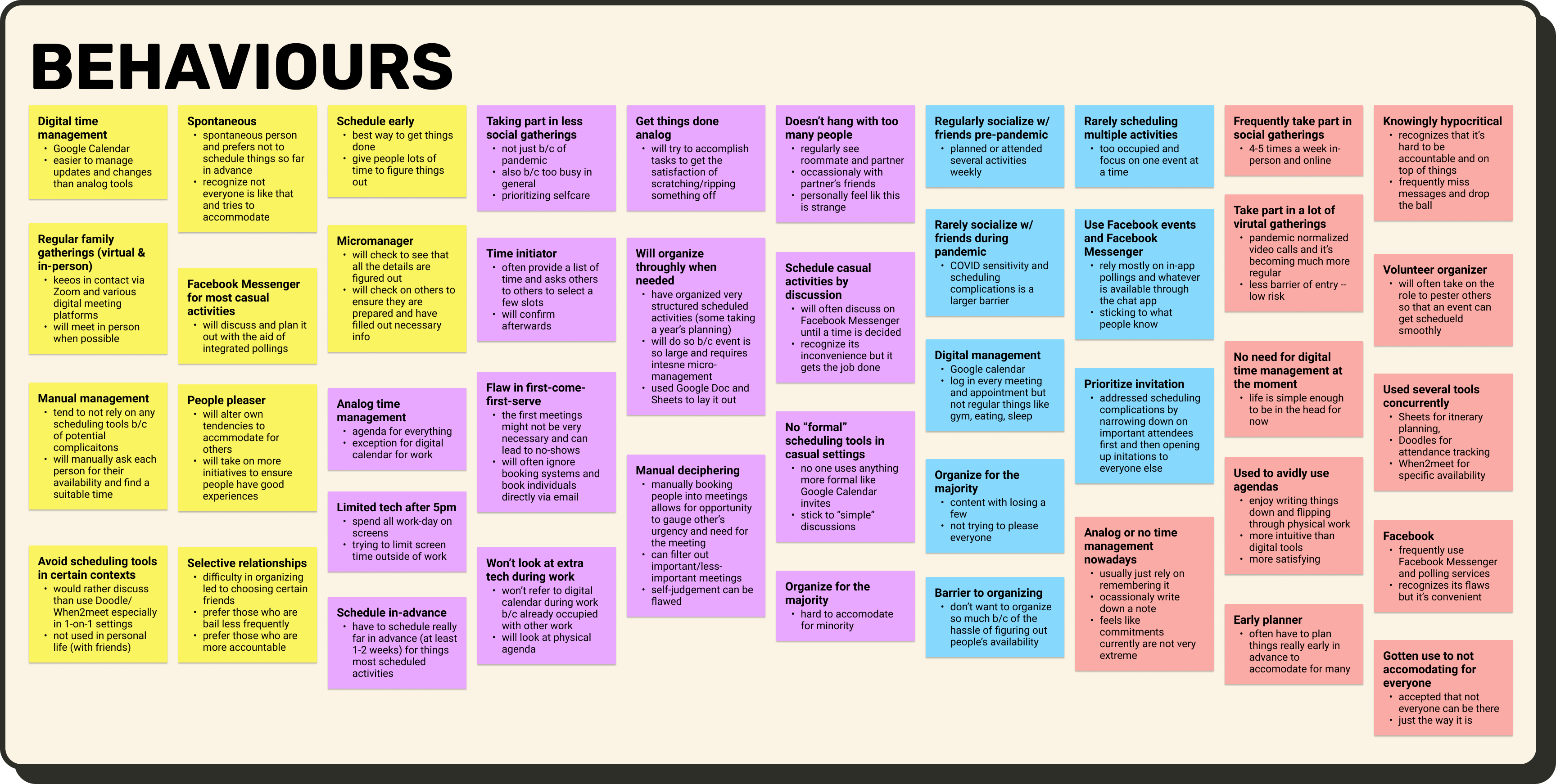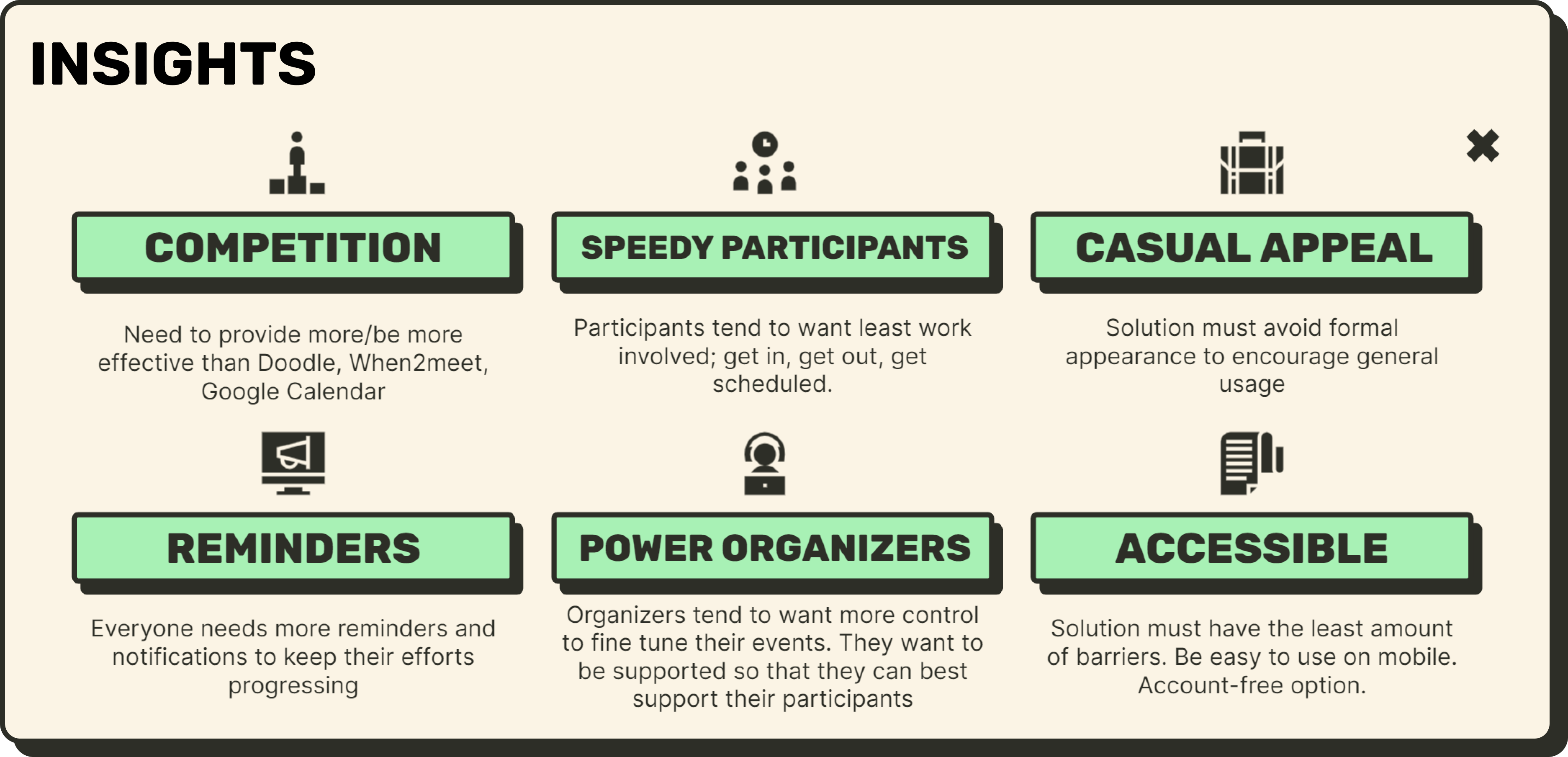 Converging
Moving into the define phase, it's time to consolidate what I've learned from my interviewees and secondary research.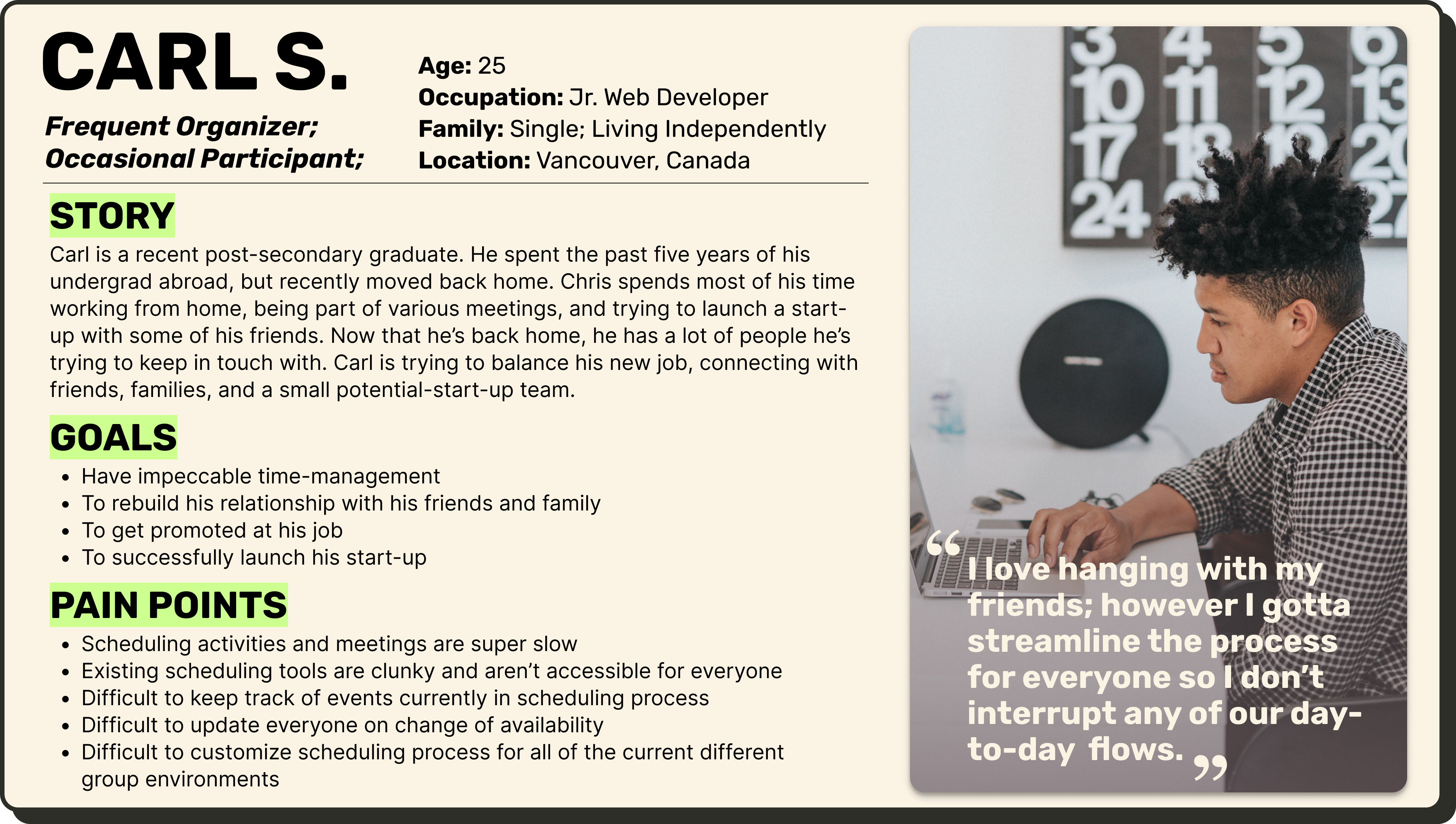 Persona
To get a better sense of who I am trying to design for, I introduced Carl, my primary persona, to this project.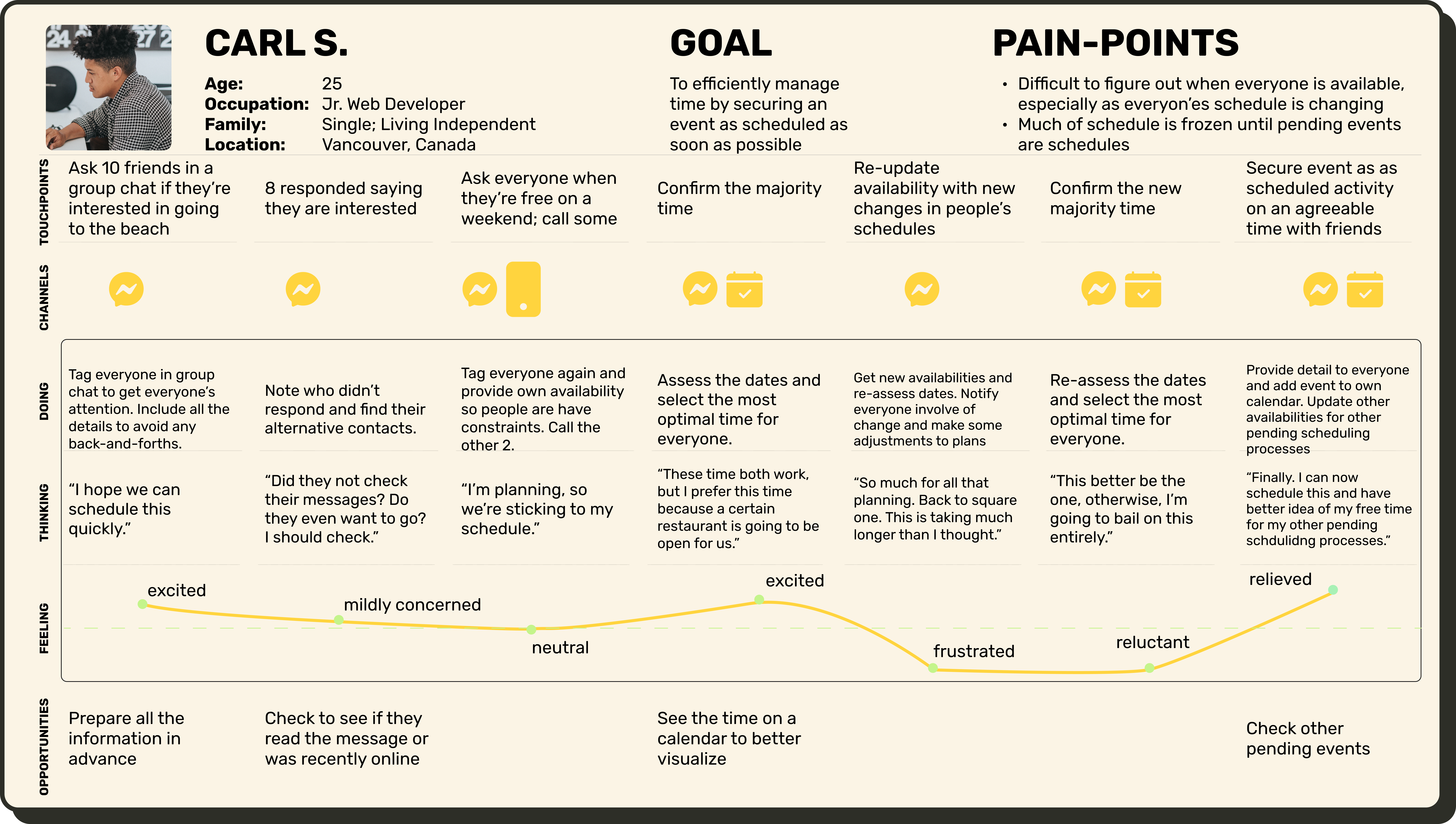 Experience Mapping
I really feel for Carl. I really love my friends, but there's a lot we need to keep doing to keep our lives progressing.
Let's see what Carl's general experience is like when it comes to scheduling activities.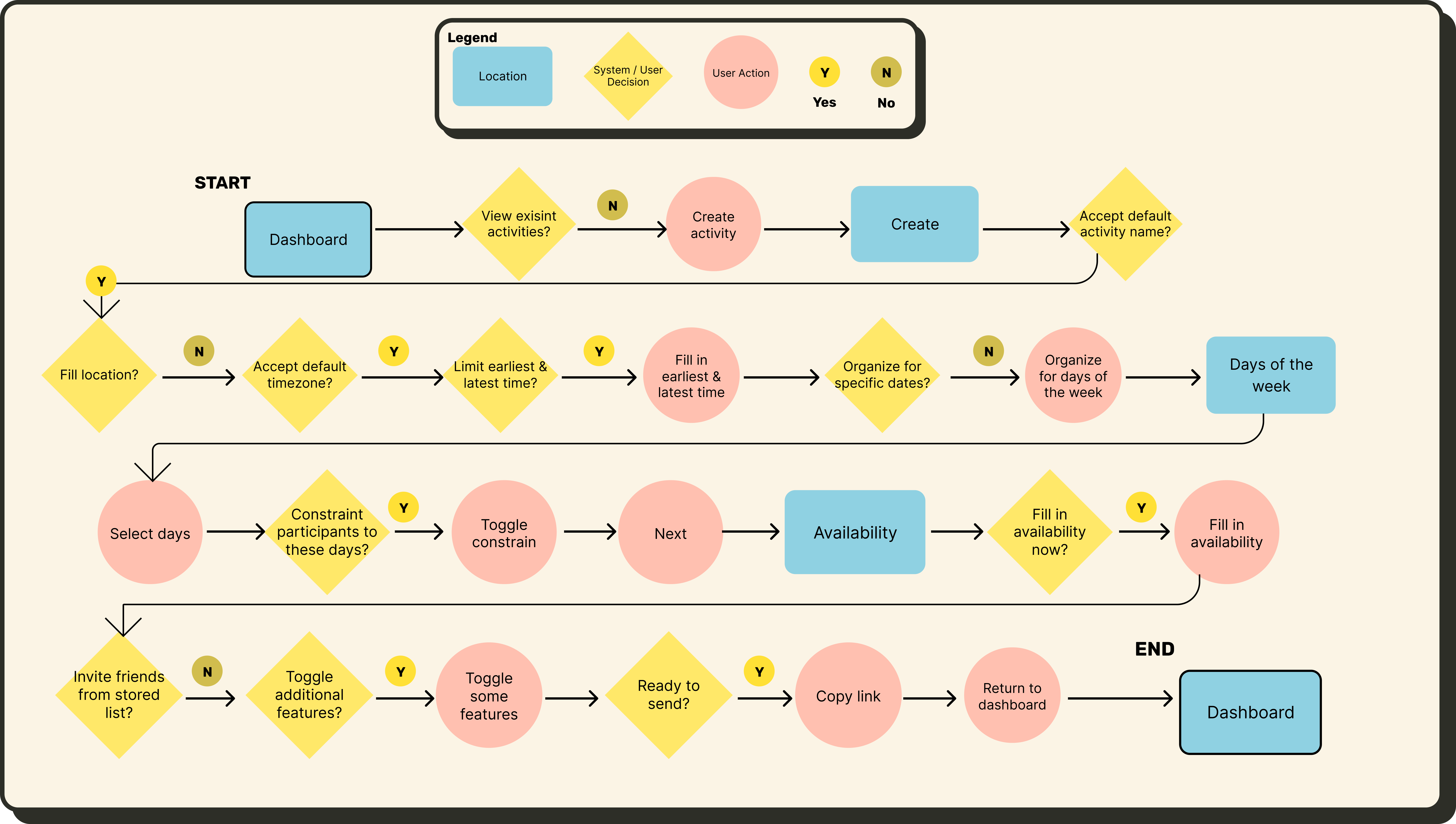 User Stories & Task Flow
Getting deeper into Carl's role as an organizer and participant, I authored dozens of user stories. User stories took the perspective of either an organizer or participant. For each, they accentuate a certain task for the user and how that helps achieve a certain goal.
After accessing all of the user stories, I was able to divide up the user stories into several categories. Ultimately, I was able to narrow to a specific area of focus—scheduling optimization.
This area of focus helped bring about this task flow. The task flow is meant to achieve the minimum viable product (MVP) of this application—allowing a frequent organizer like Carl to optimize their scheduling.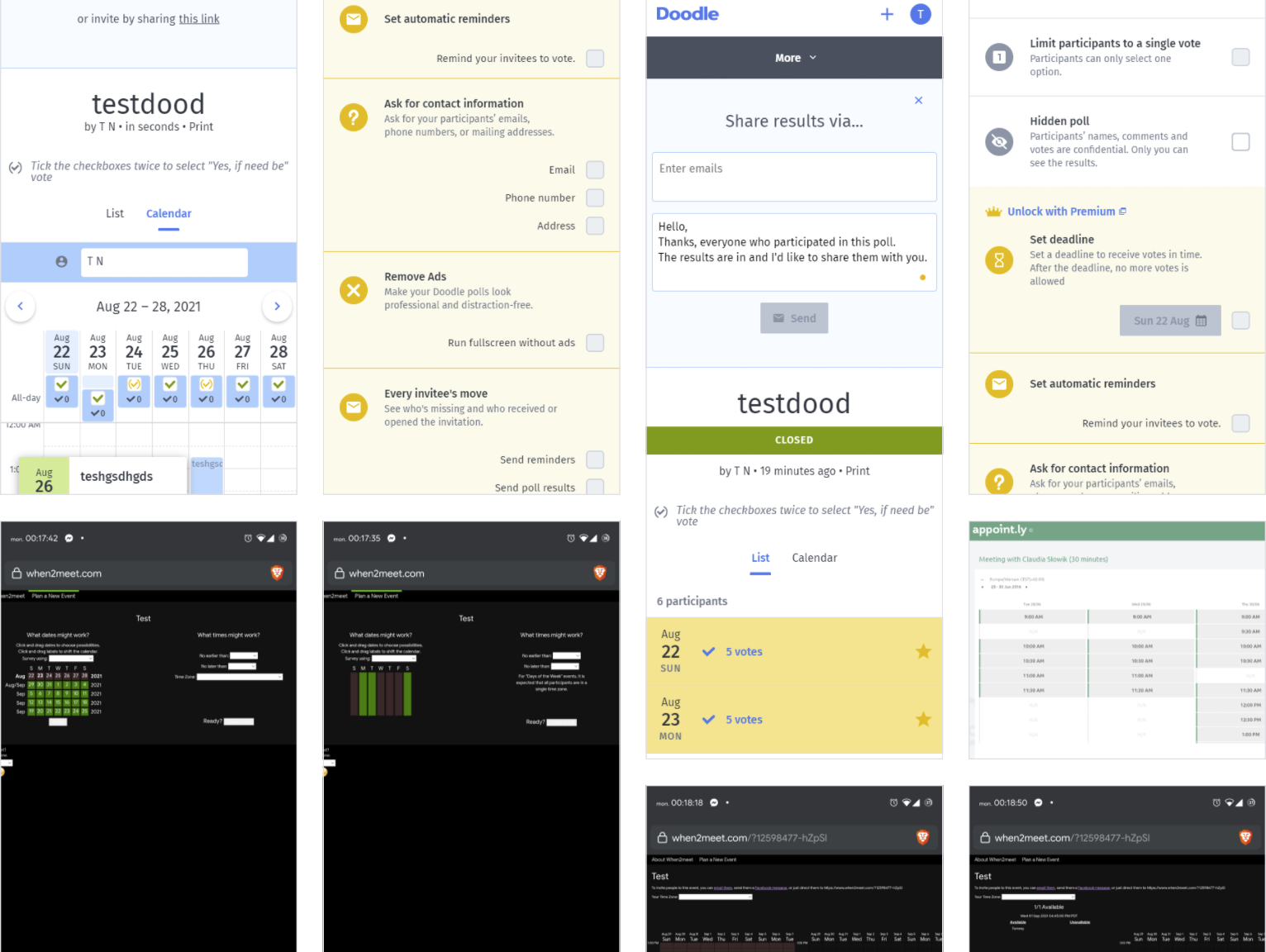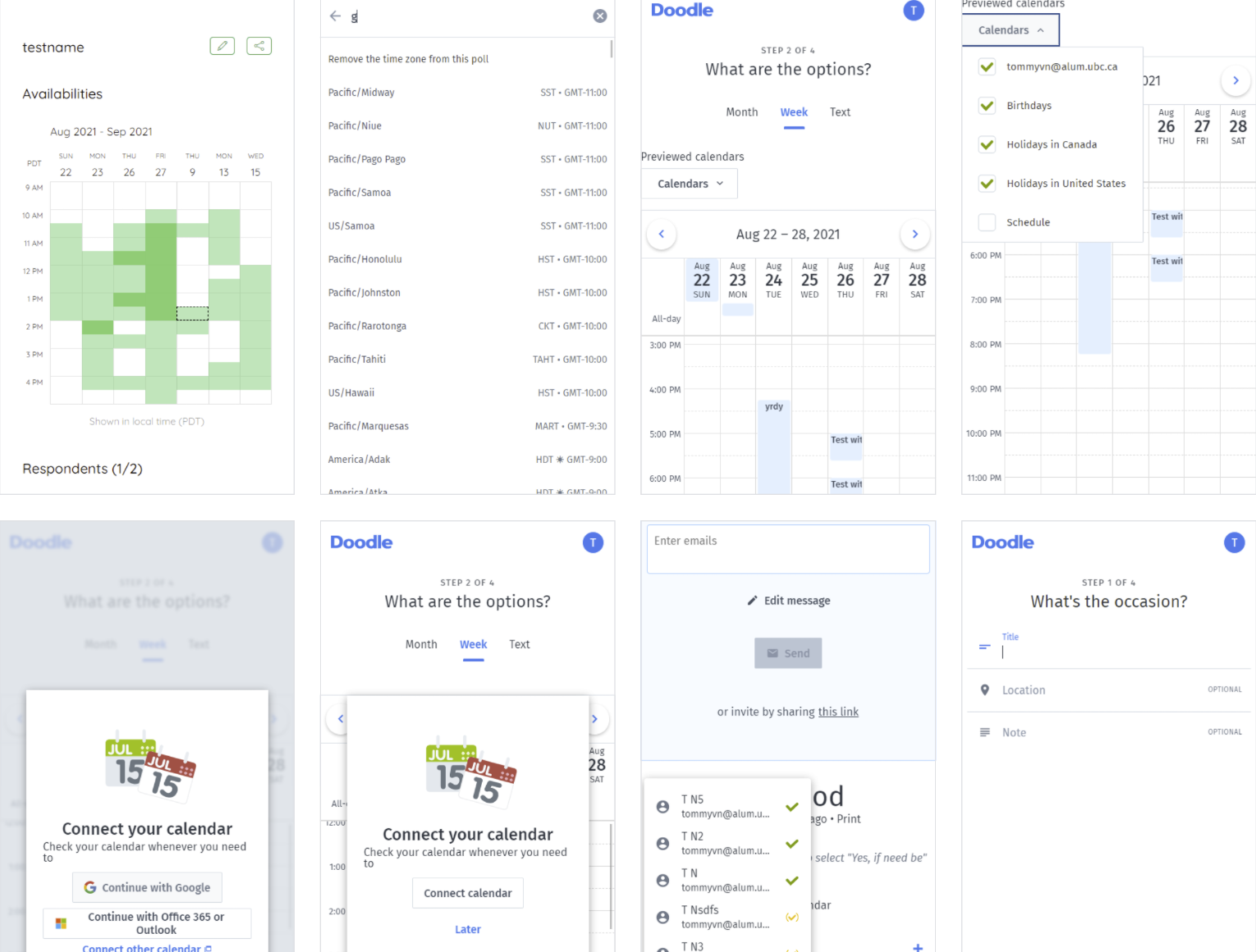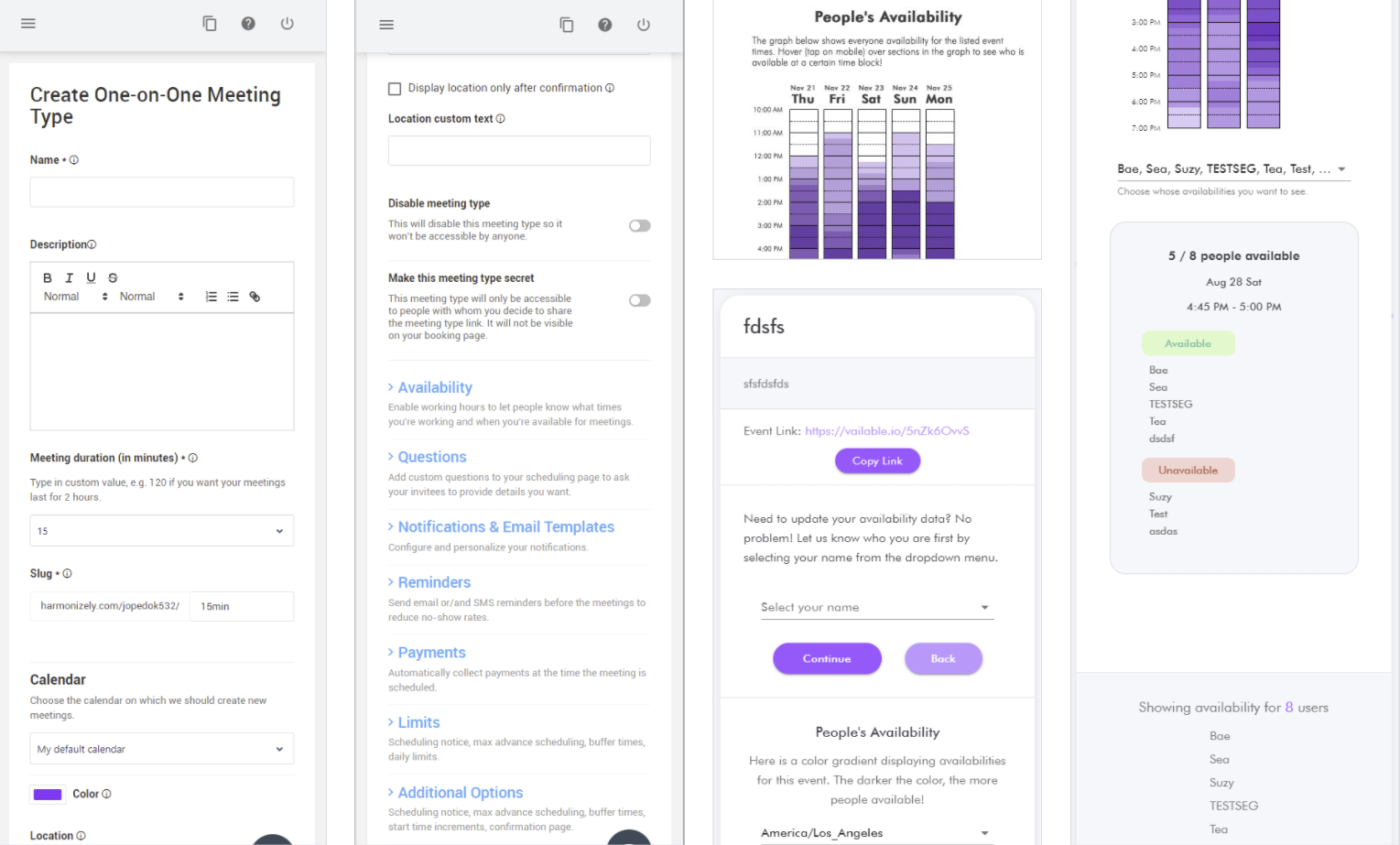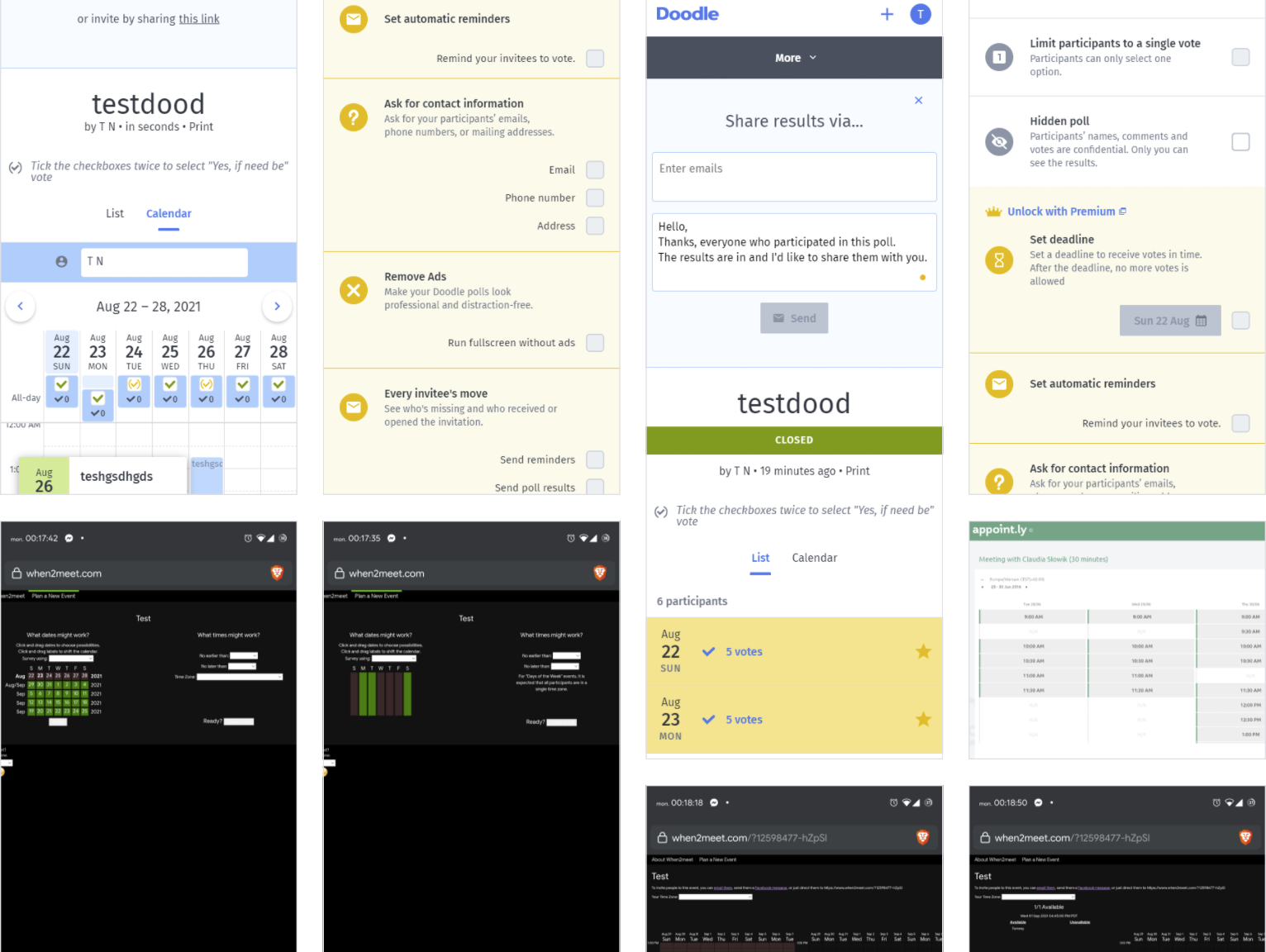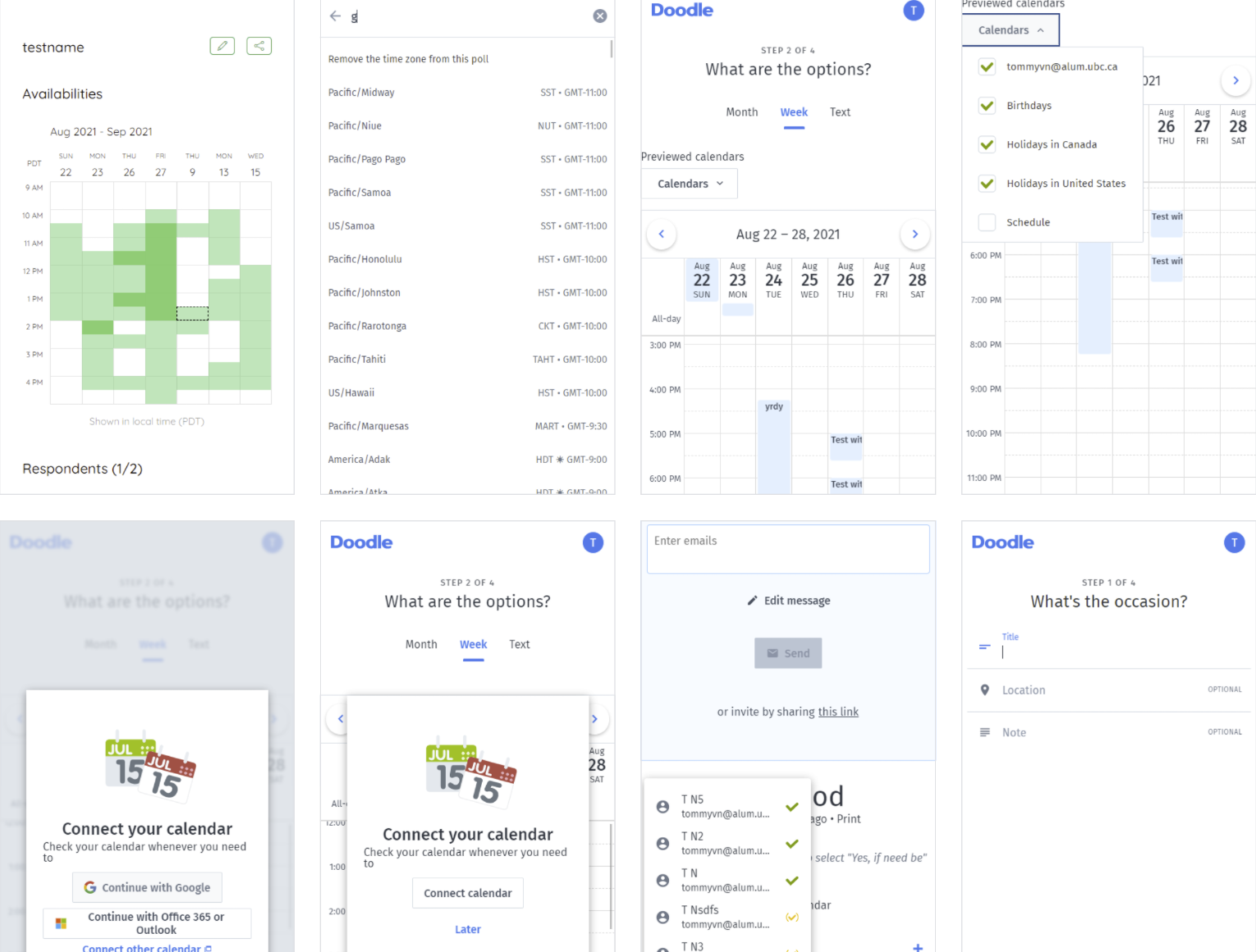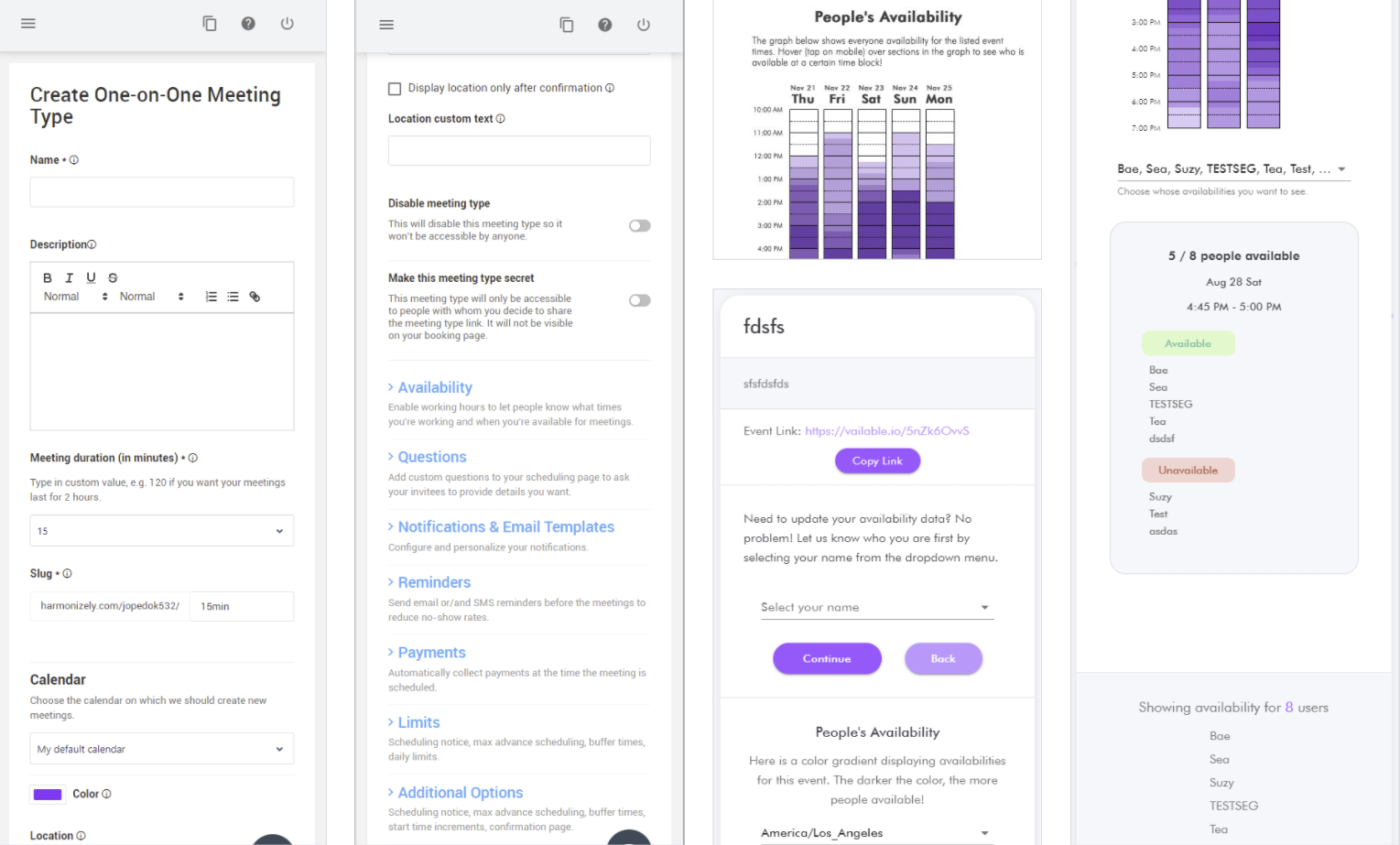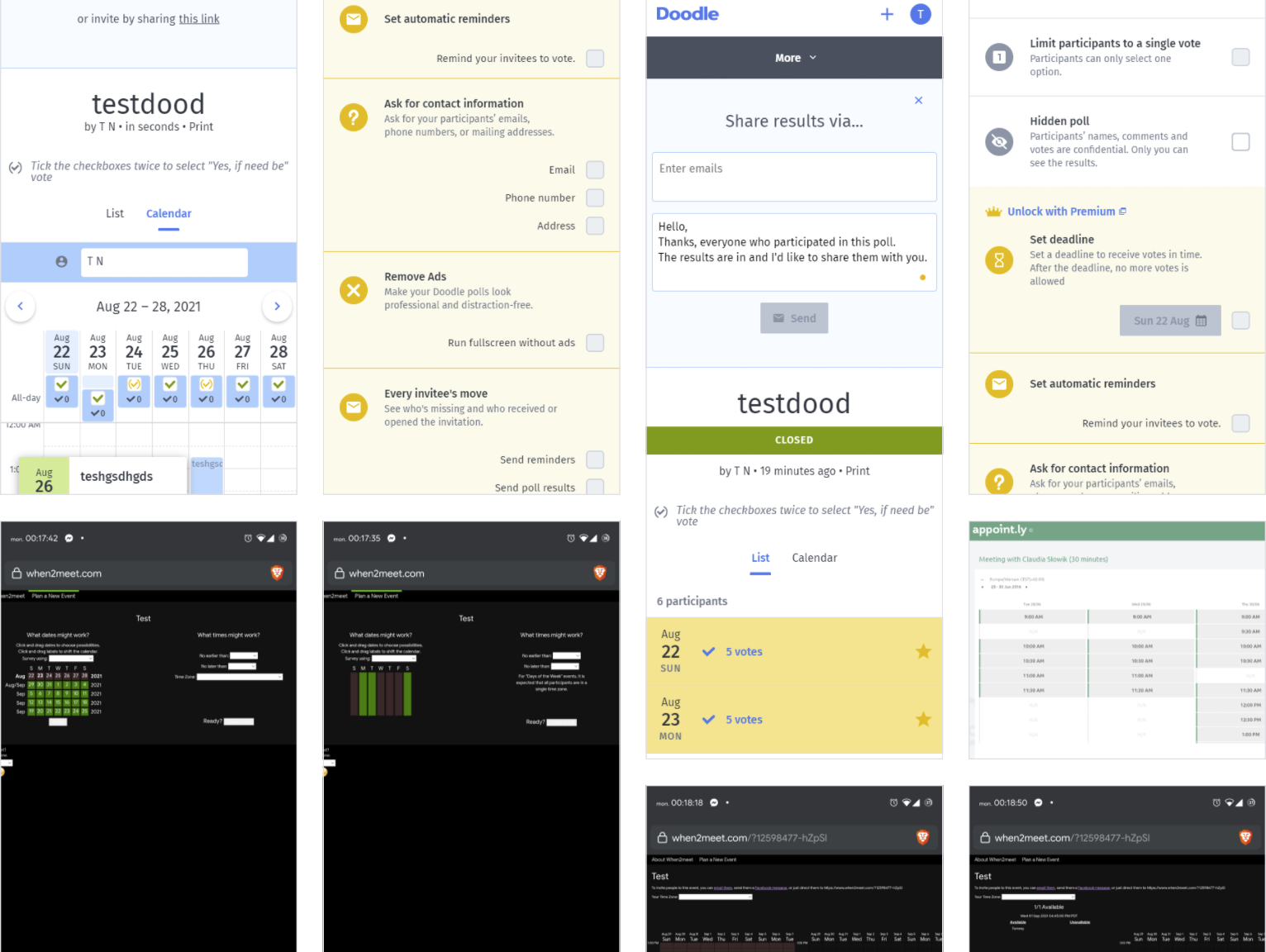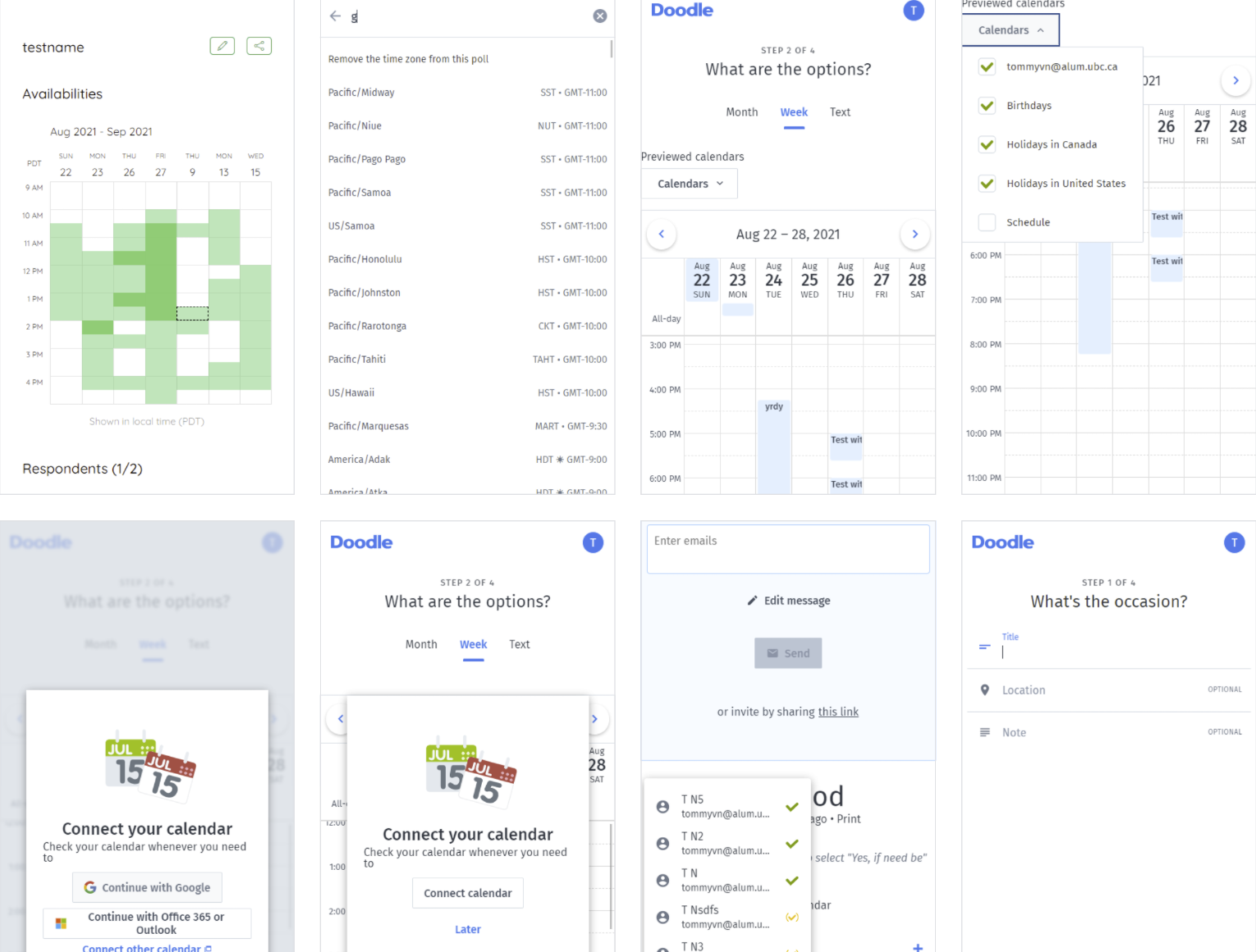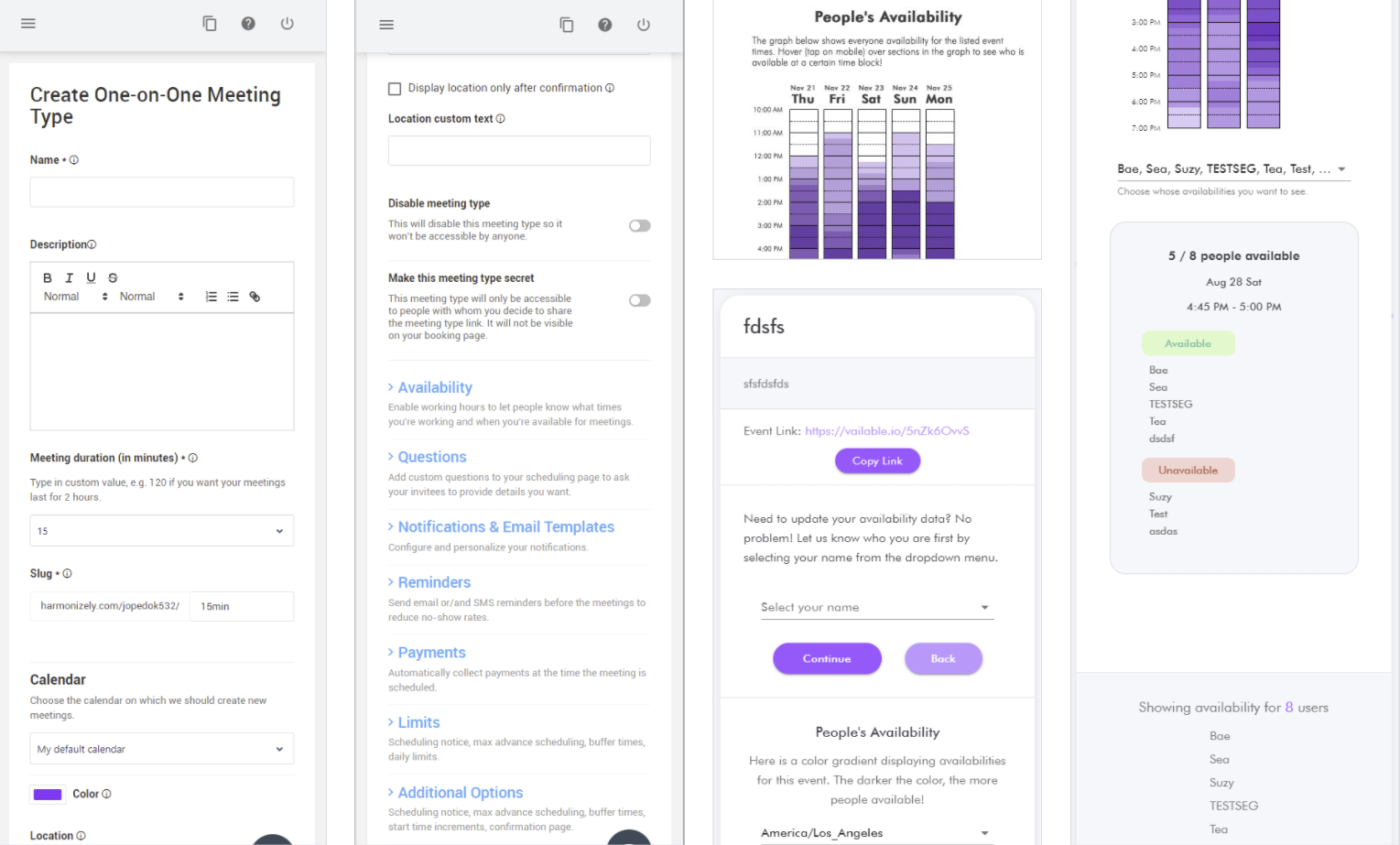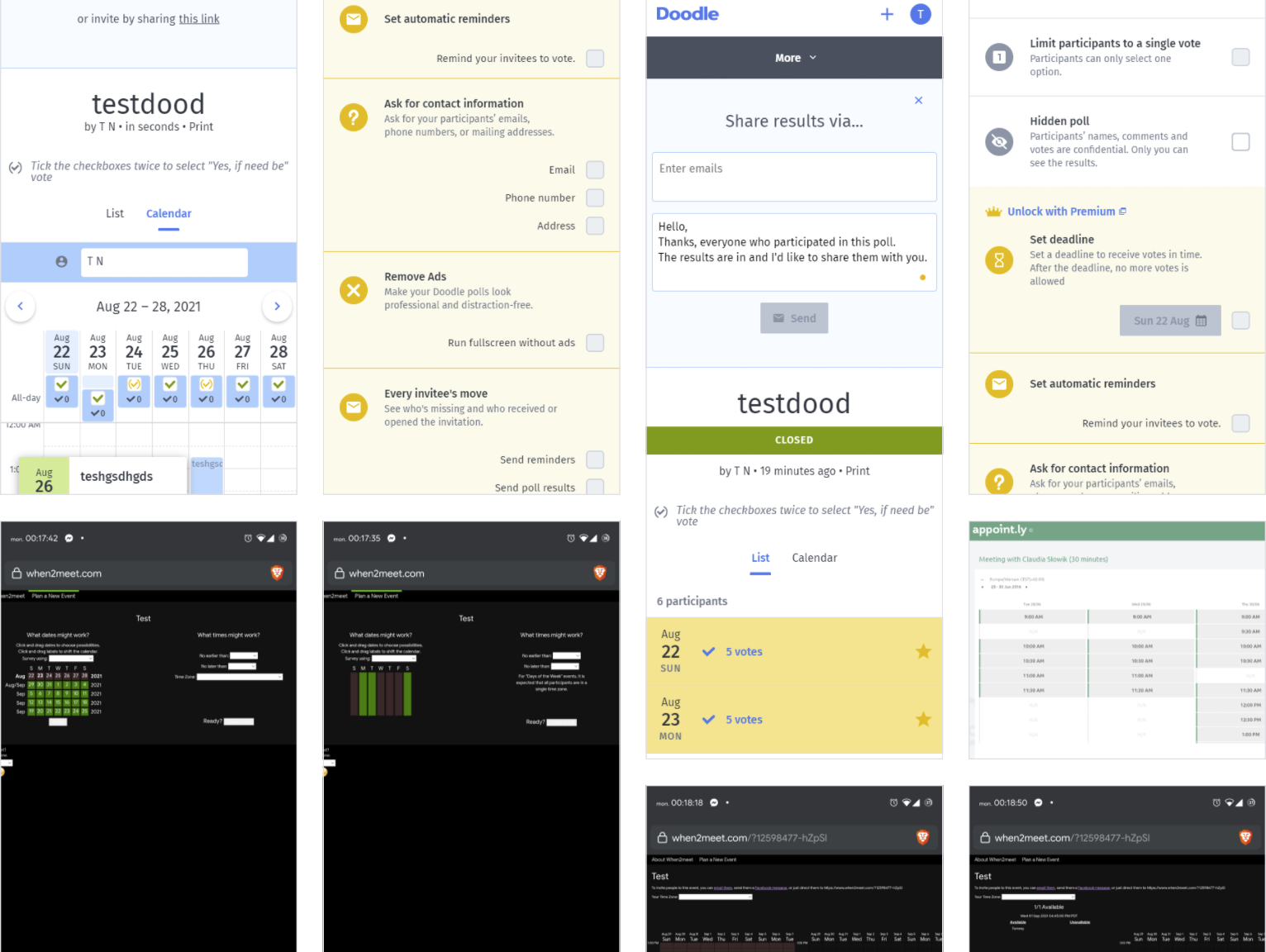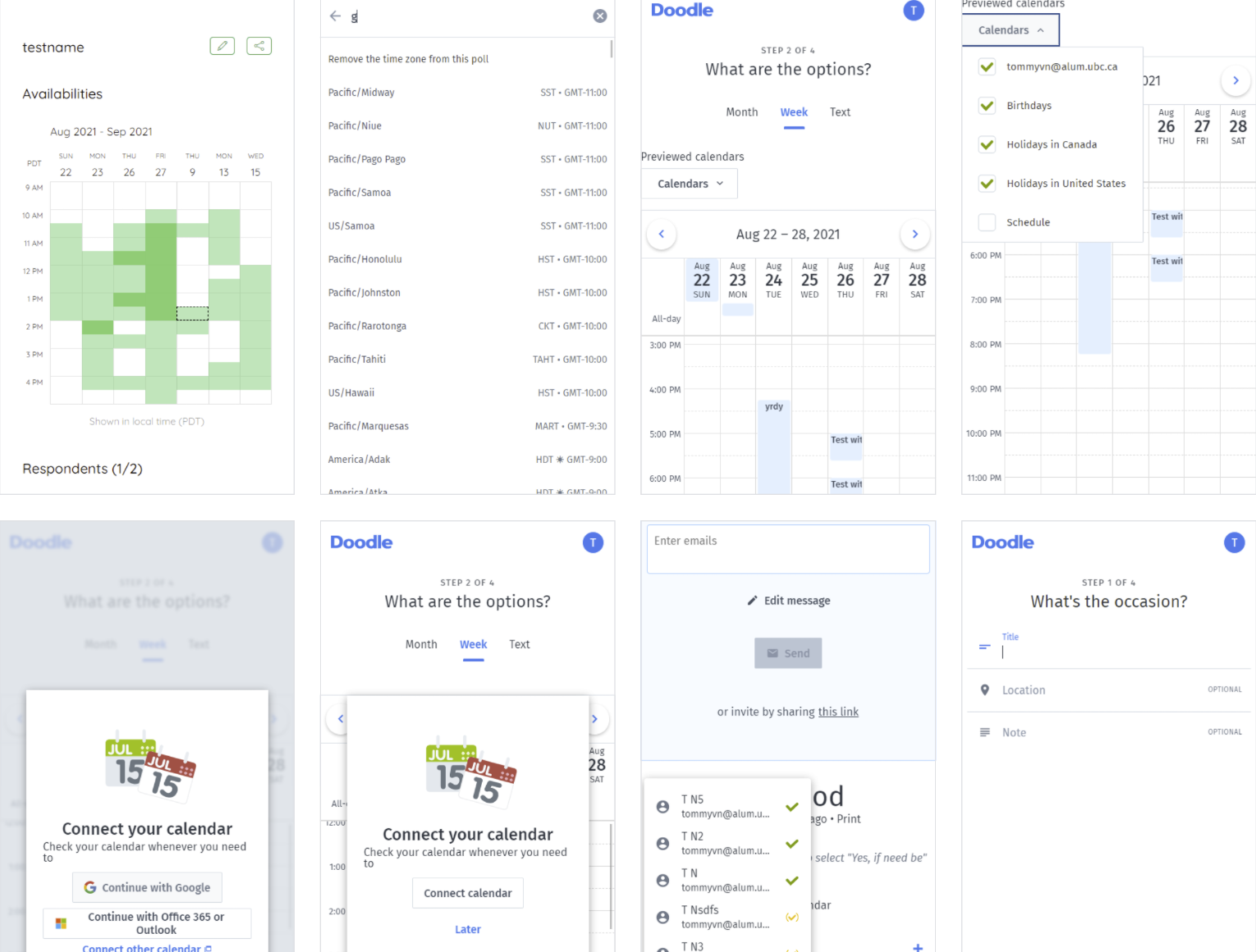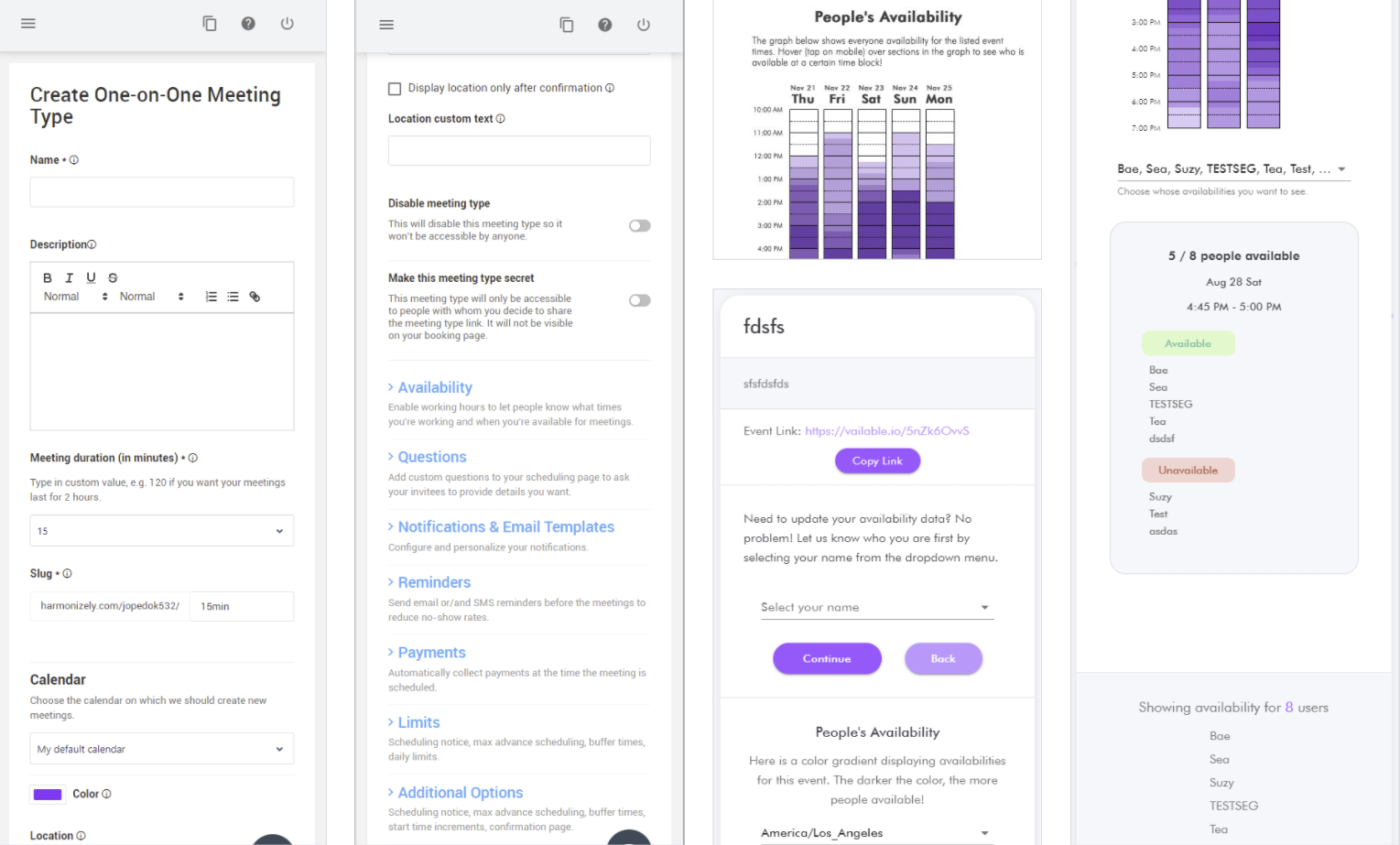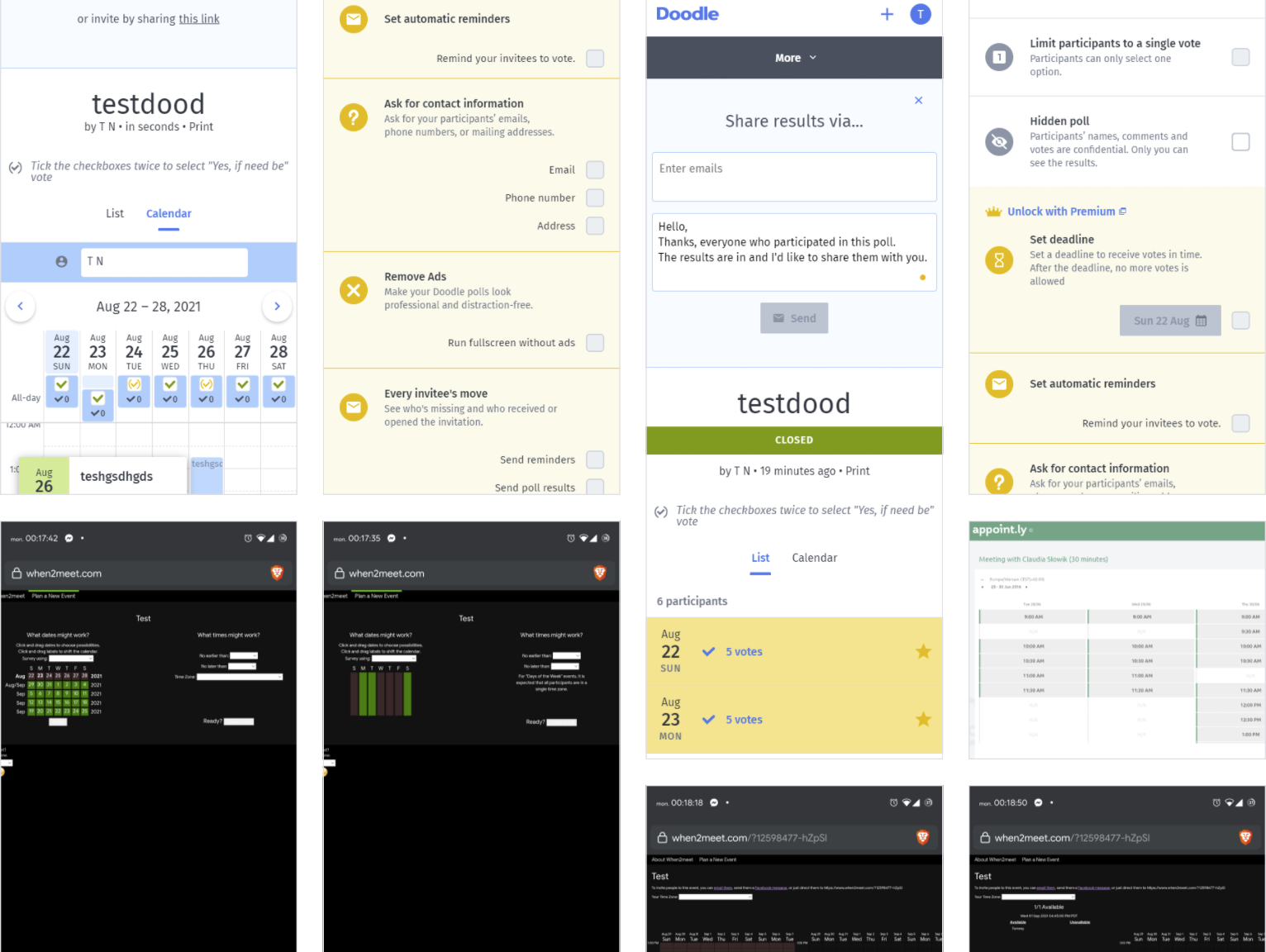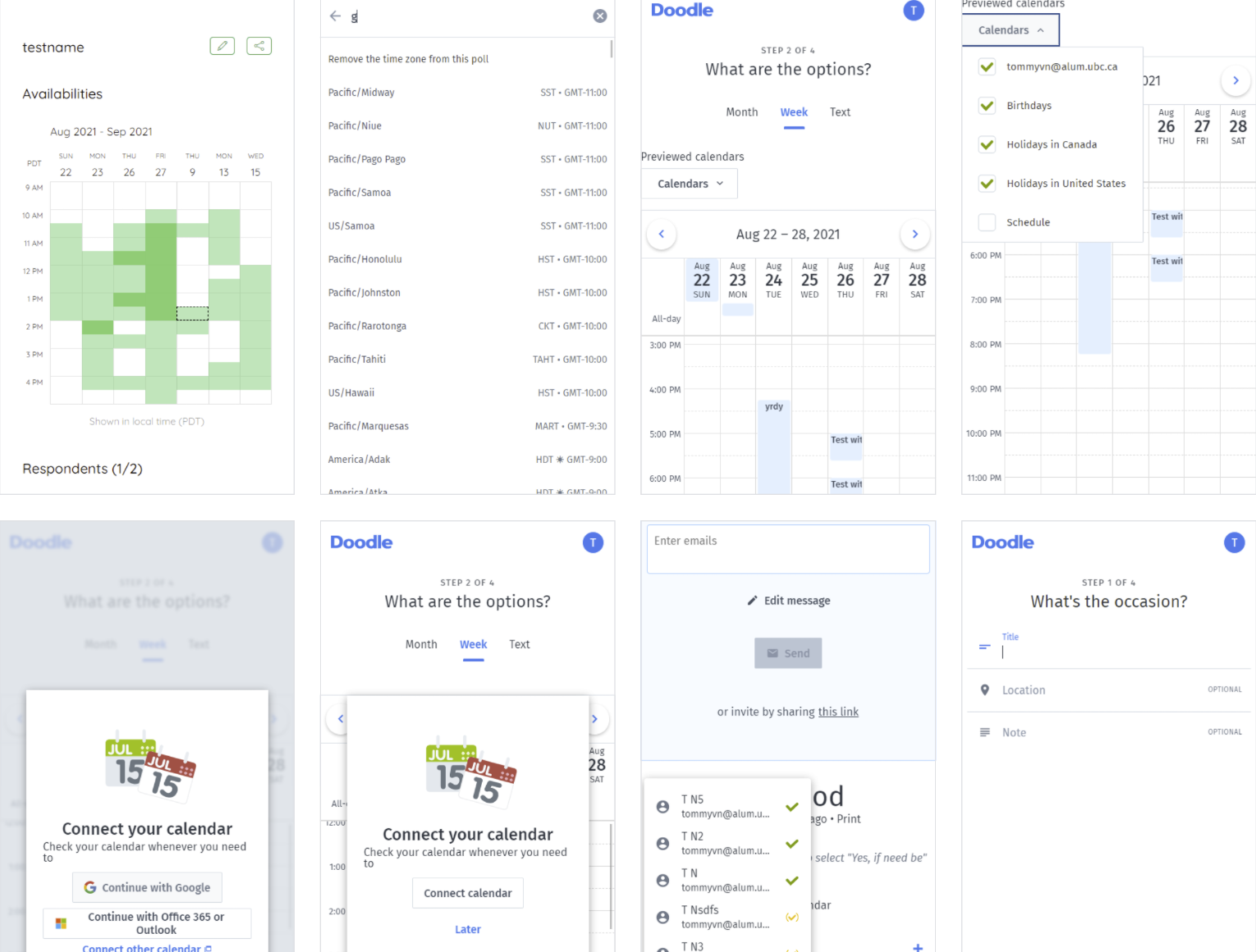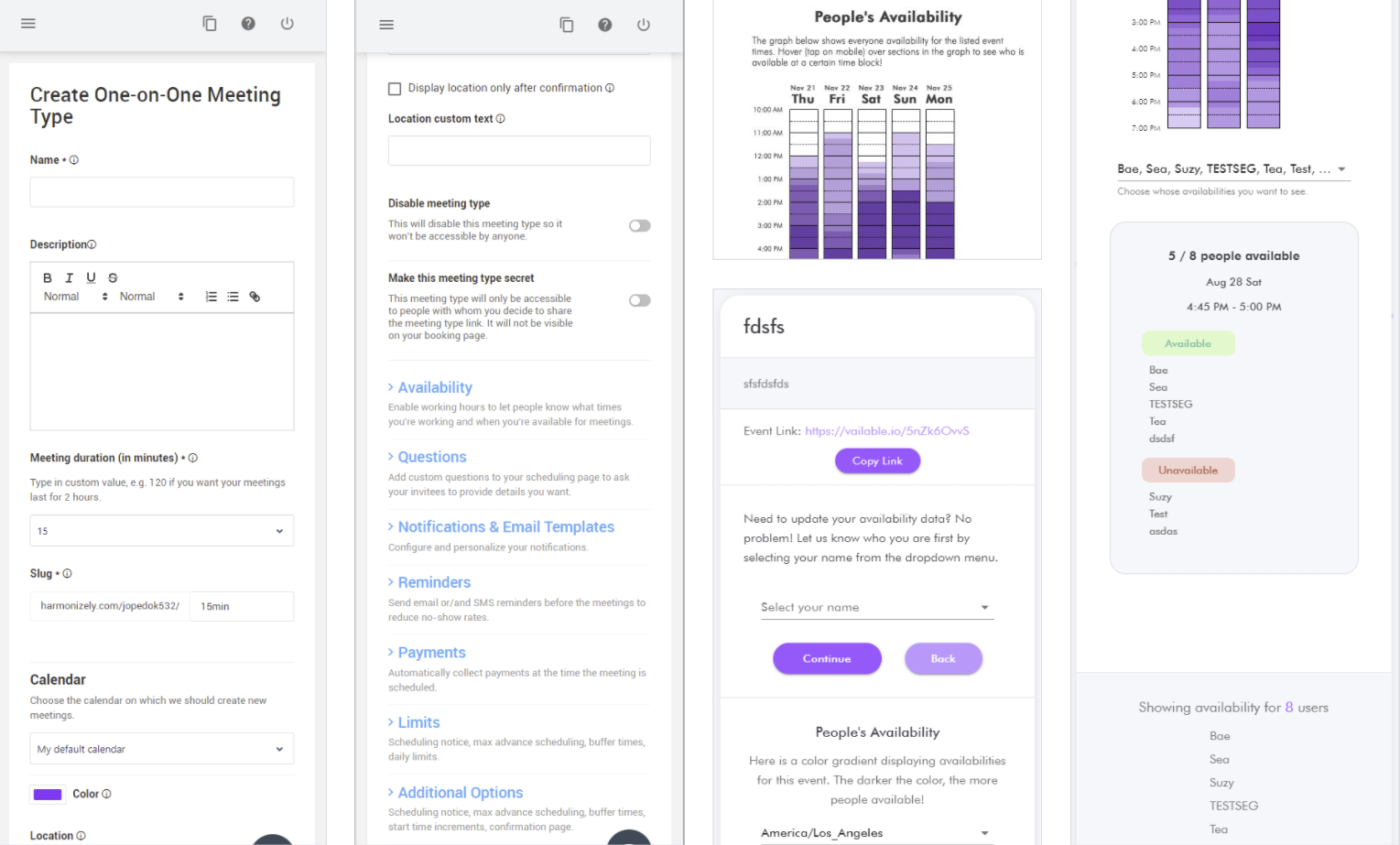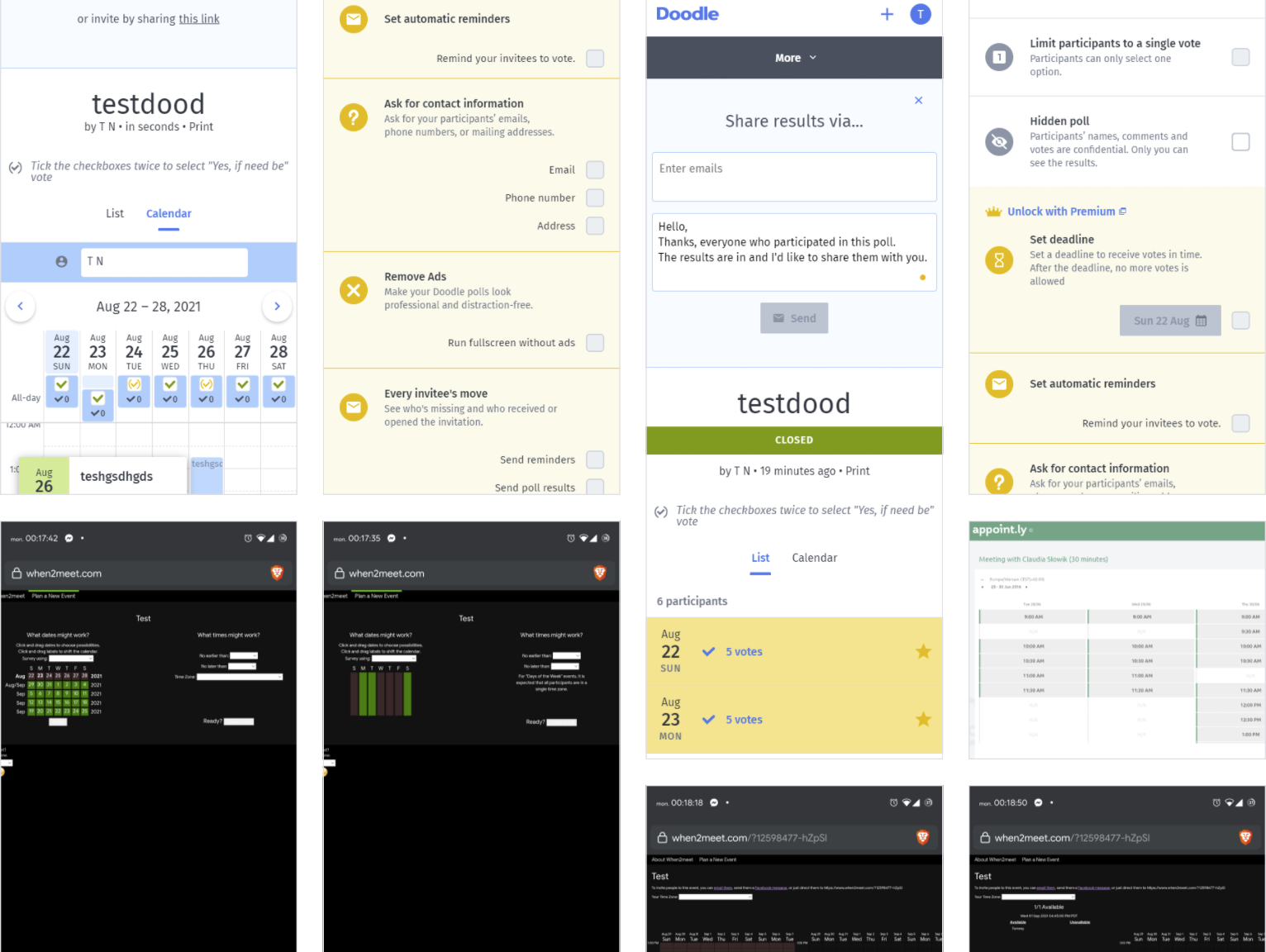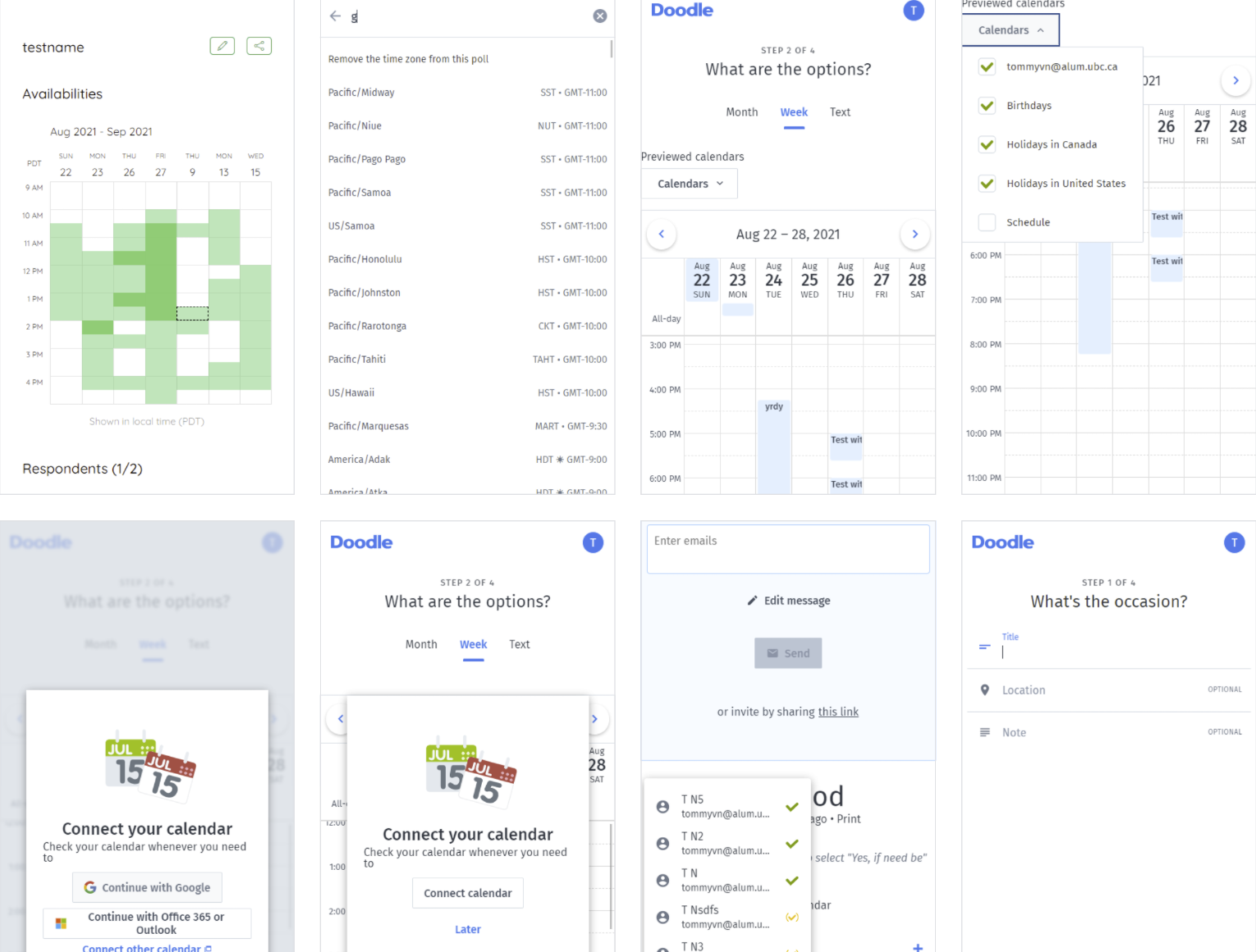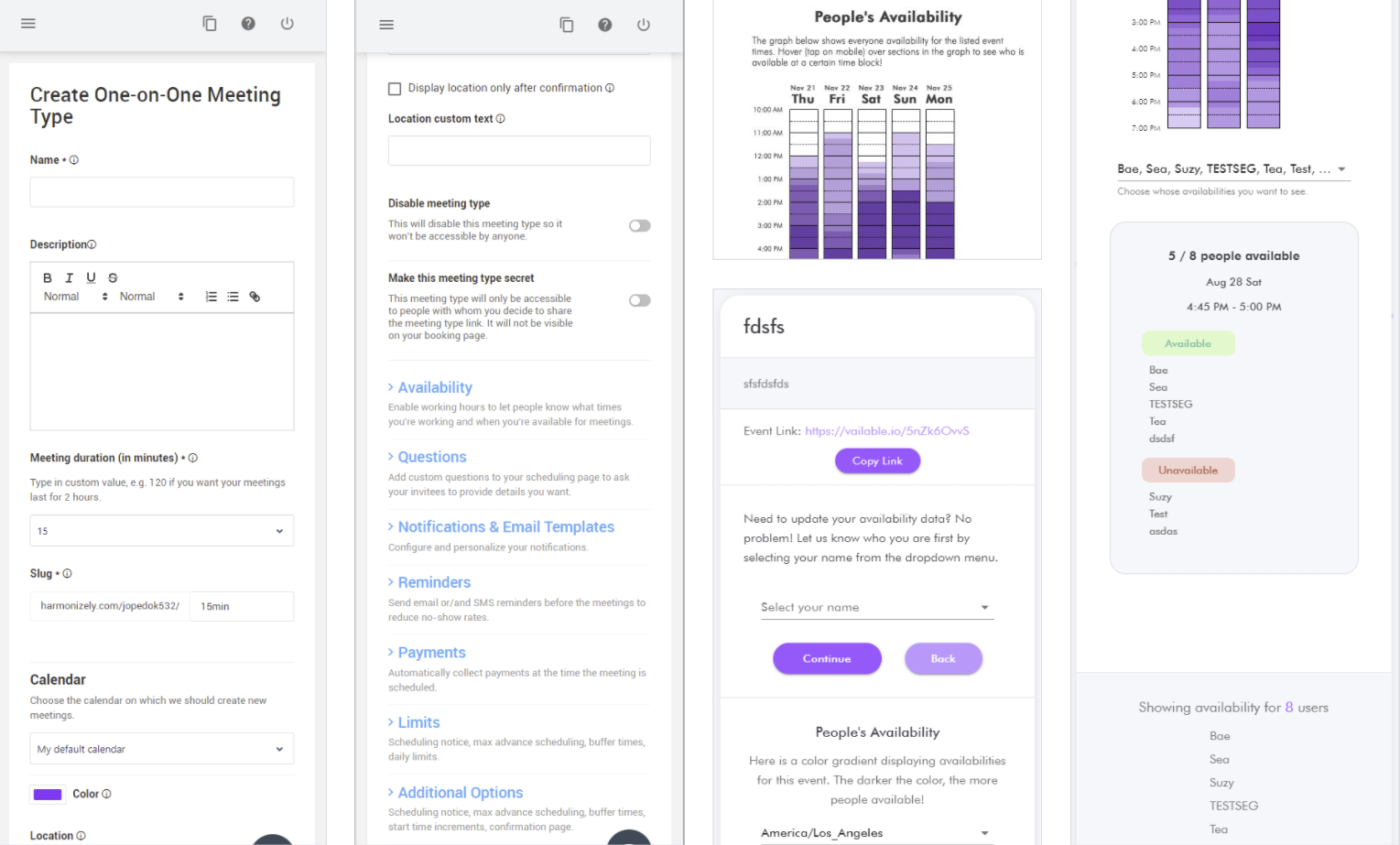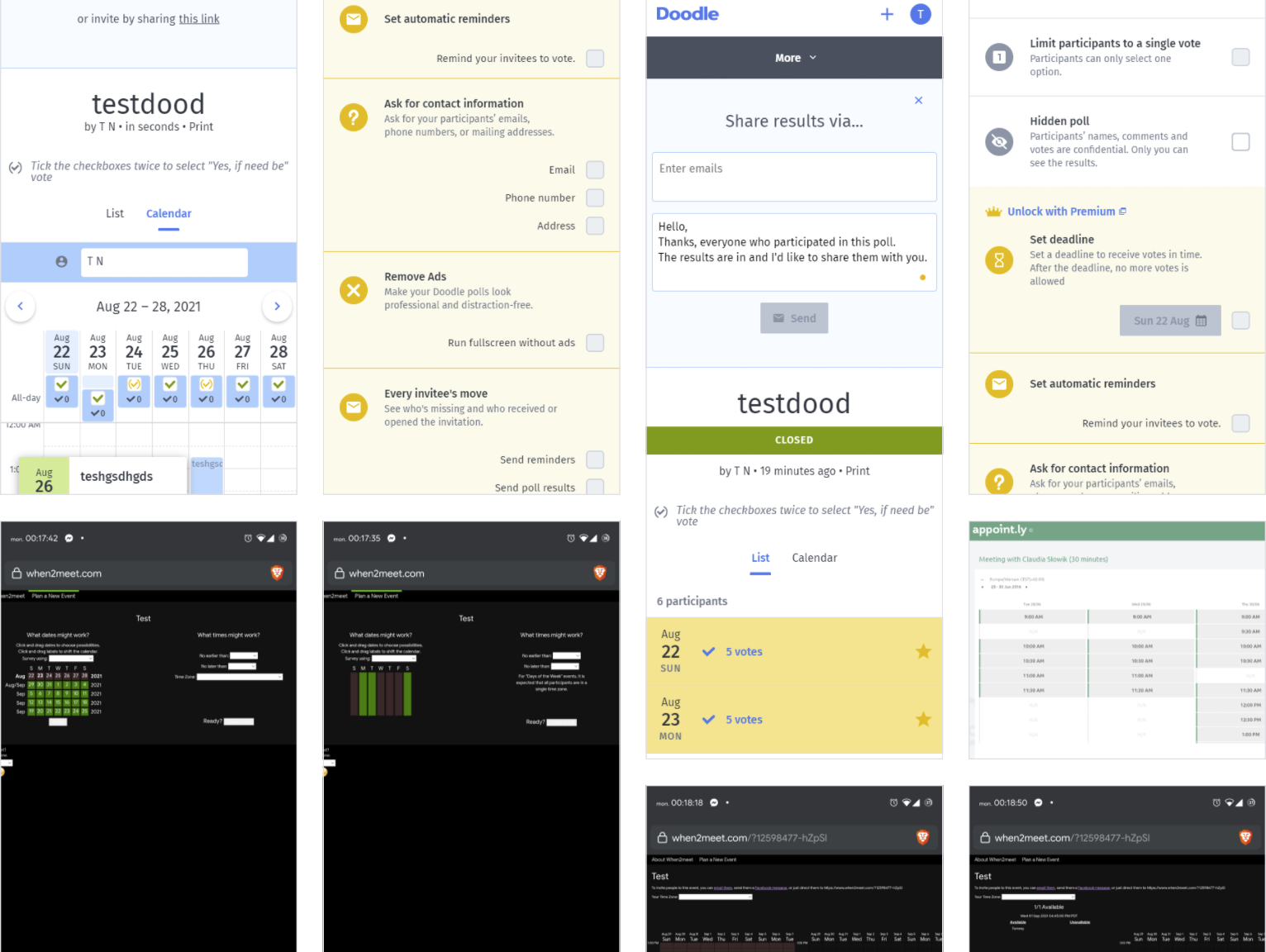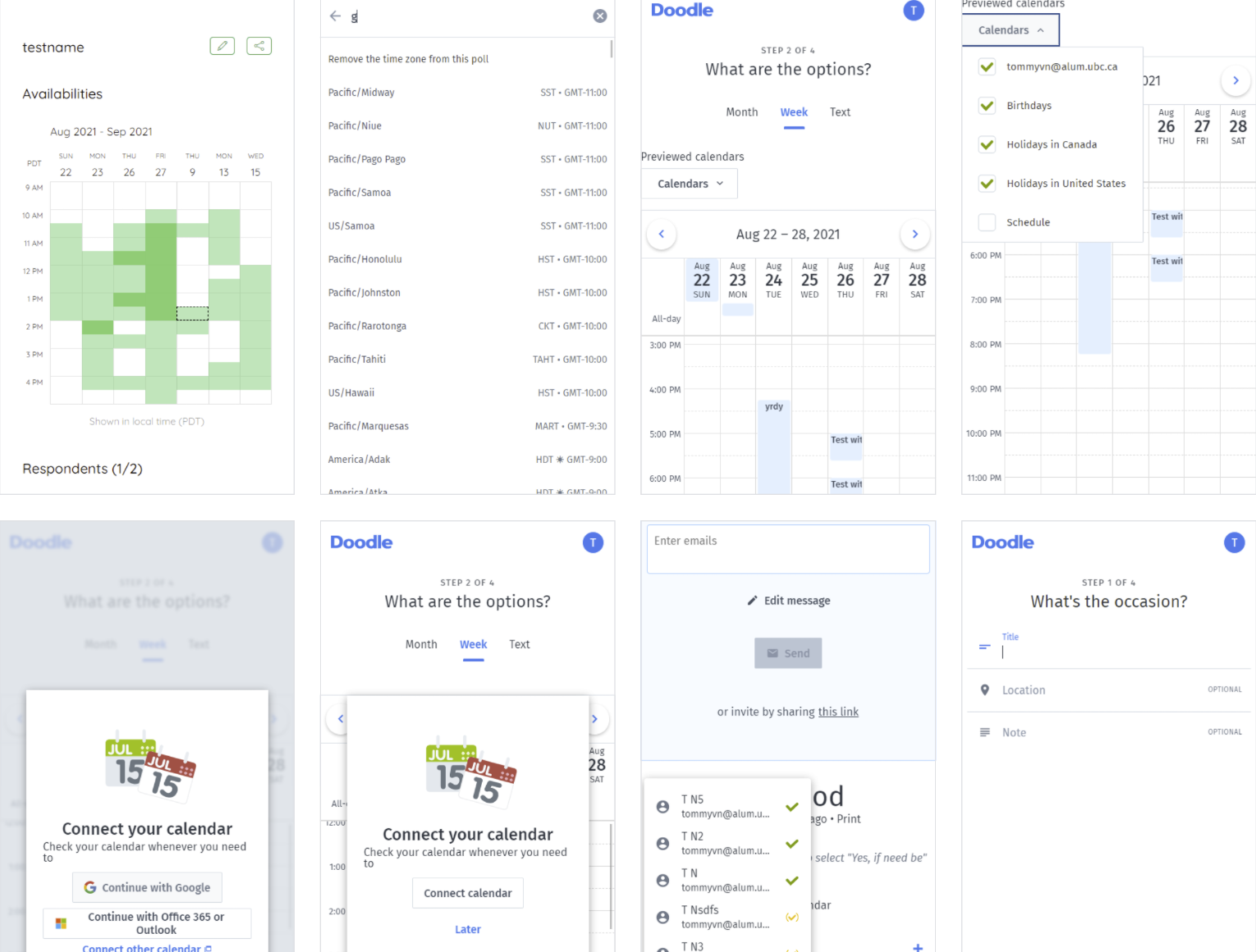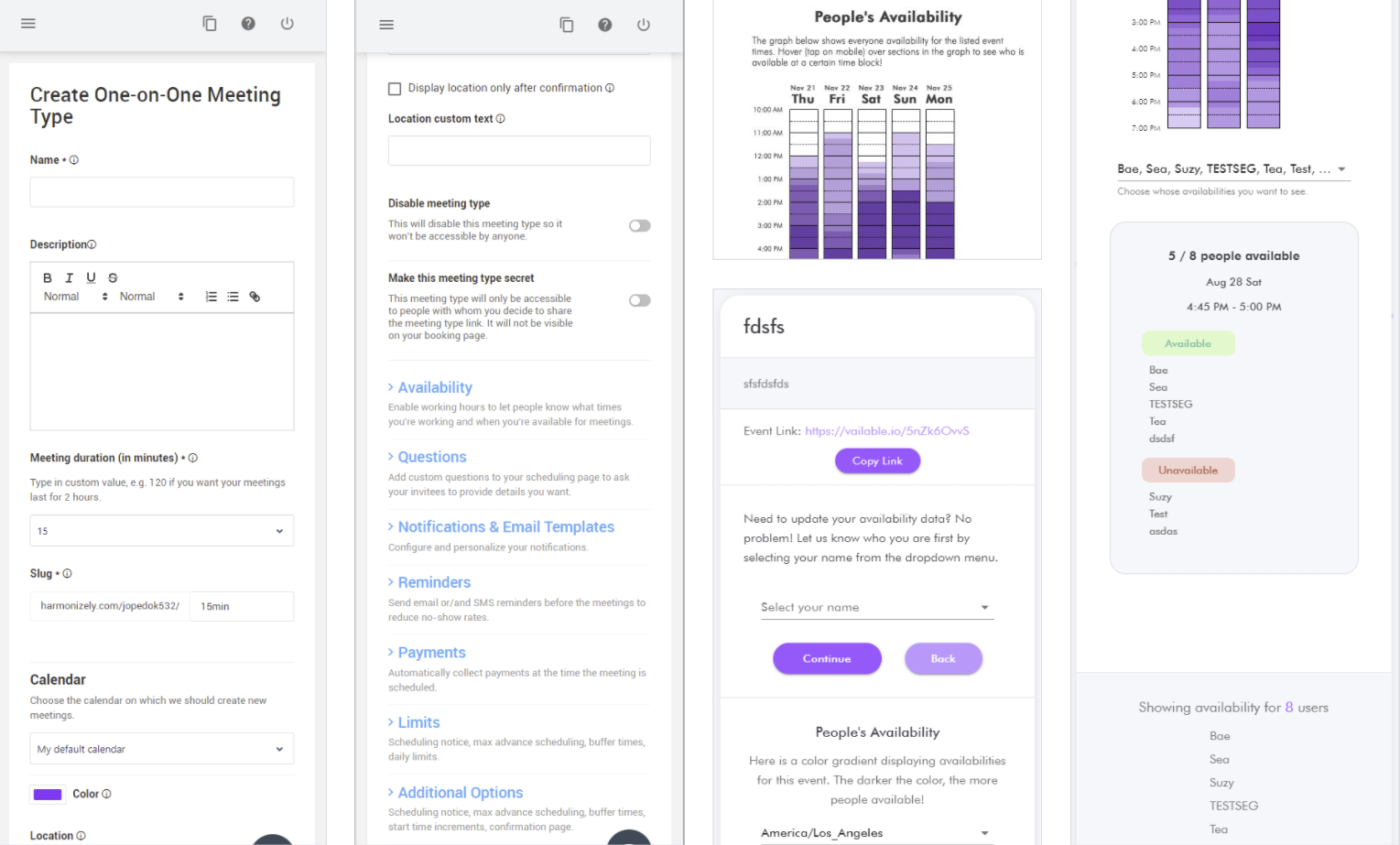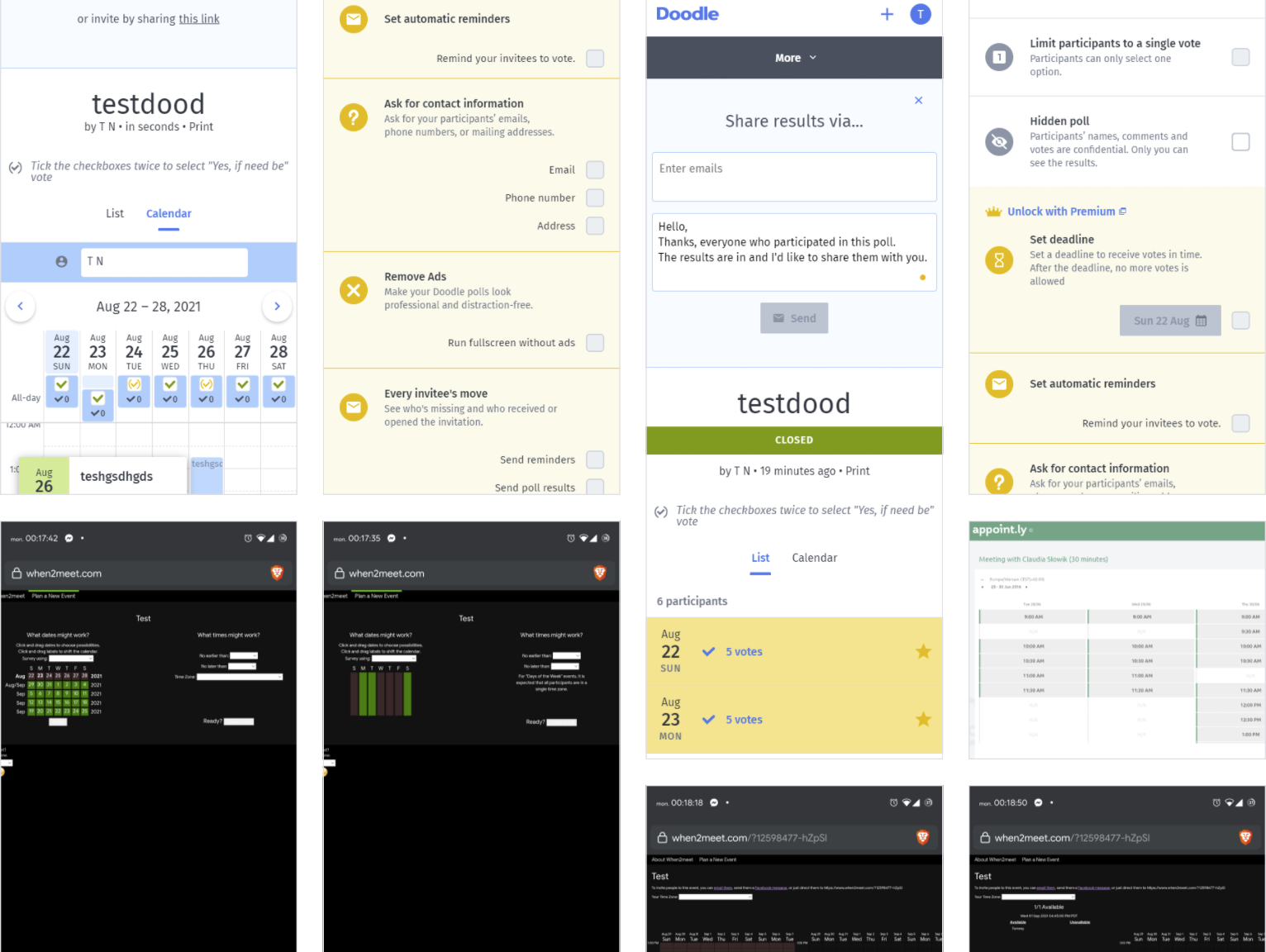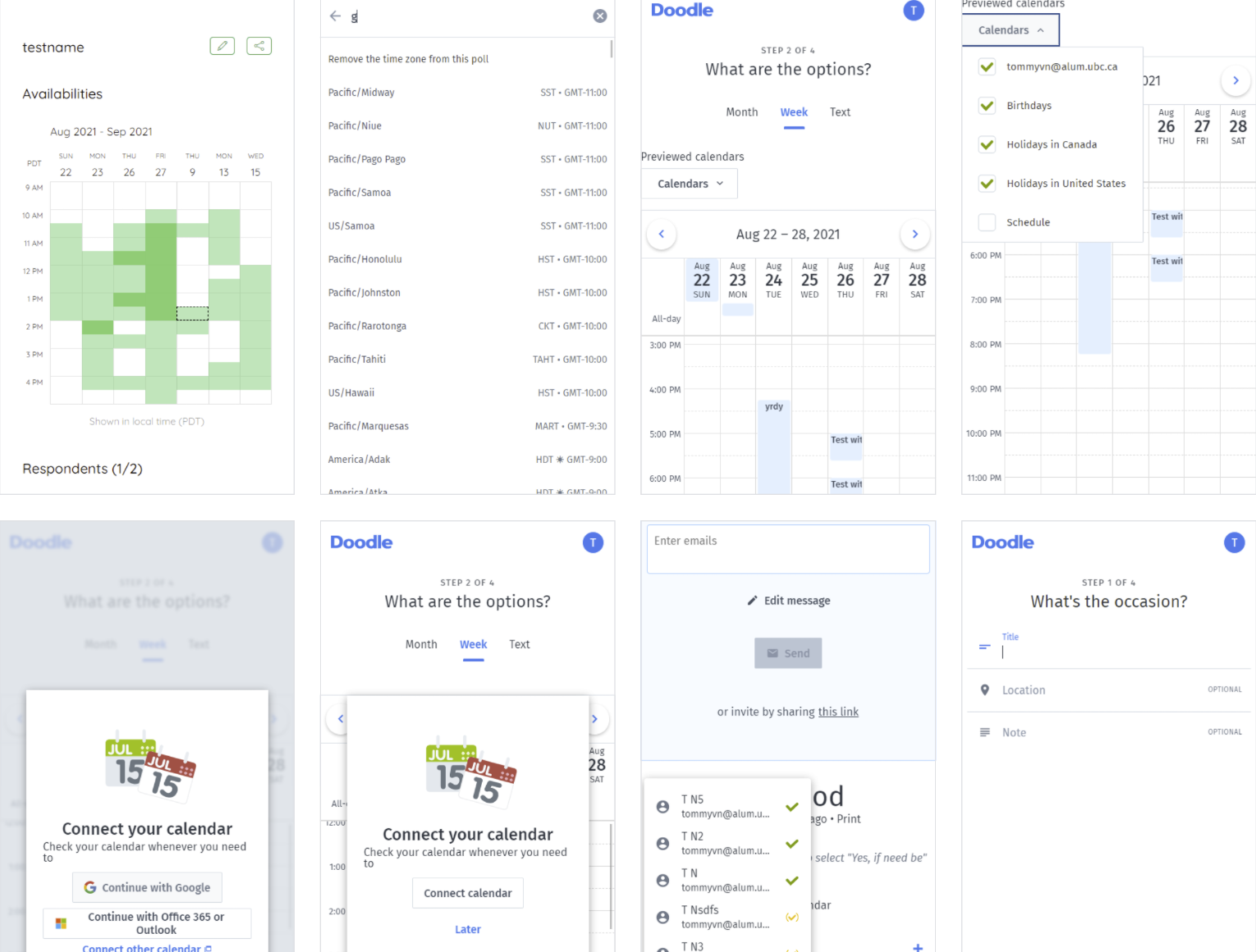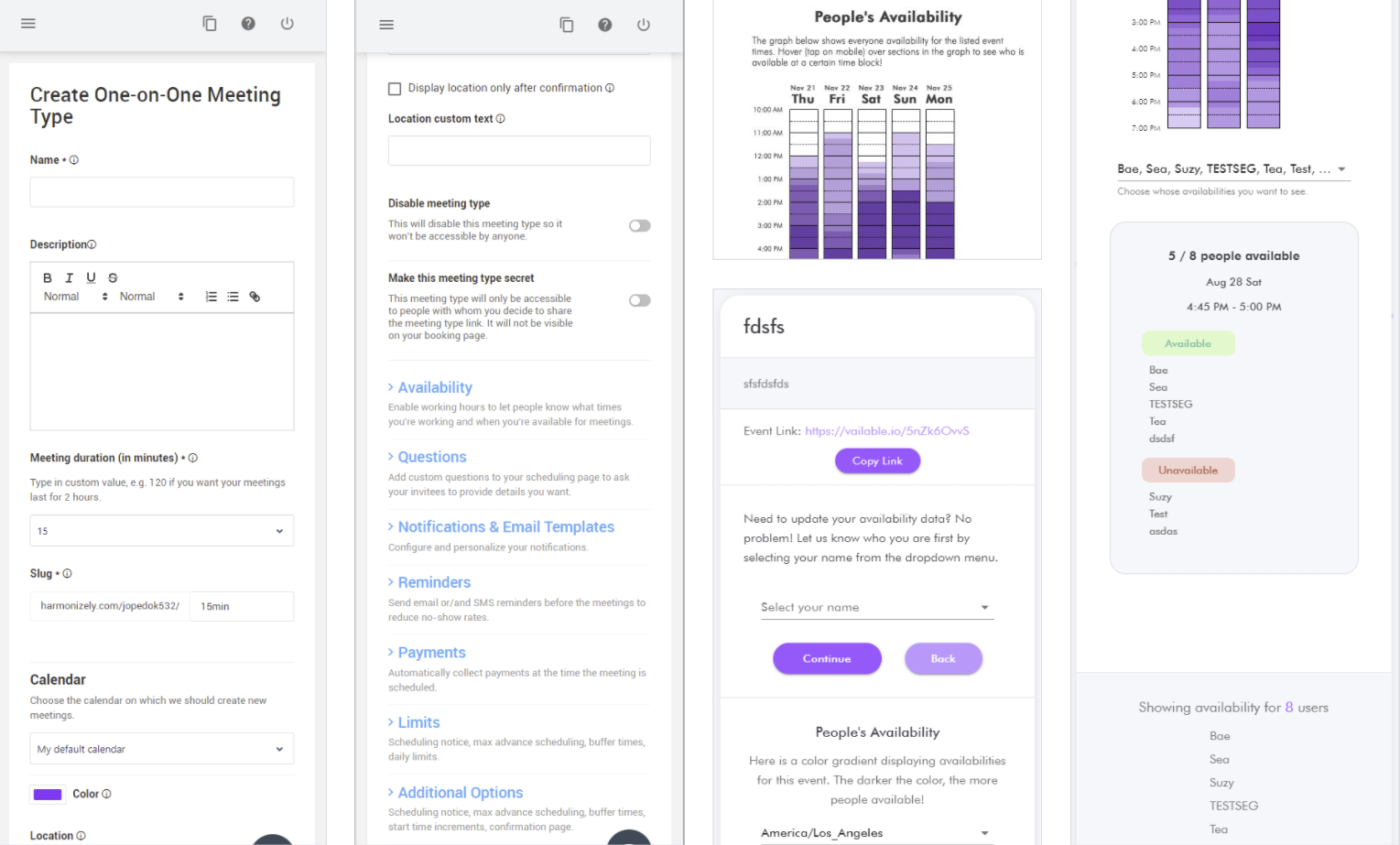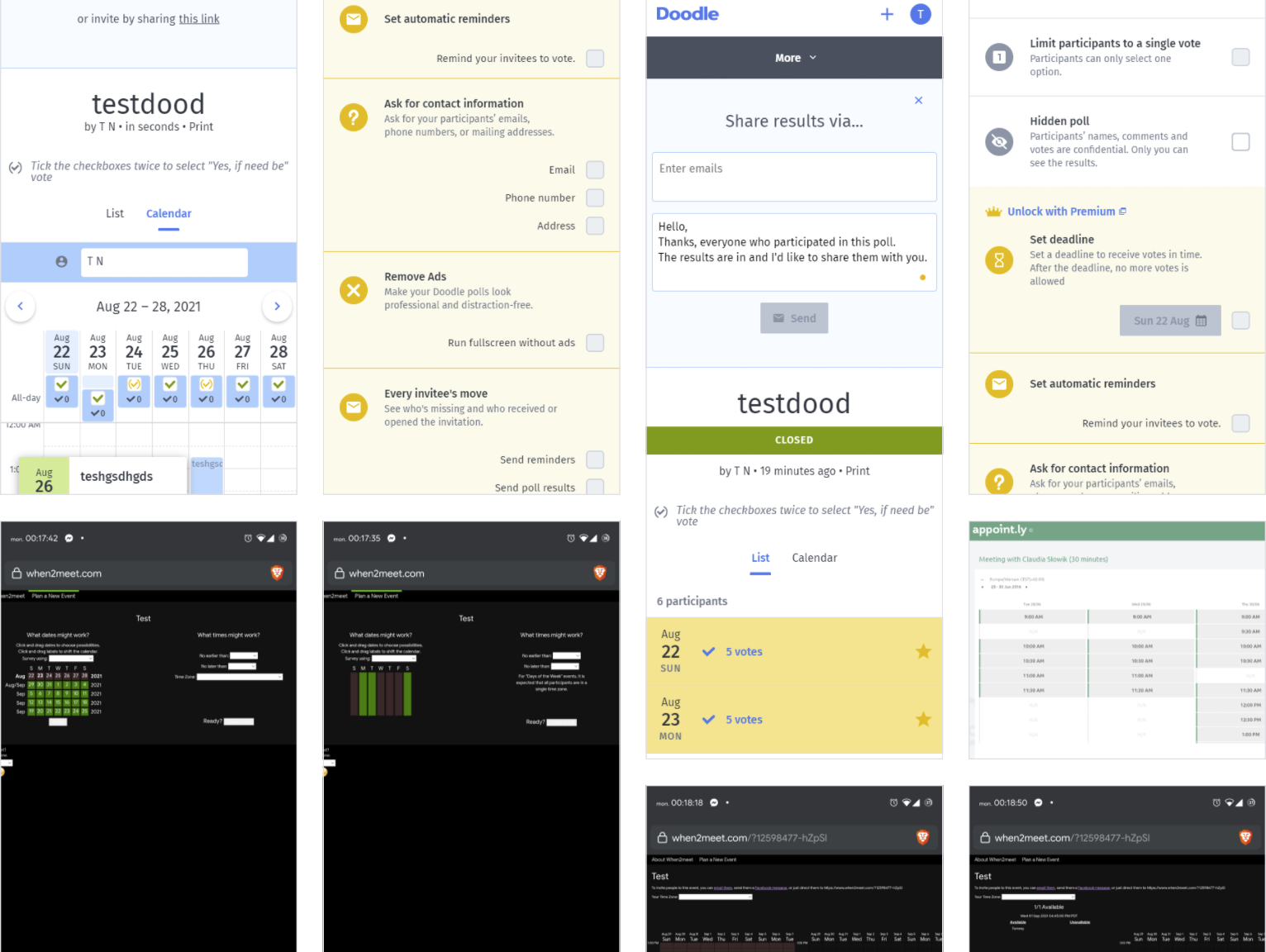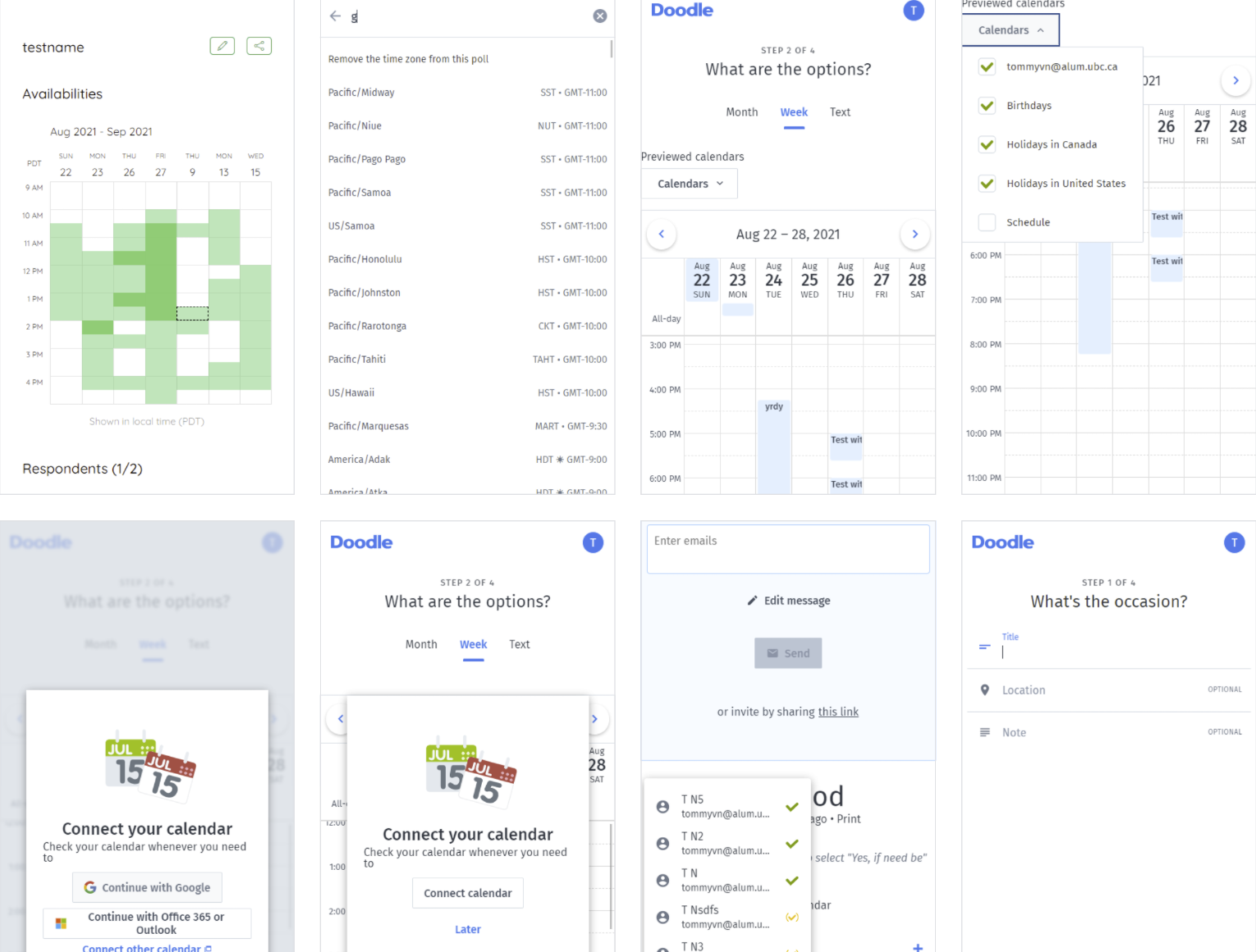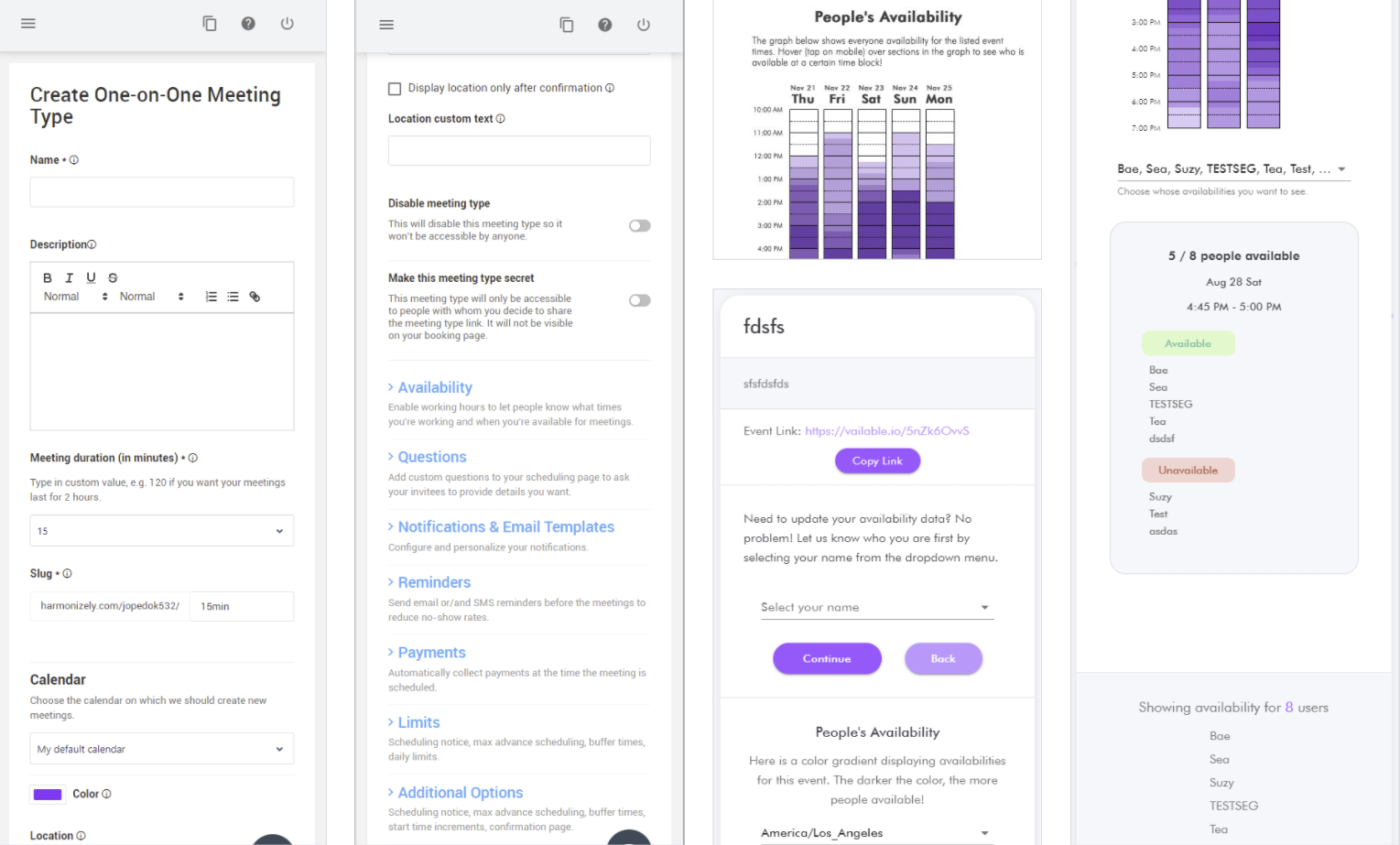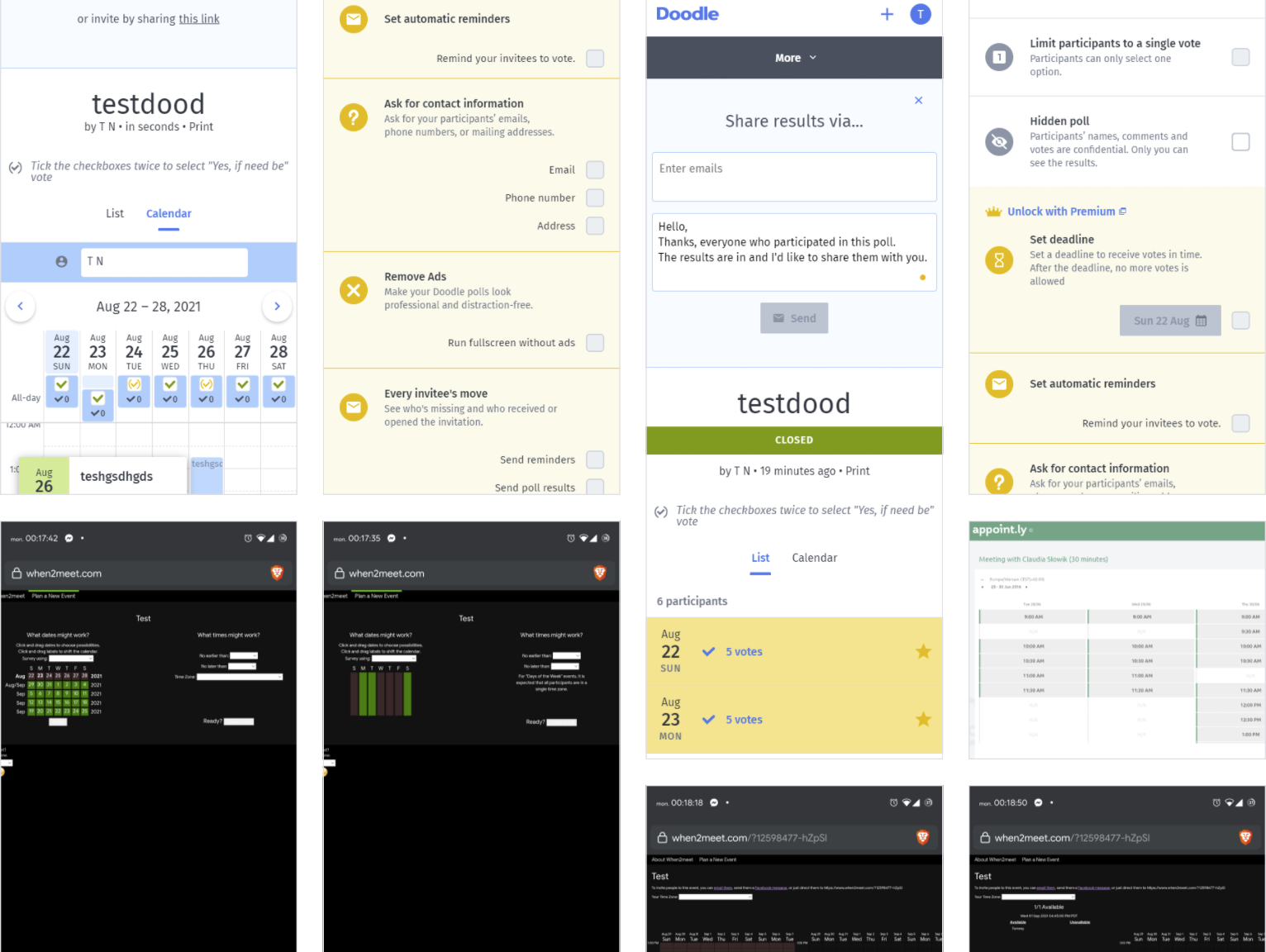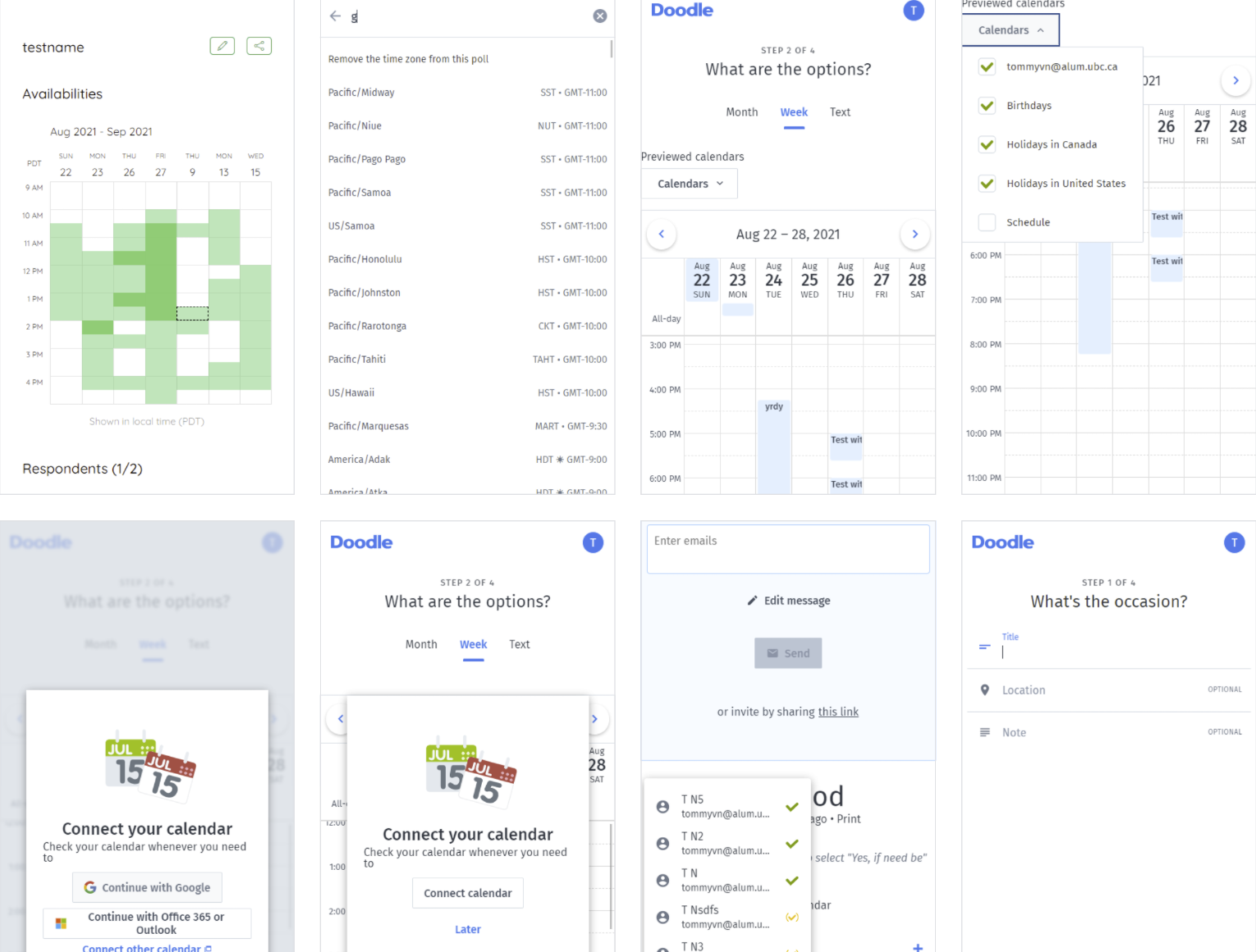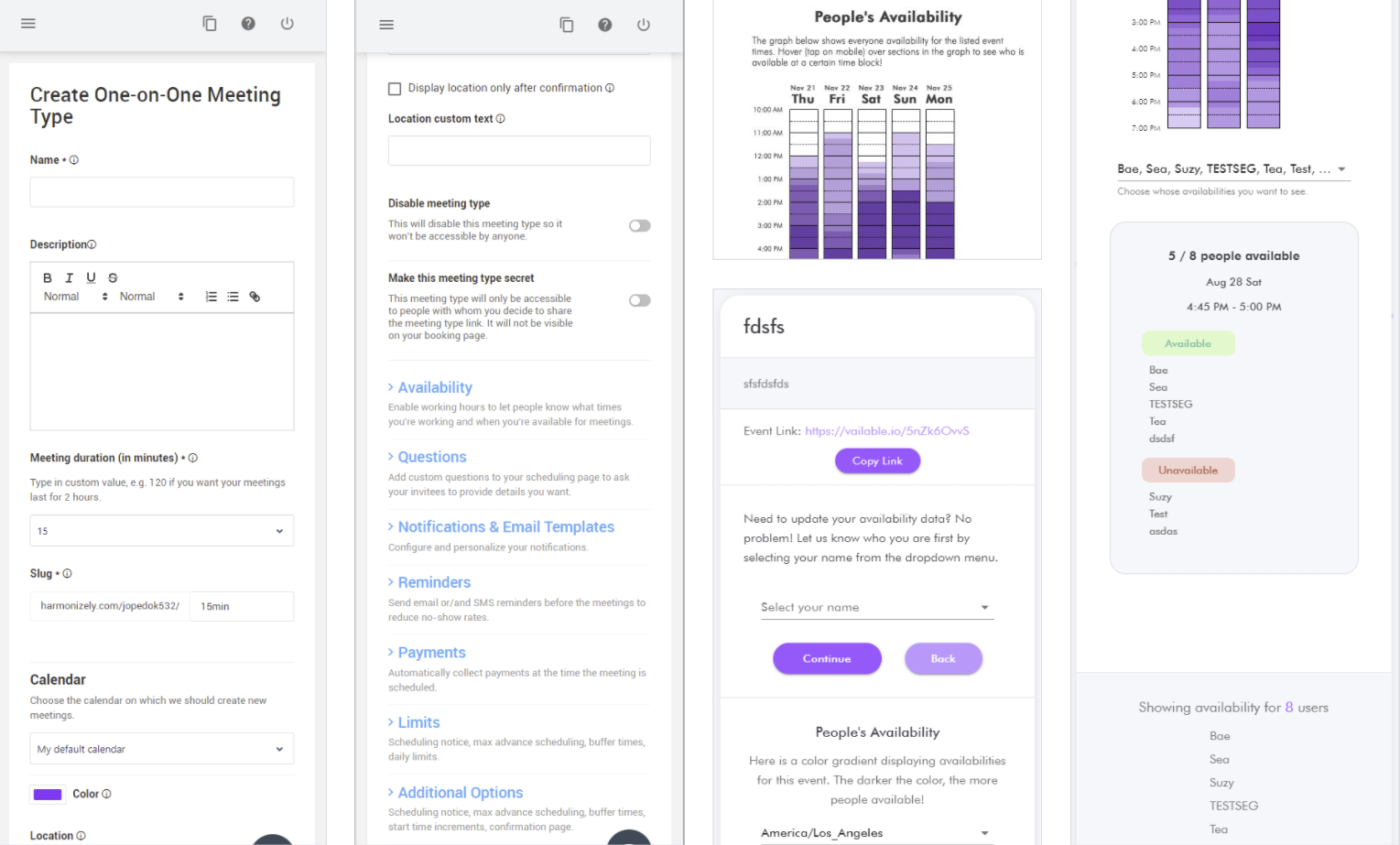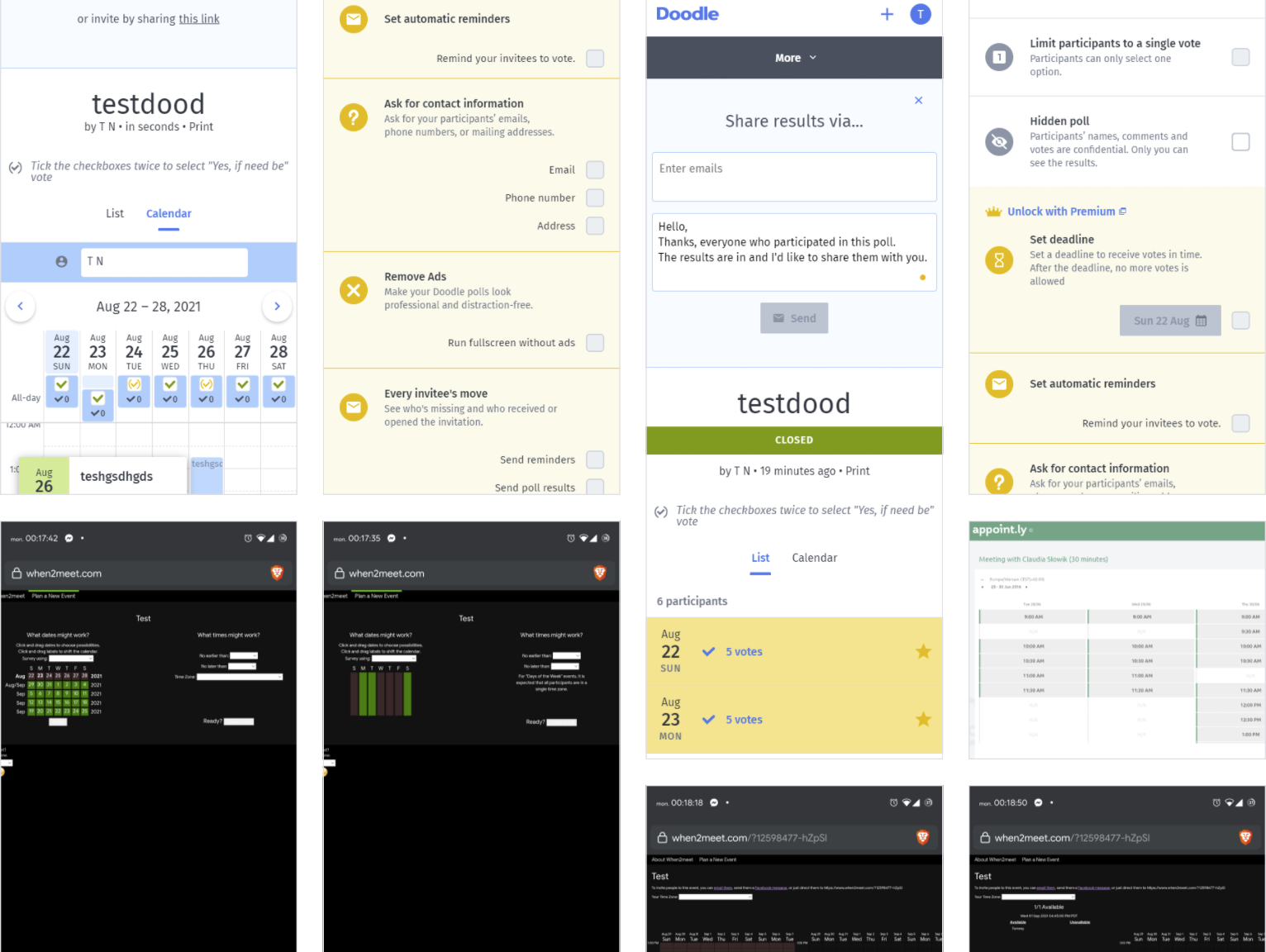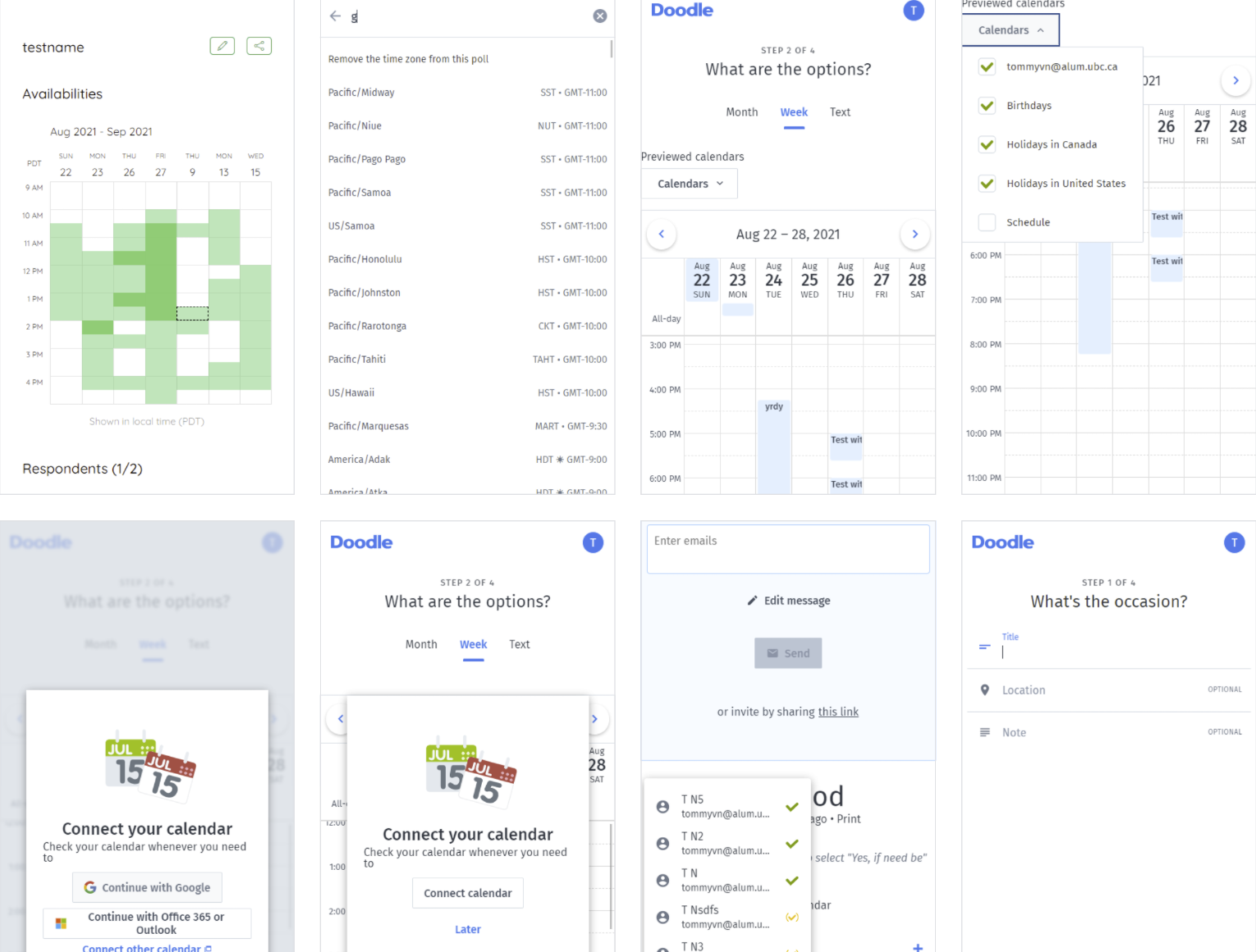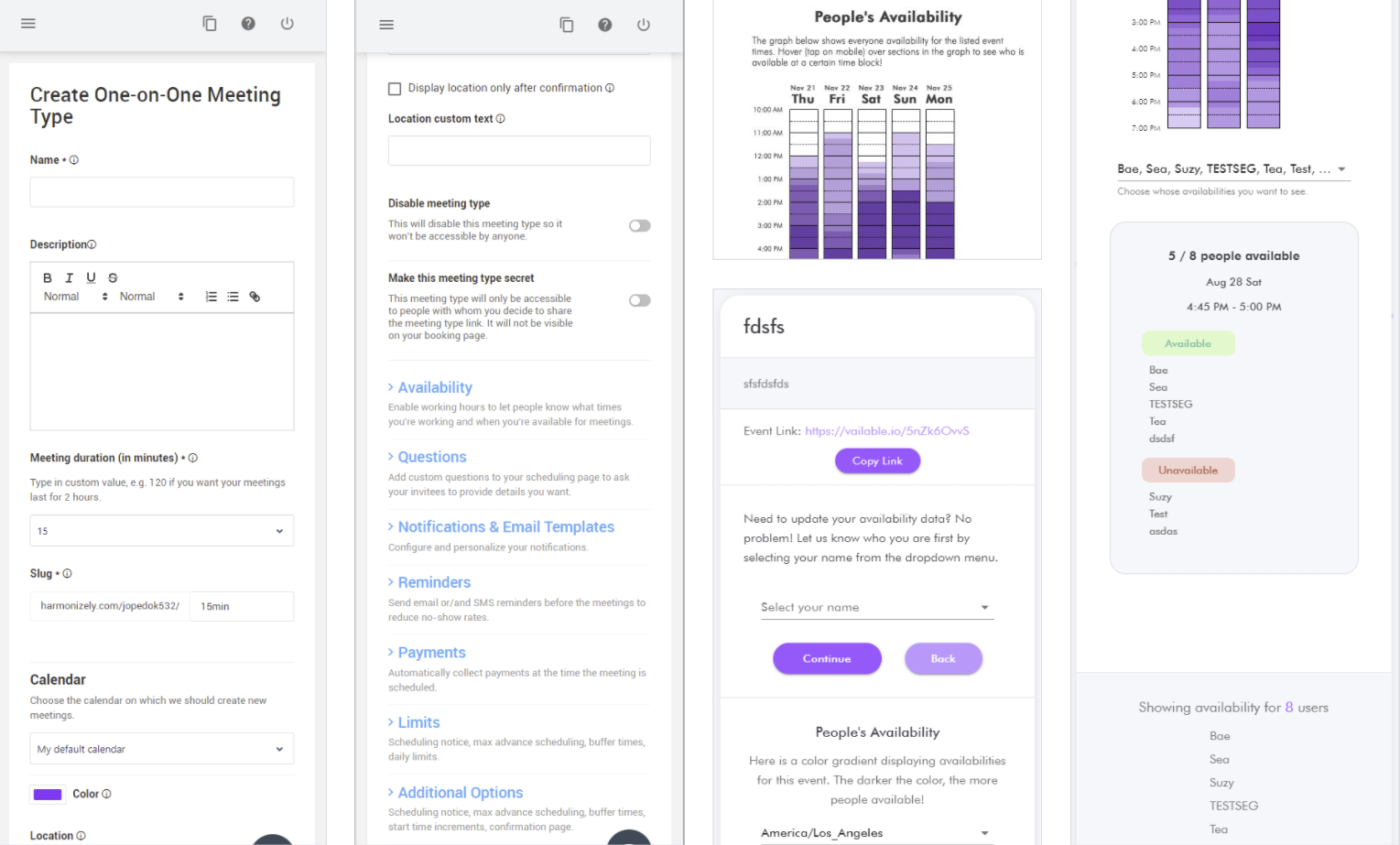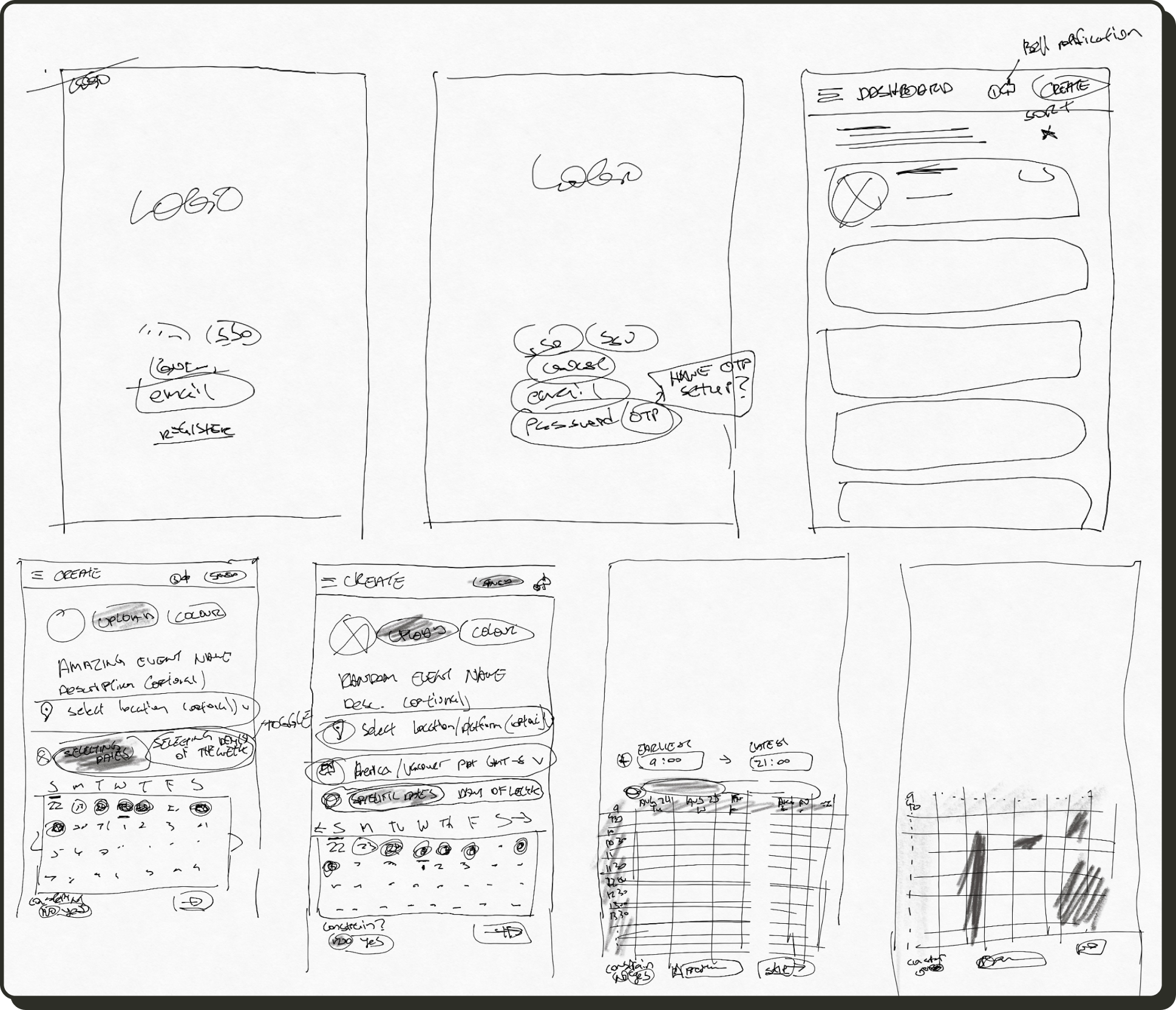 Sketches
To preliminarily brainstorm and mock-up various layouts, I did a handful of exploratory sketches to get some ideas of what the solution might look like. I pulled inspirations from the UI Inspiration board as well as the existing solutions like When2Meet and Doodle.
The intent was to reduce the friction of crafting by quickly penning out thoughts and ideas and they arise. Sketches can be unflattering, however, they provide a strong foundation when moving towards low-fidelity wireframes.
Wireframes
Despite having my solution sketches ready, my first iteration of wireframes still took plenty of time. Thinking ahead, I wanted my design to be extremely robust—allowing me to make small critical edits that can quickly reflect across multiple frames. To do so, I mapped out all of my potential components and spent time creating those first.
The trick to creating components is to identify what repeats. I started with simple low-fidelity wireframes using rectangles, circles, and blobs to help me visualize how it might look digitally. As frames begin to call for similar visuals, I would immediately draft up that element as a component.
After several iterations, I had a mid-fidelity greyscaled wireframe ready to be used for some testing. I avoided introducing colours to facilitate testing. Usability testers should have their attention primarily focused on the application's usability and design and not whether the colour or contrast is appropriate at this stage.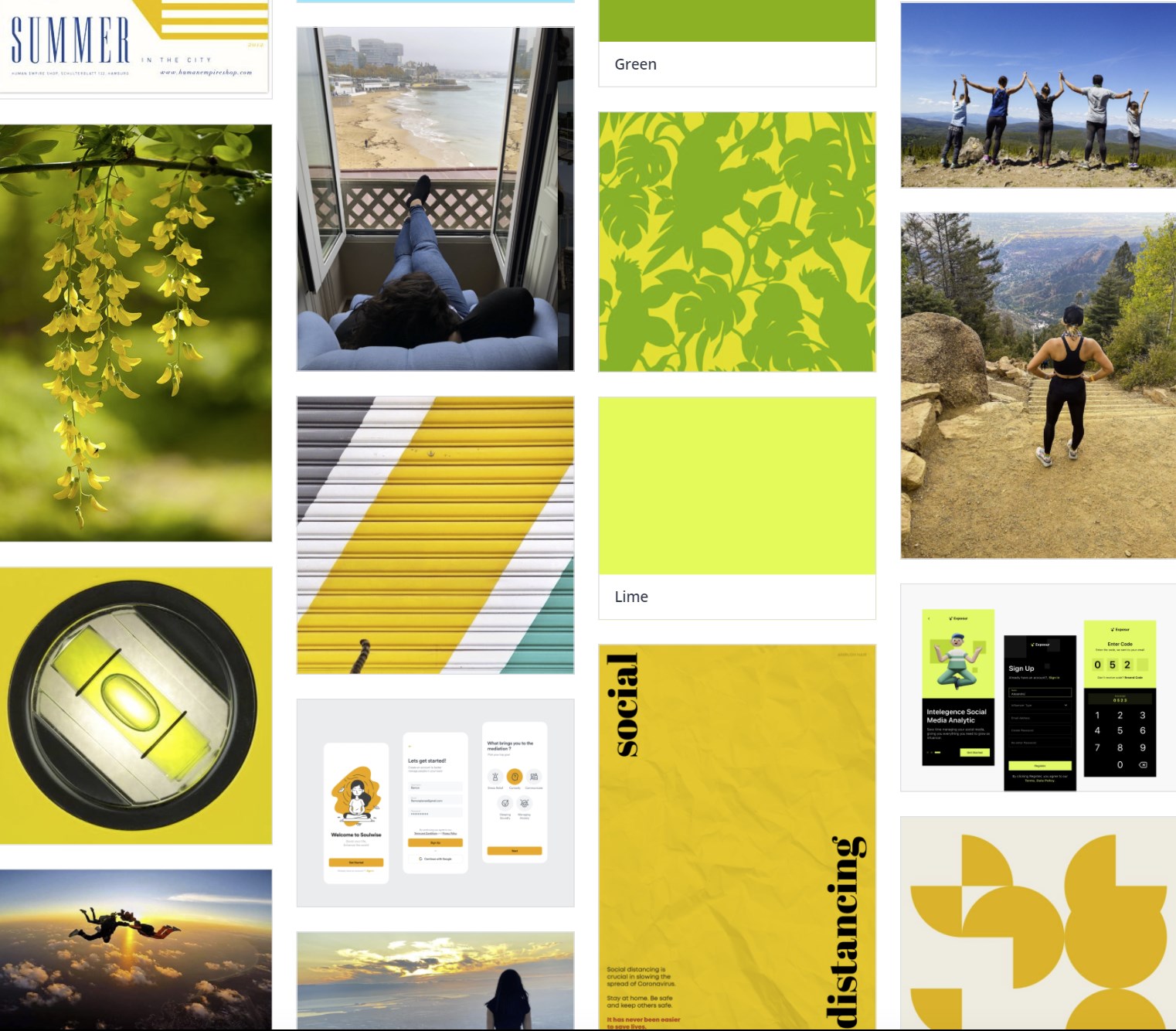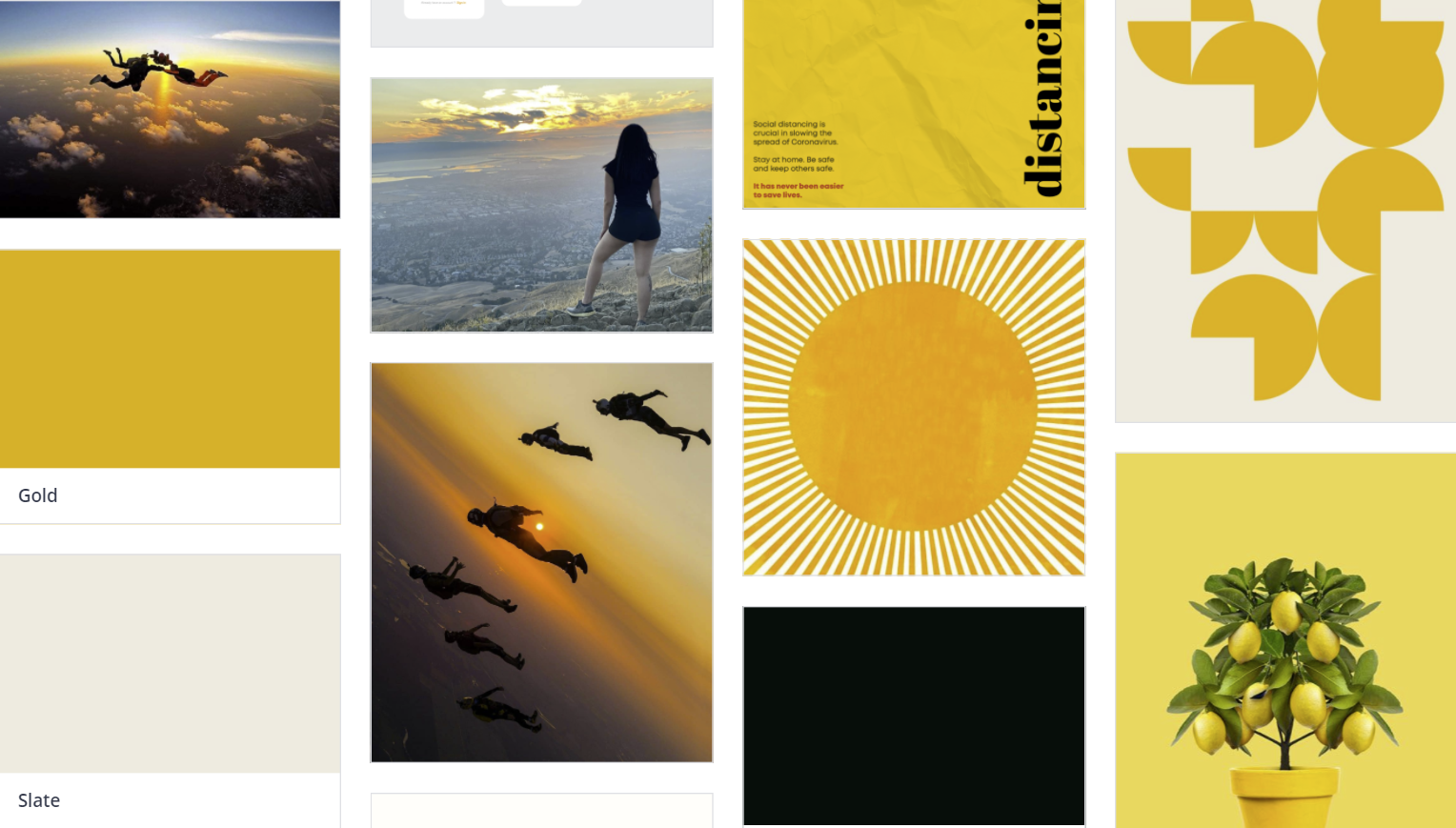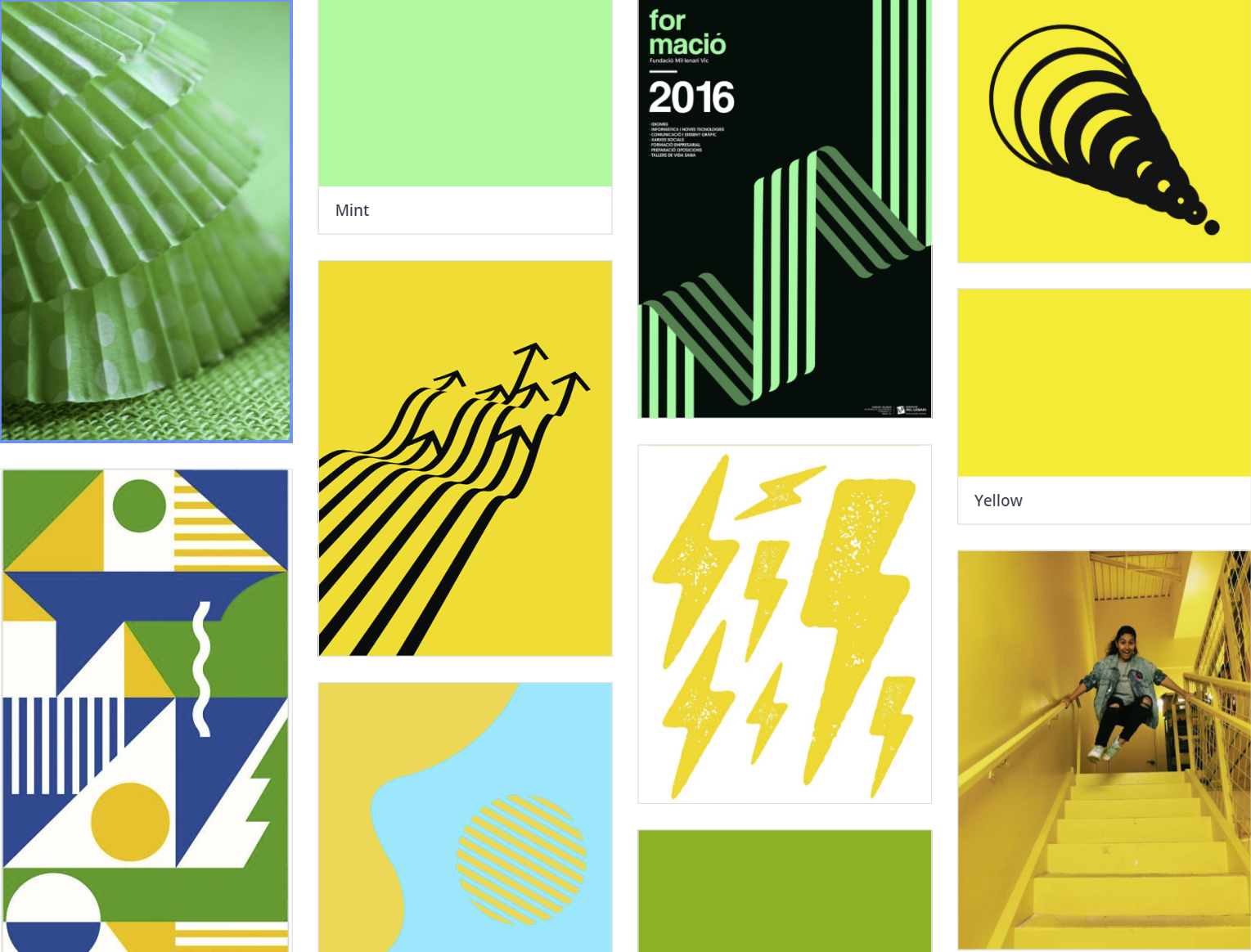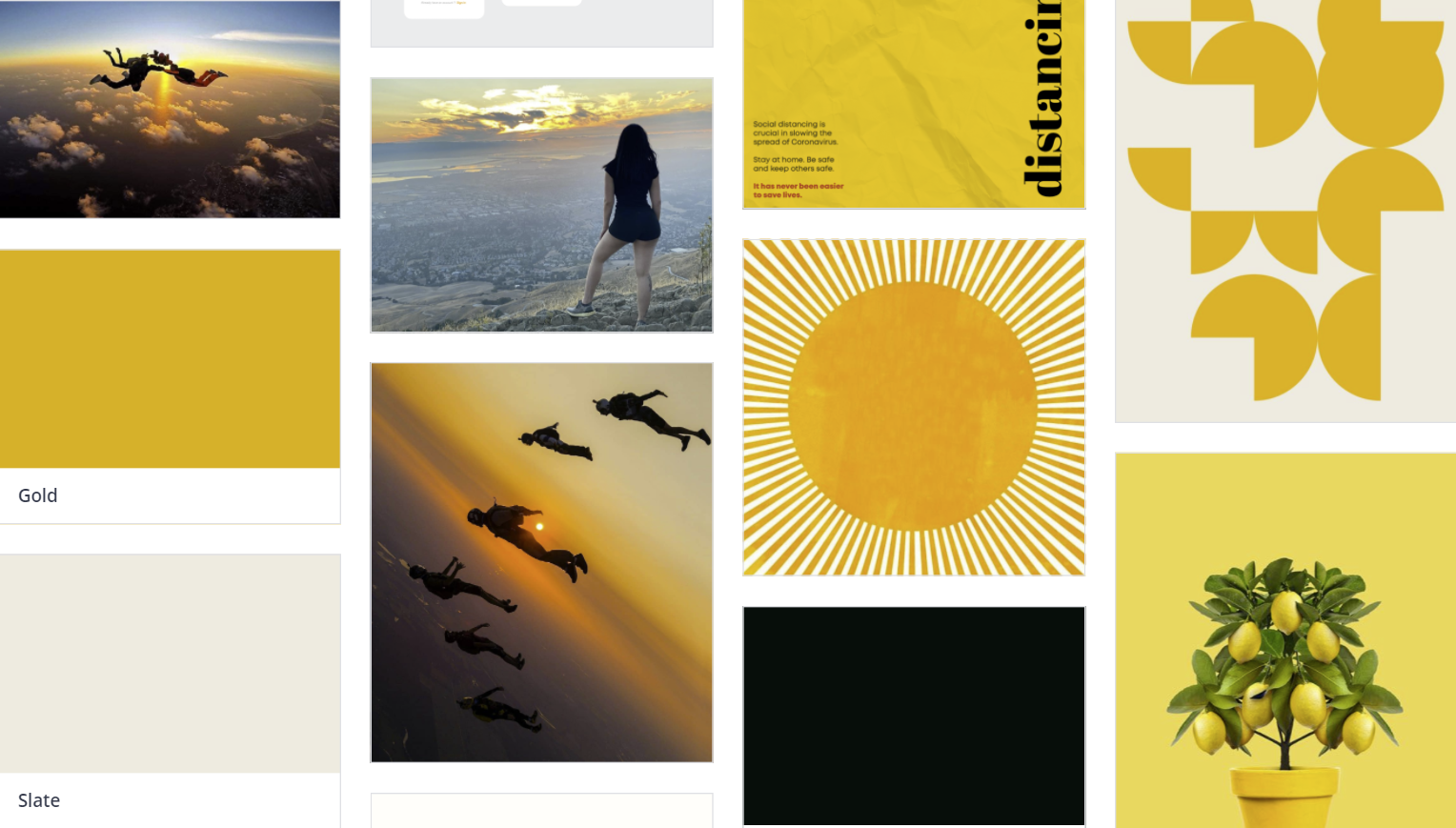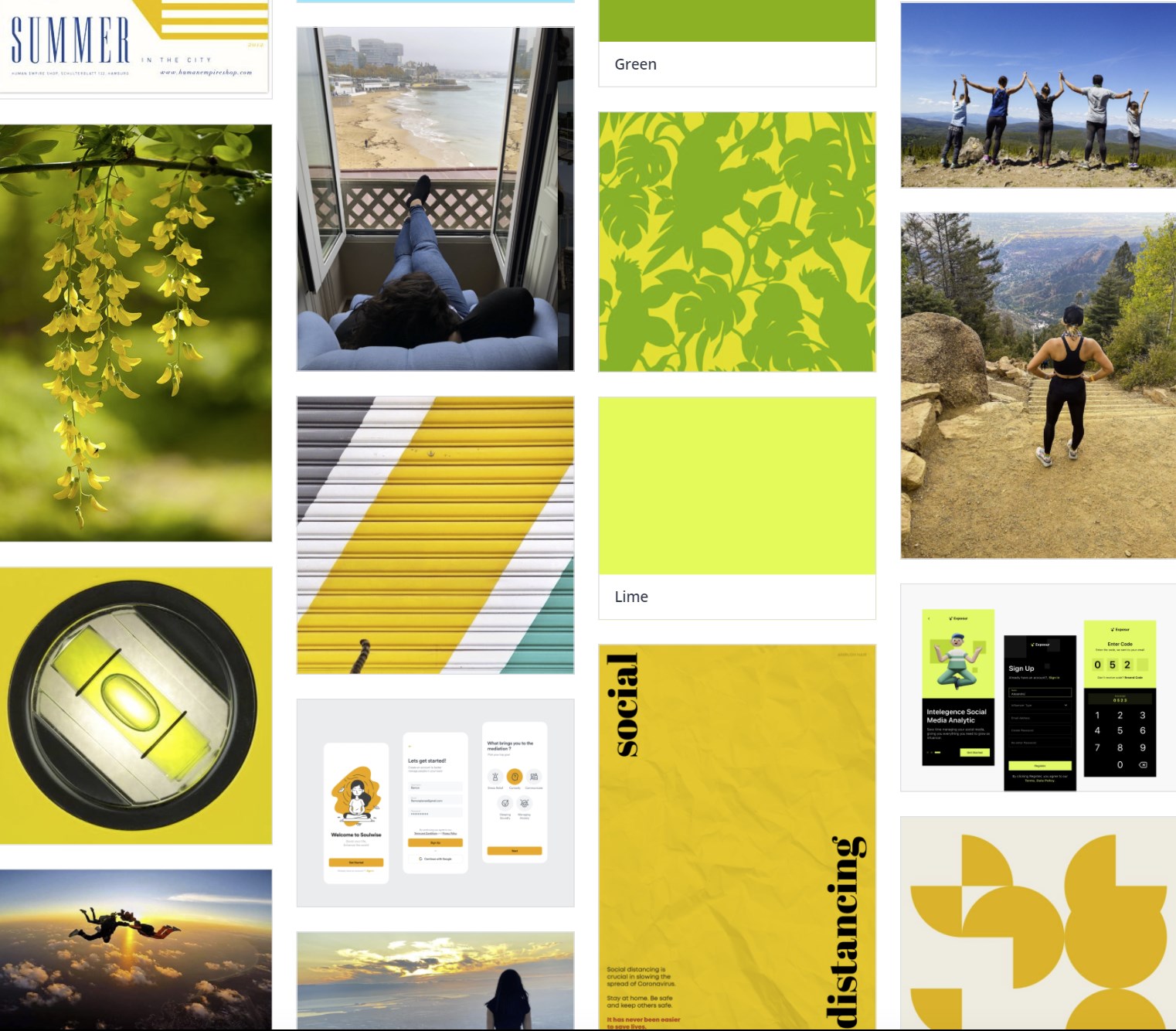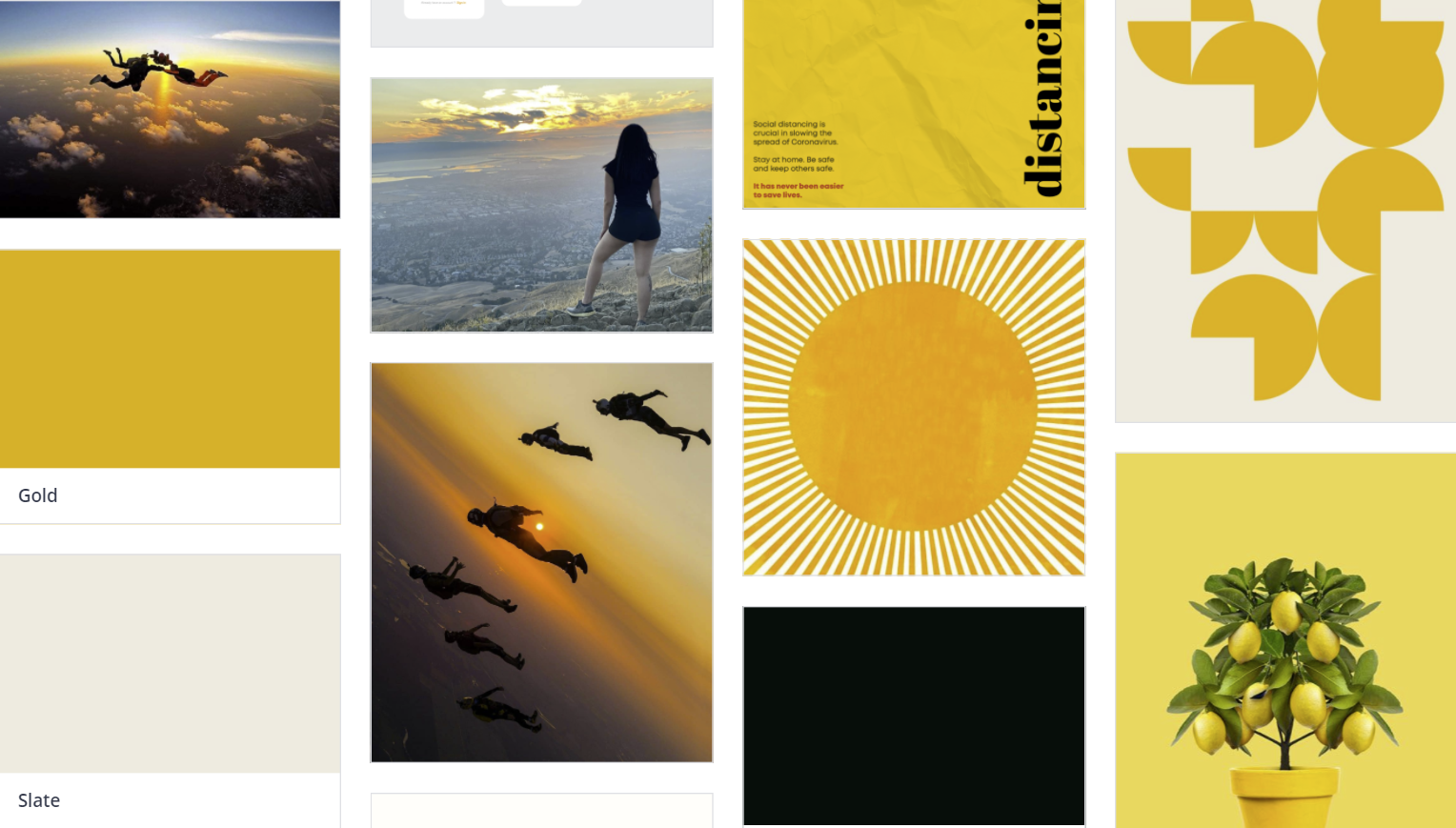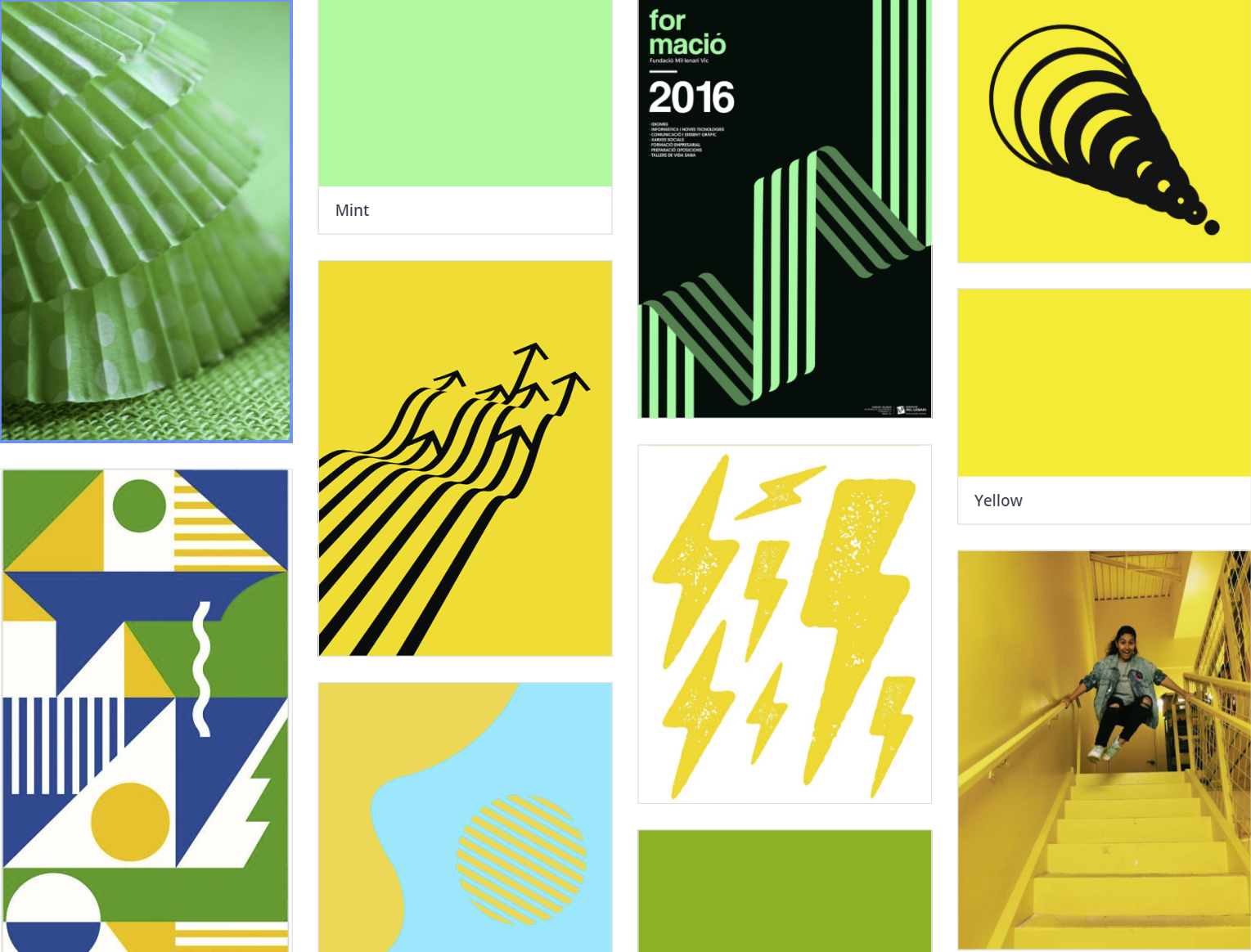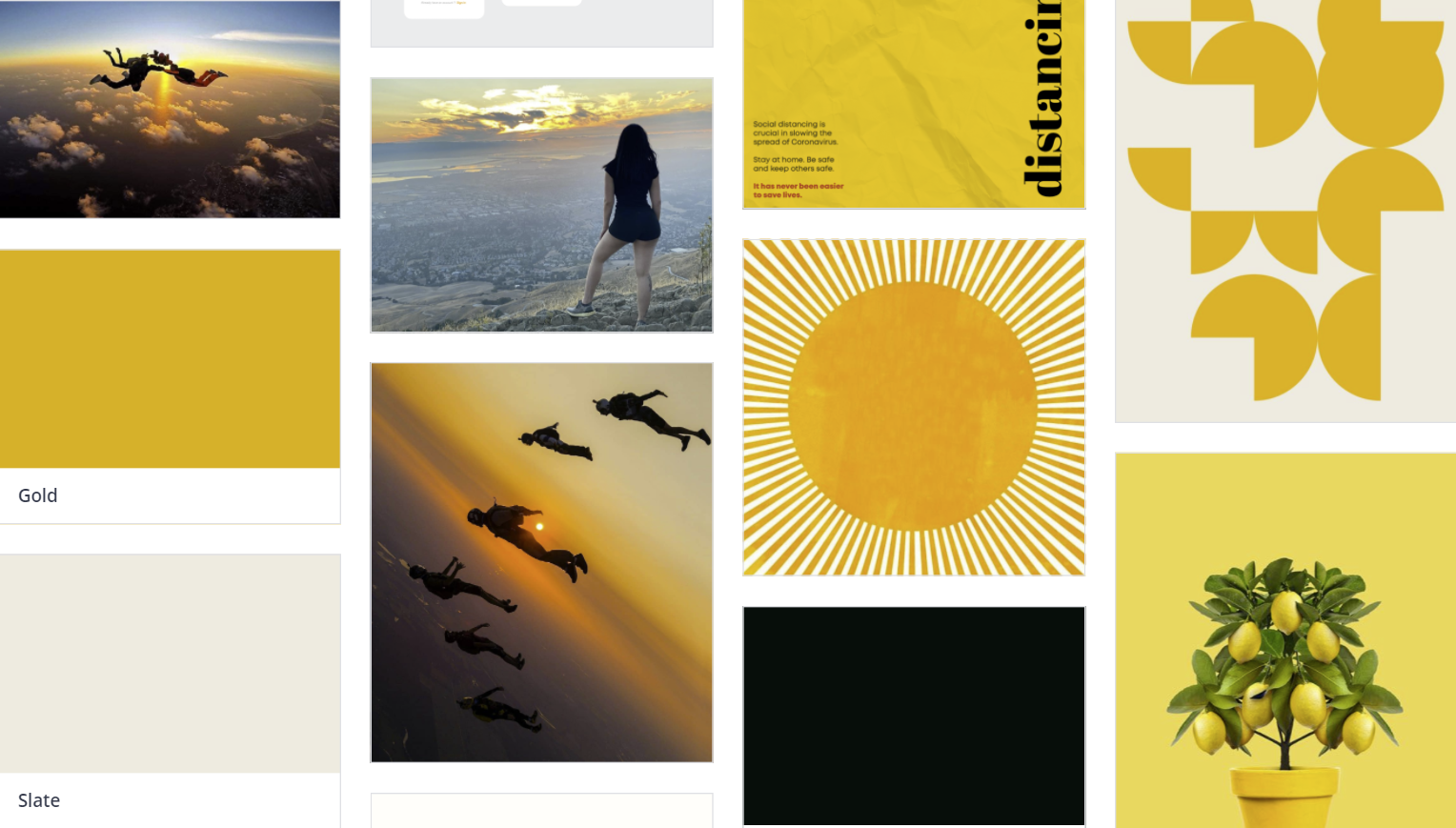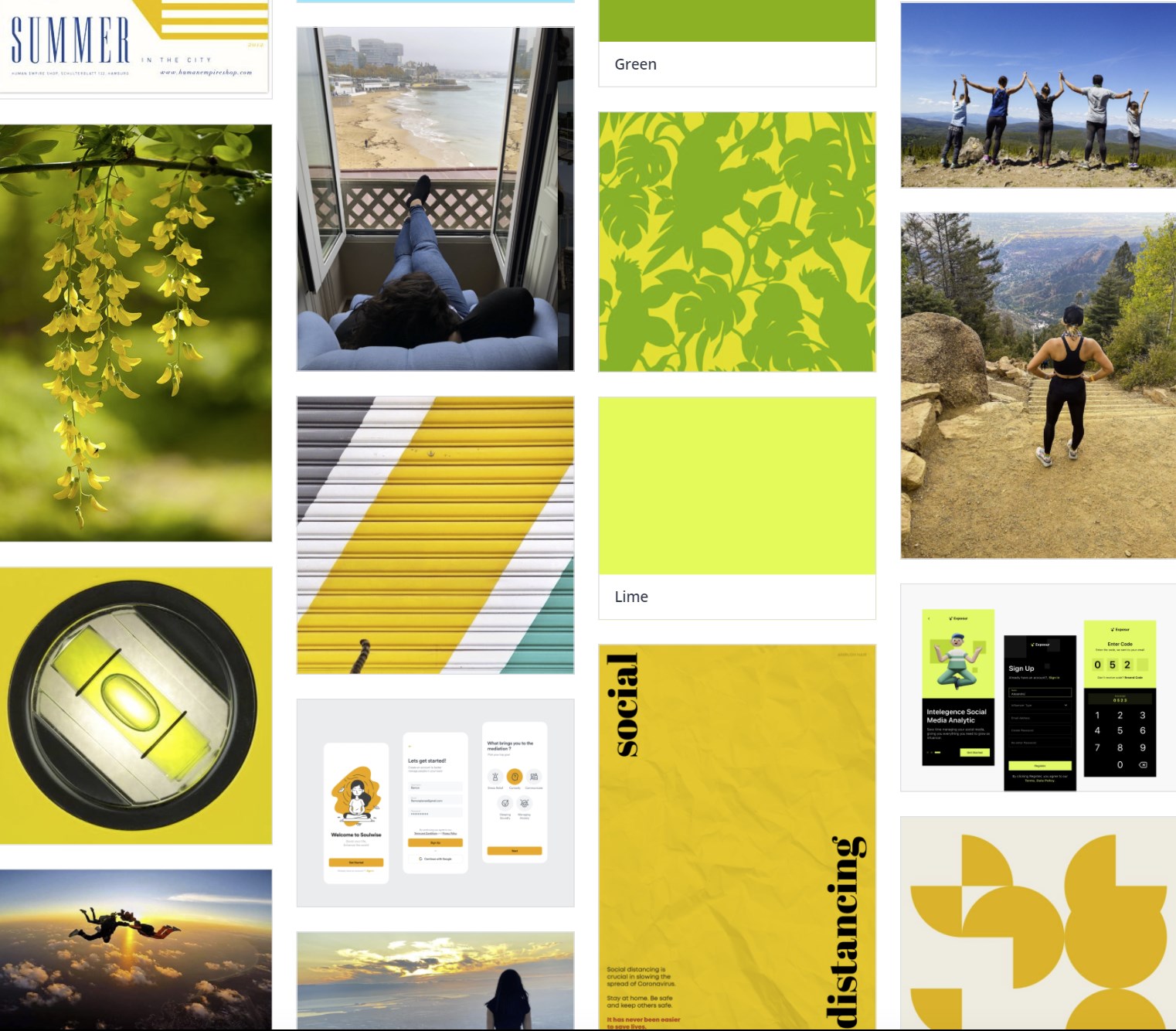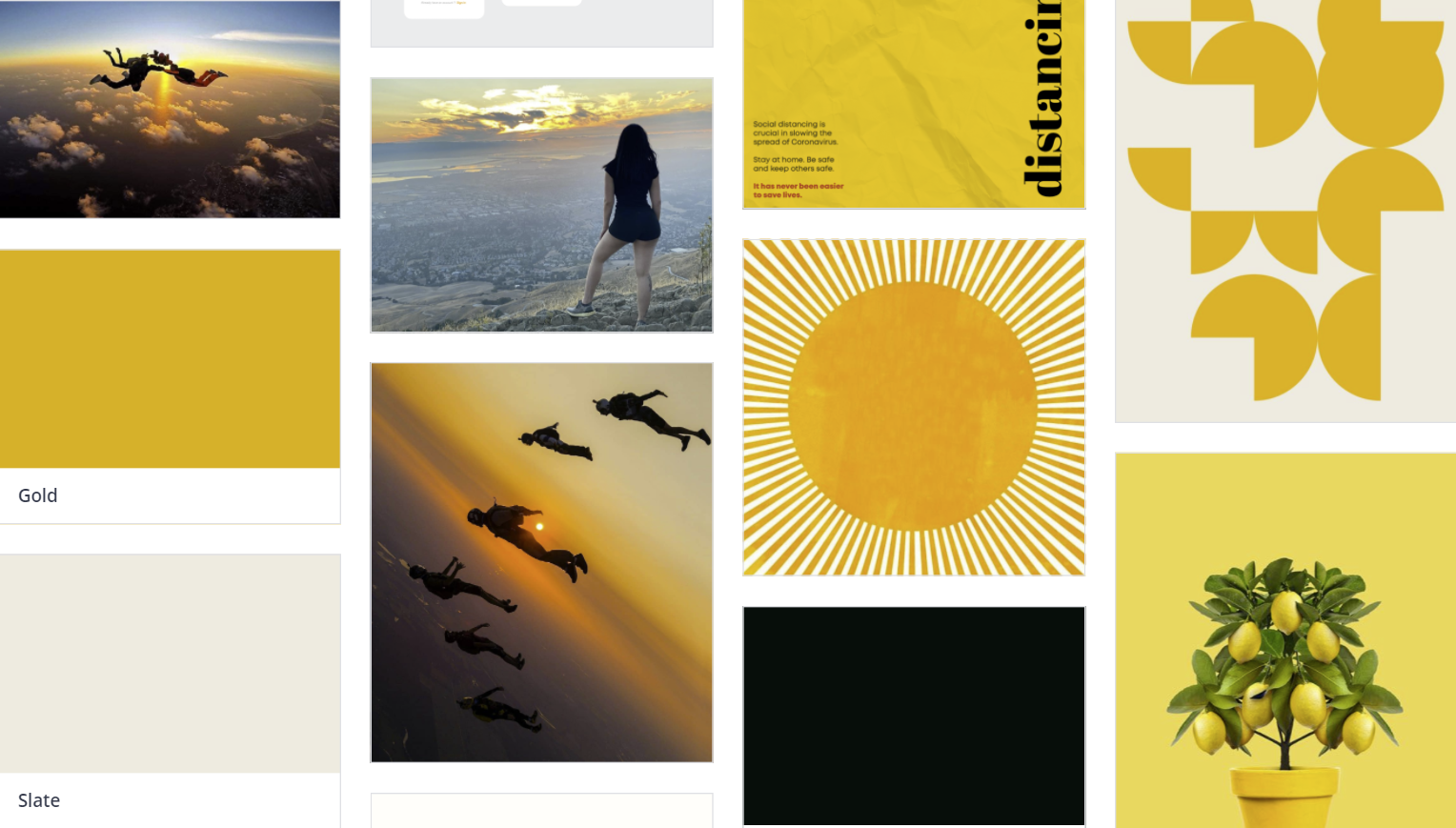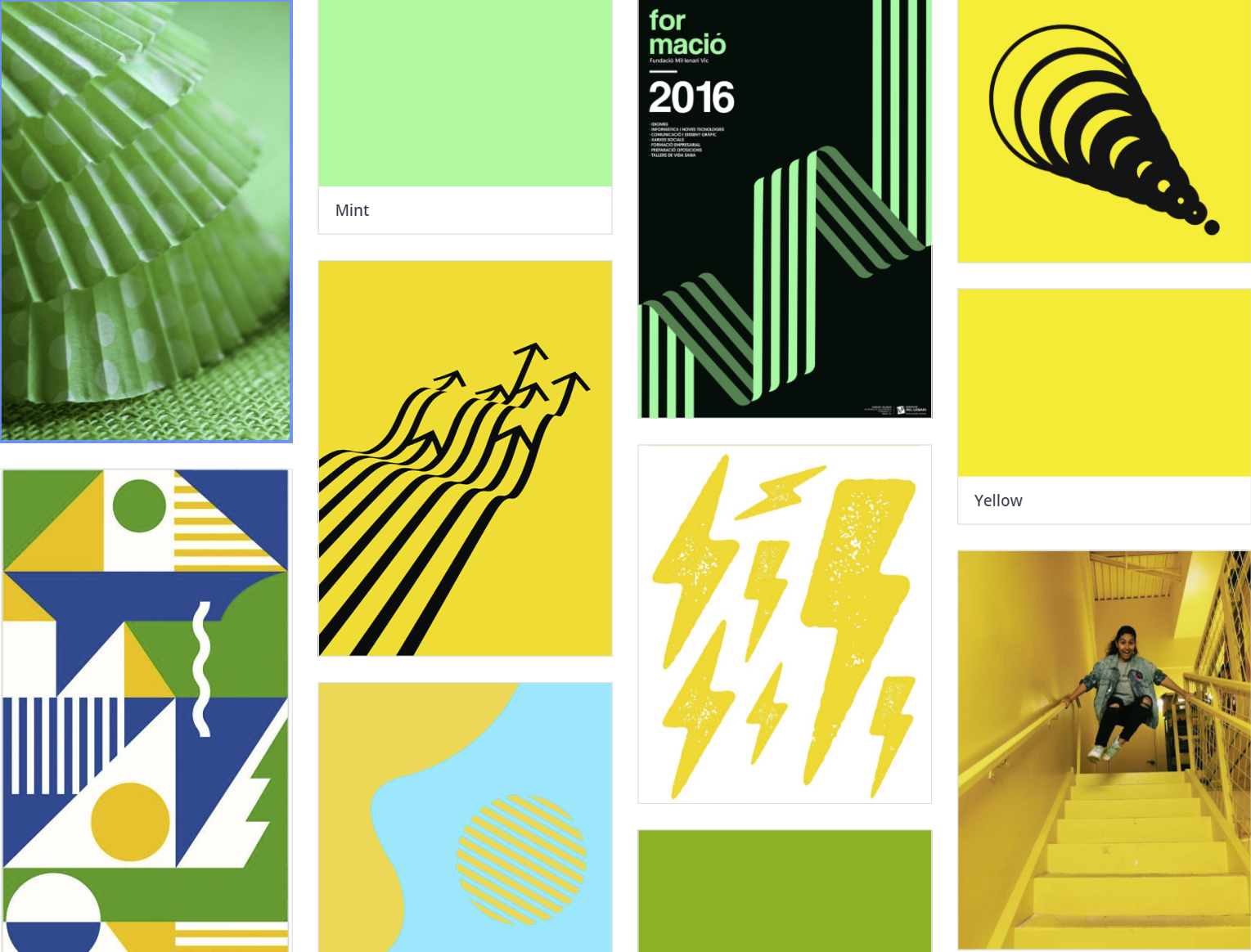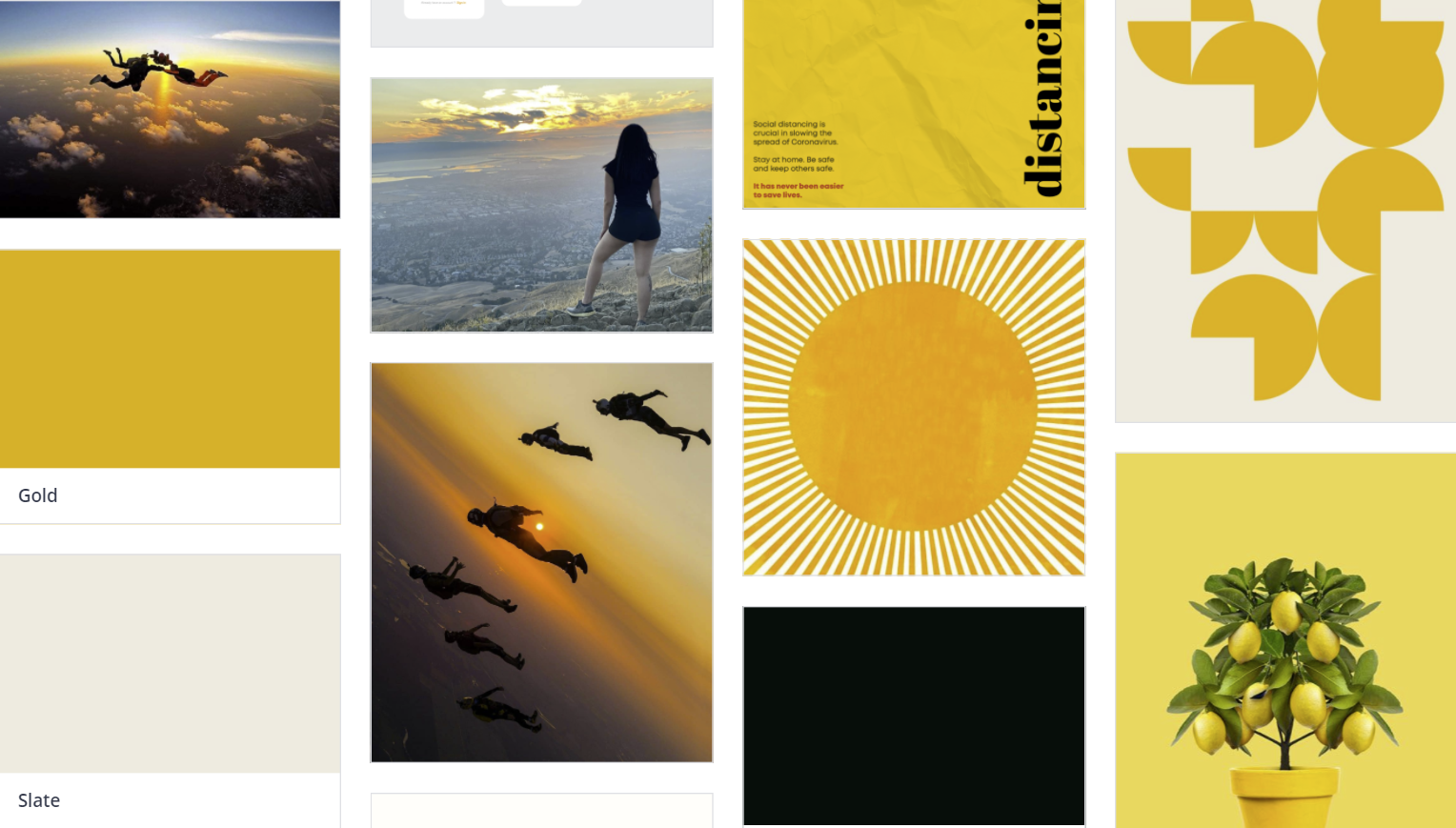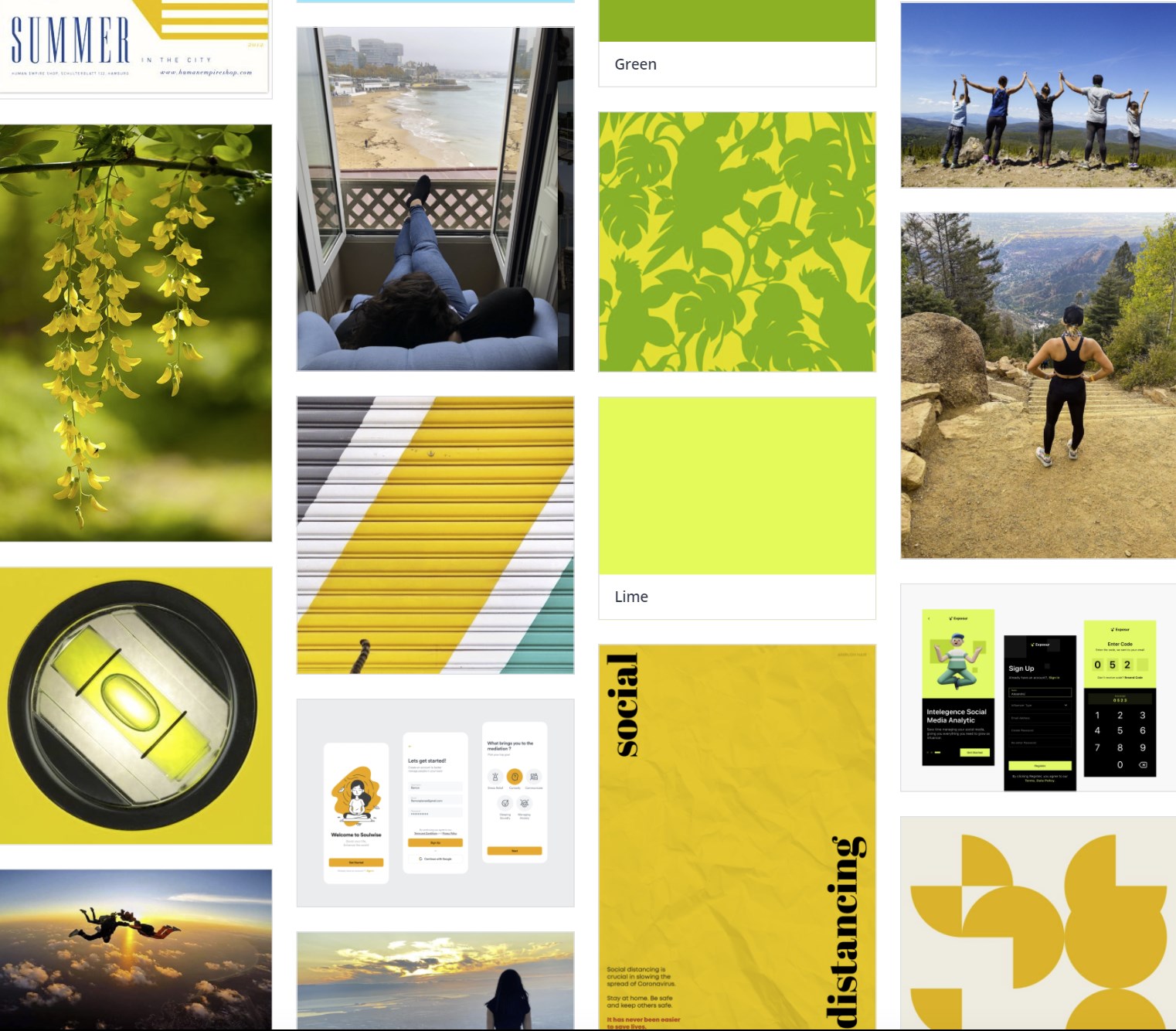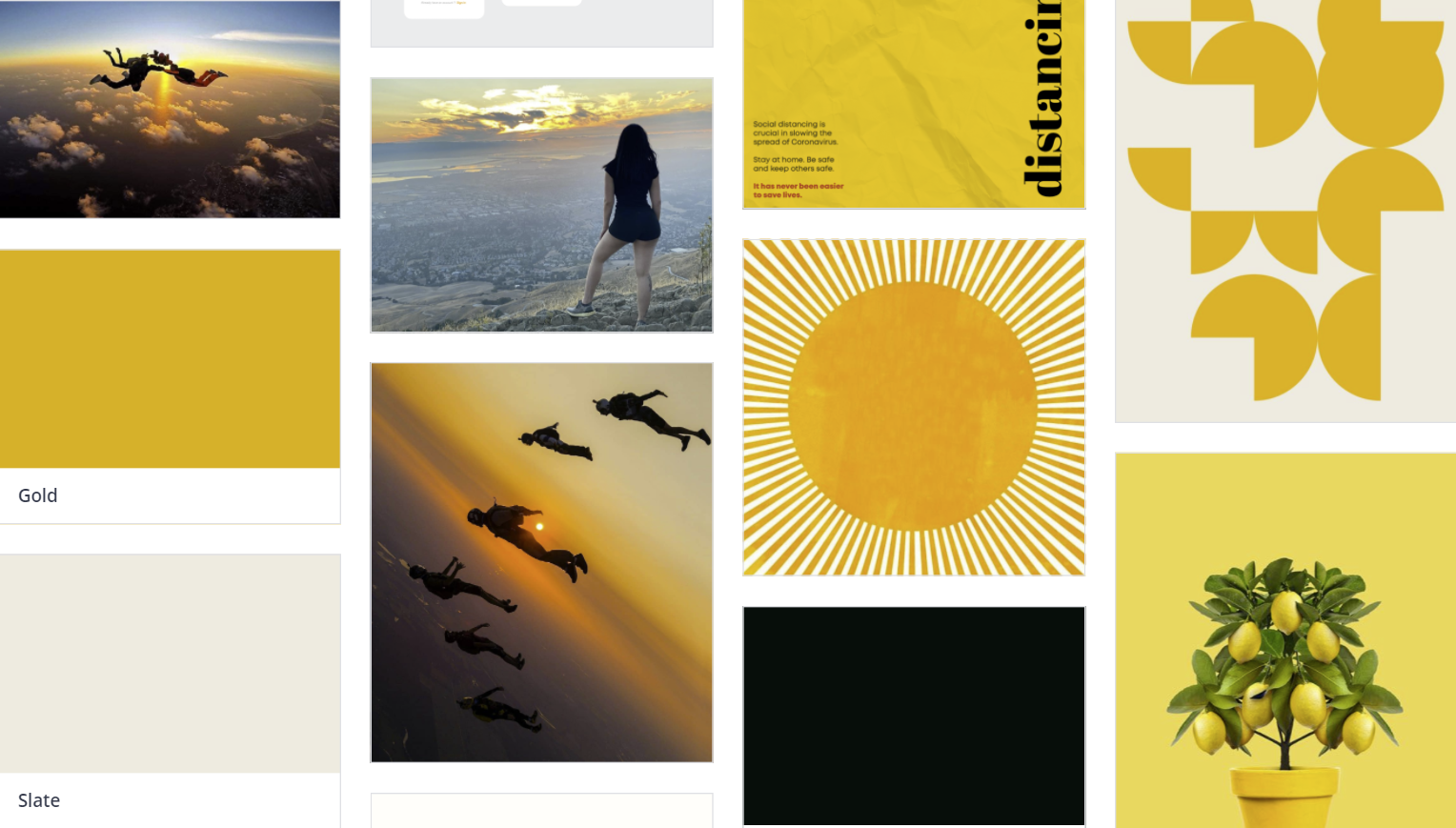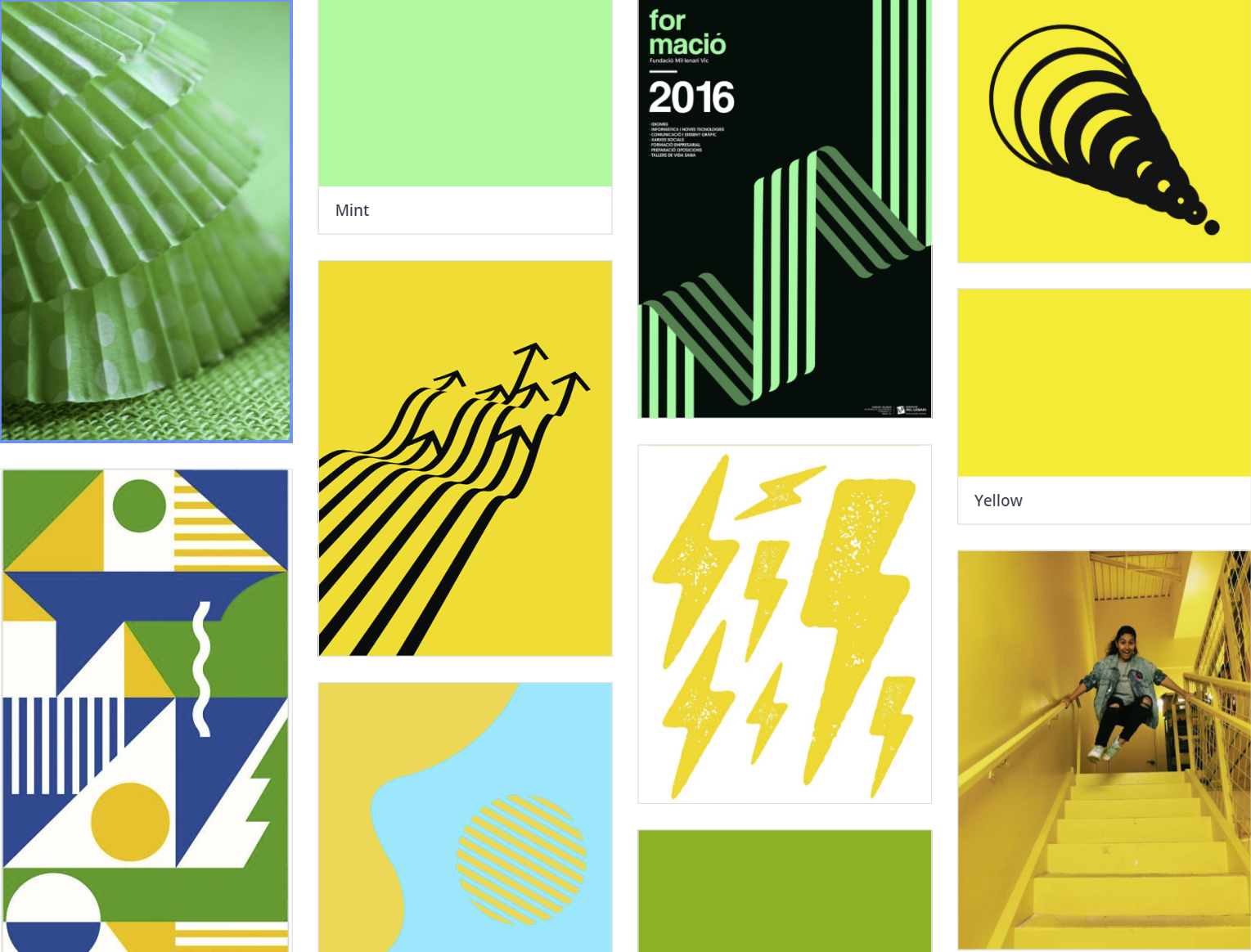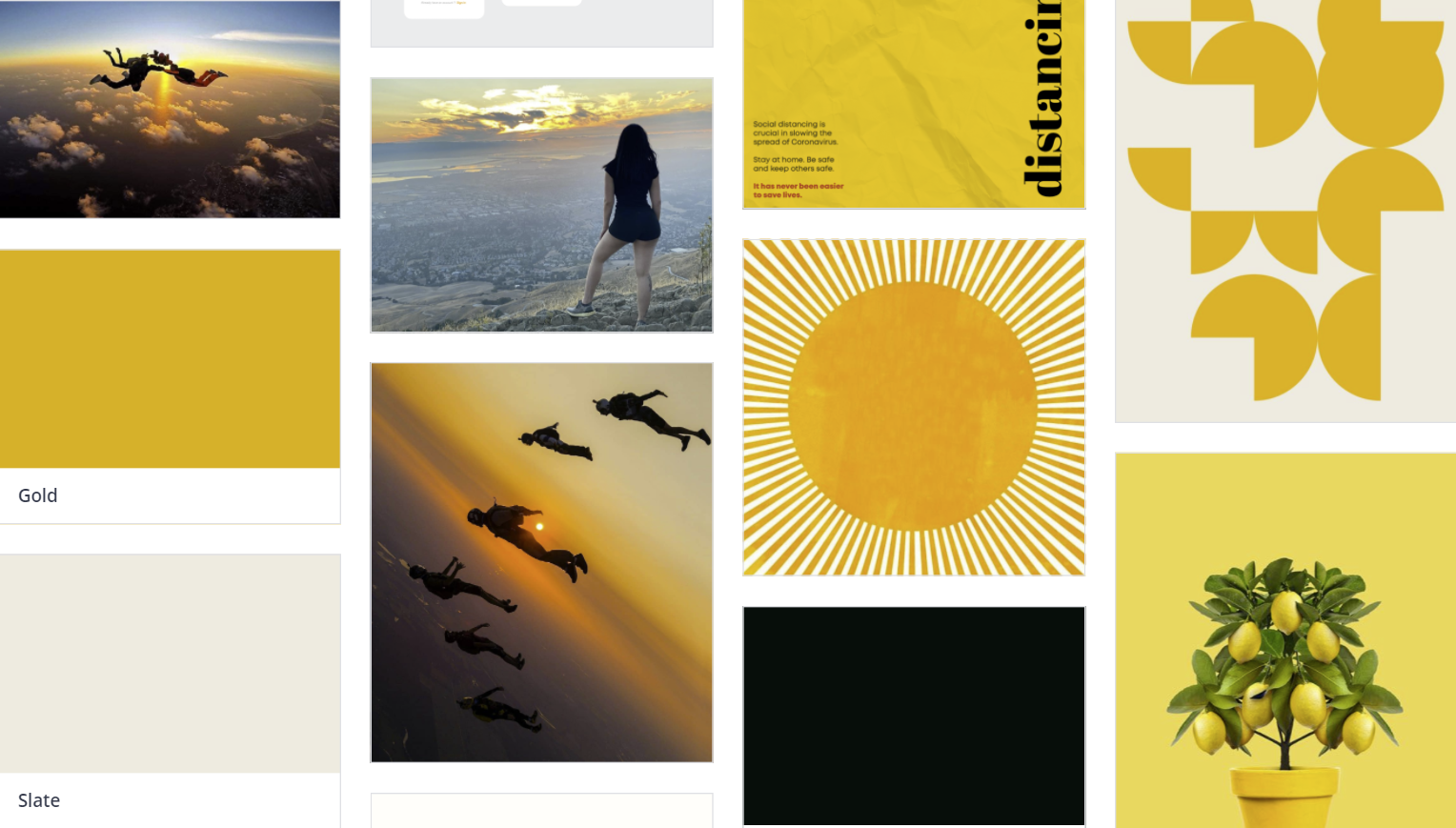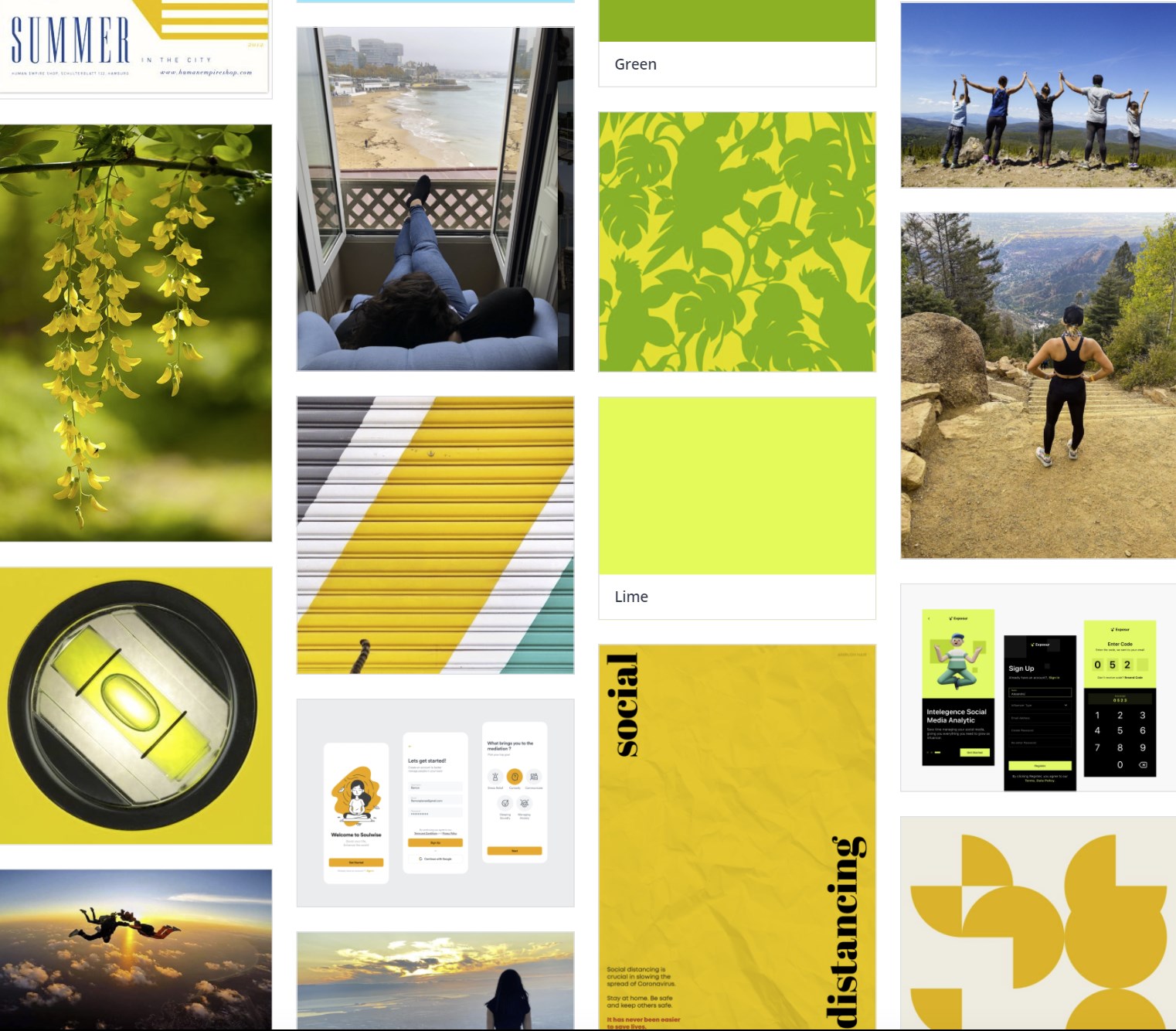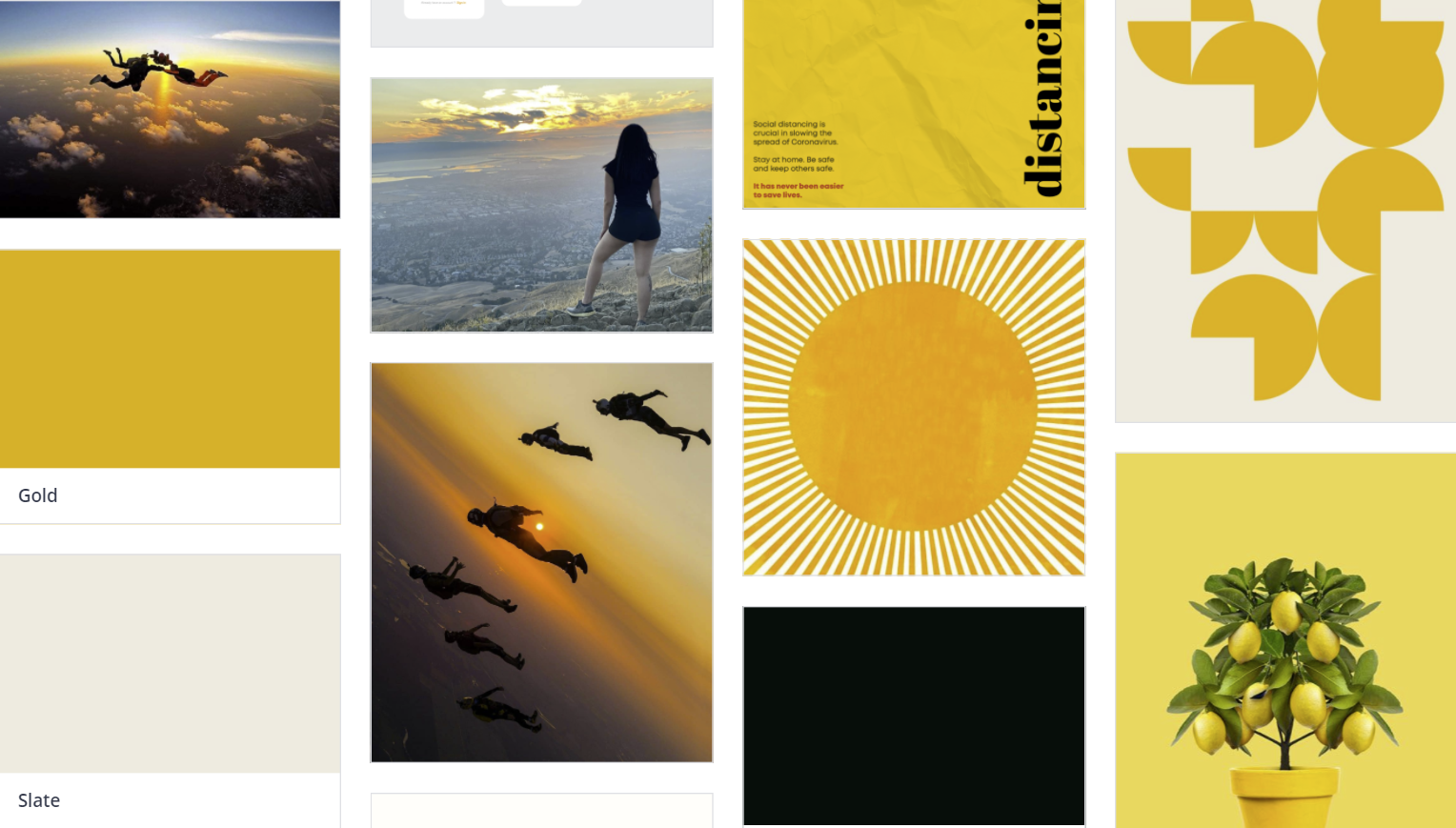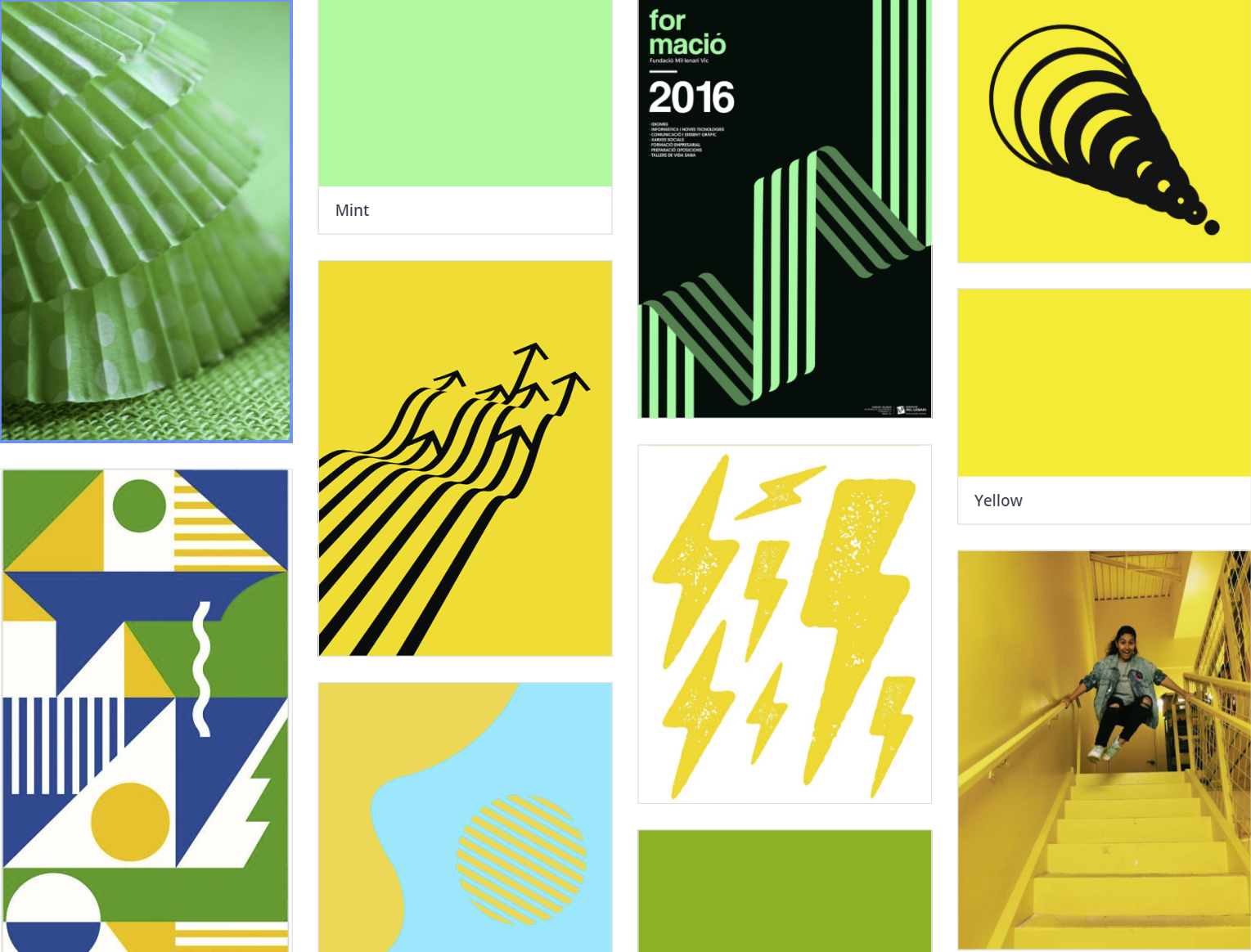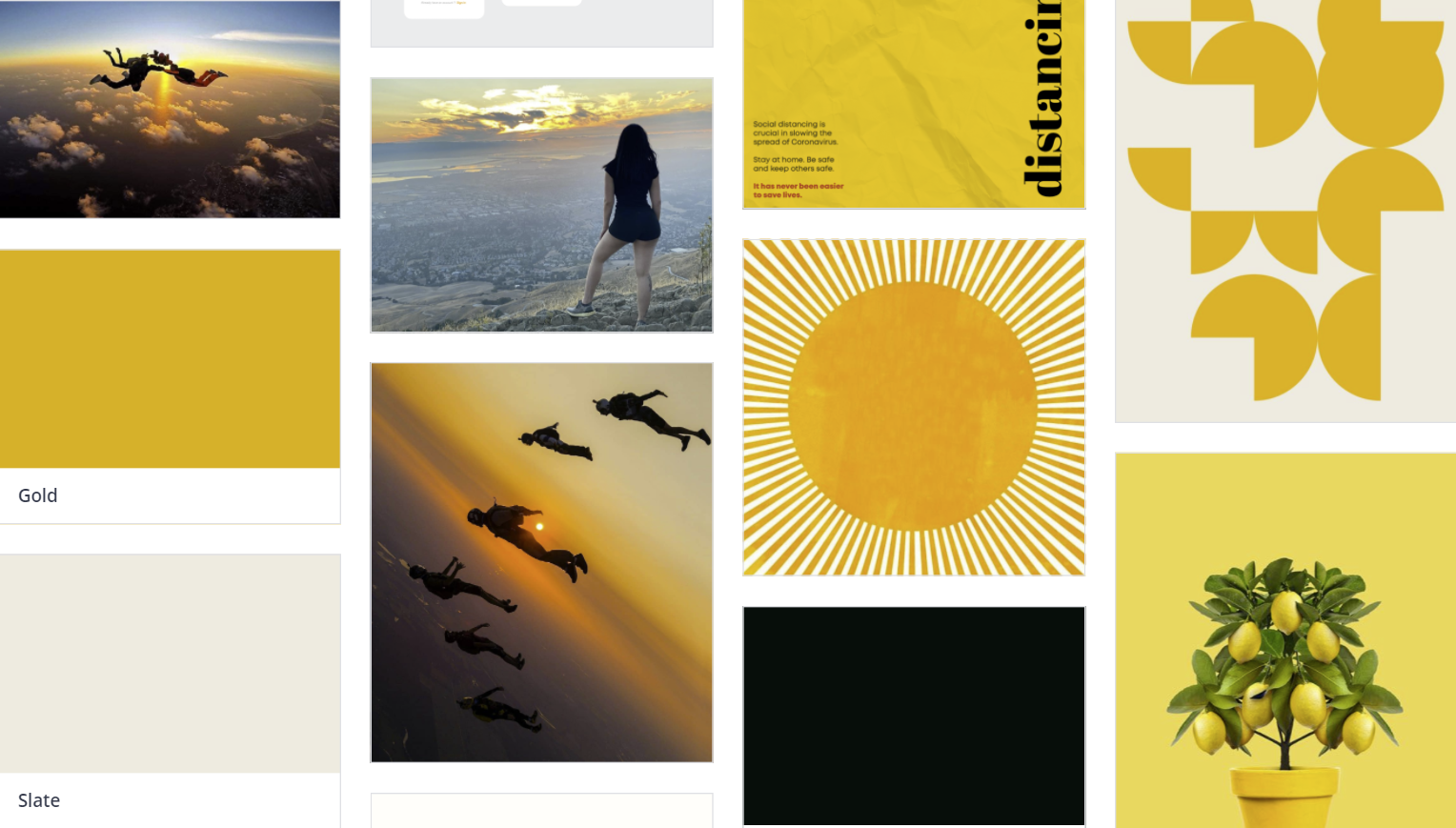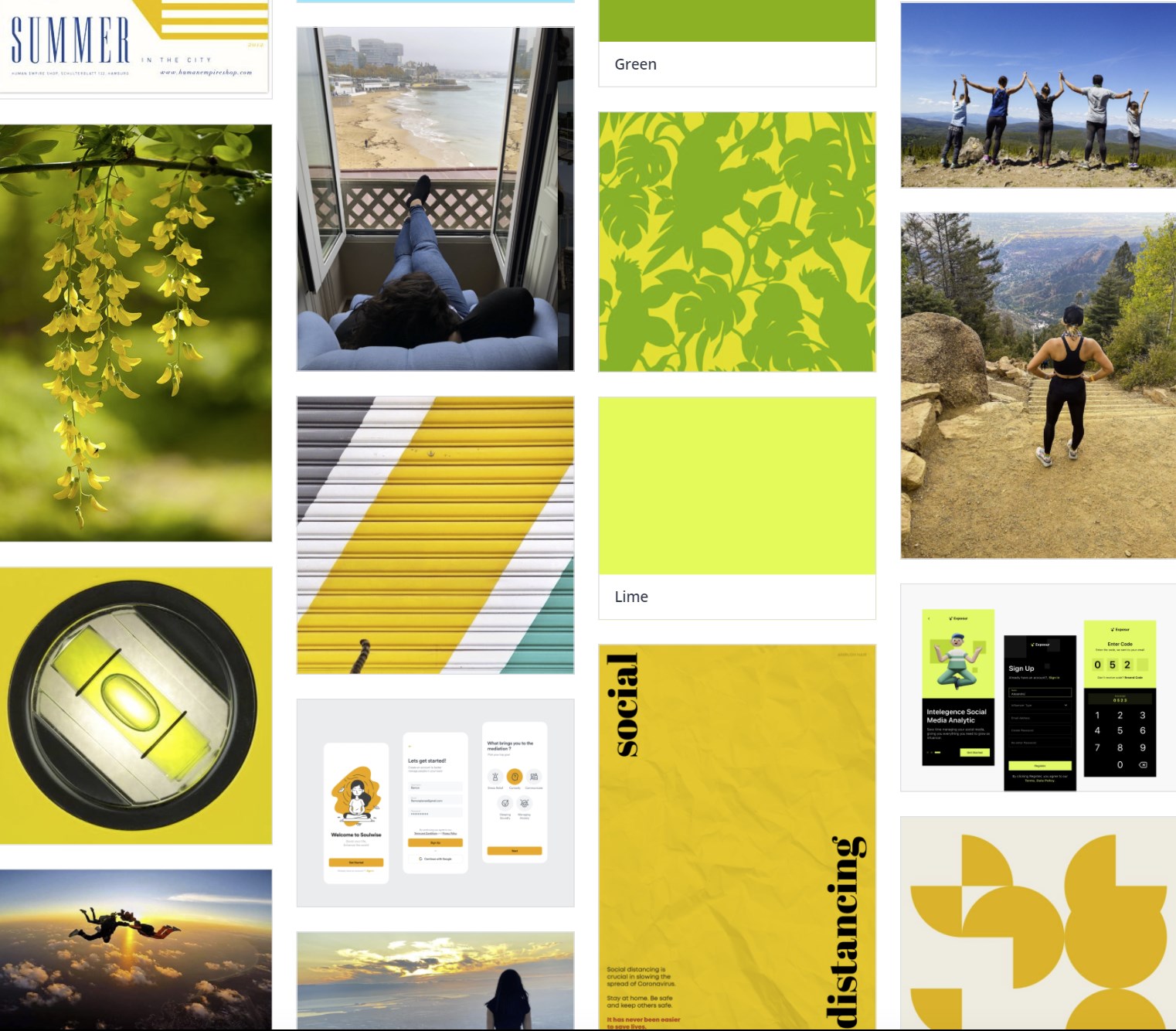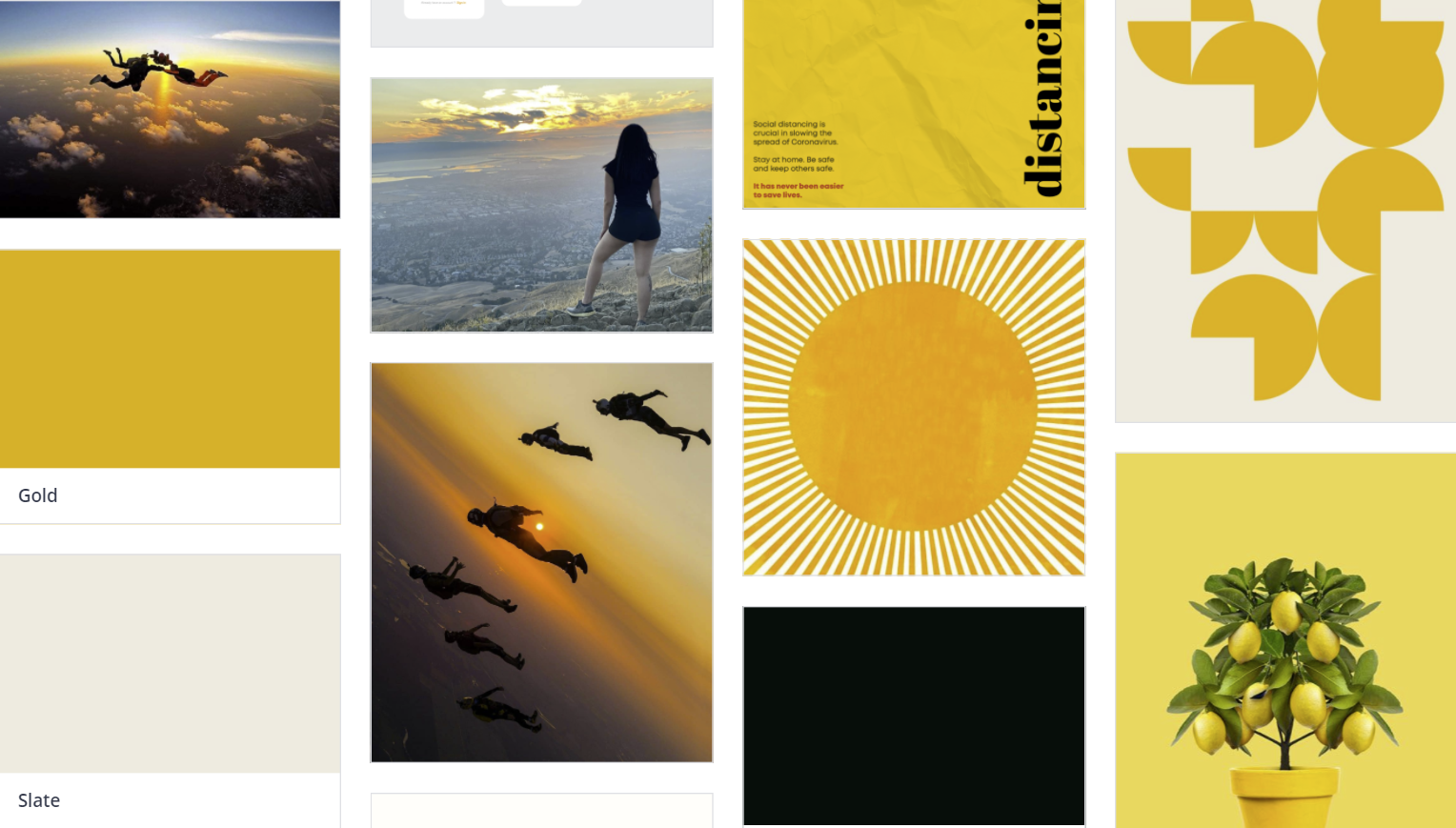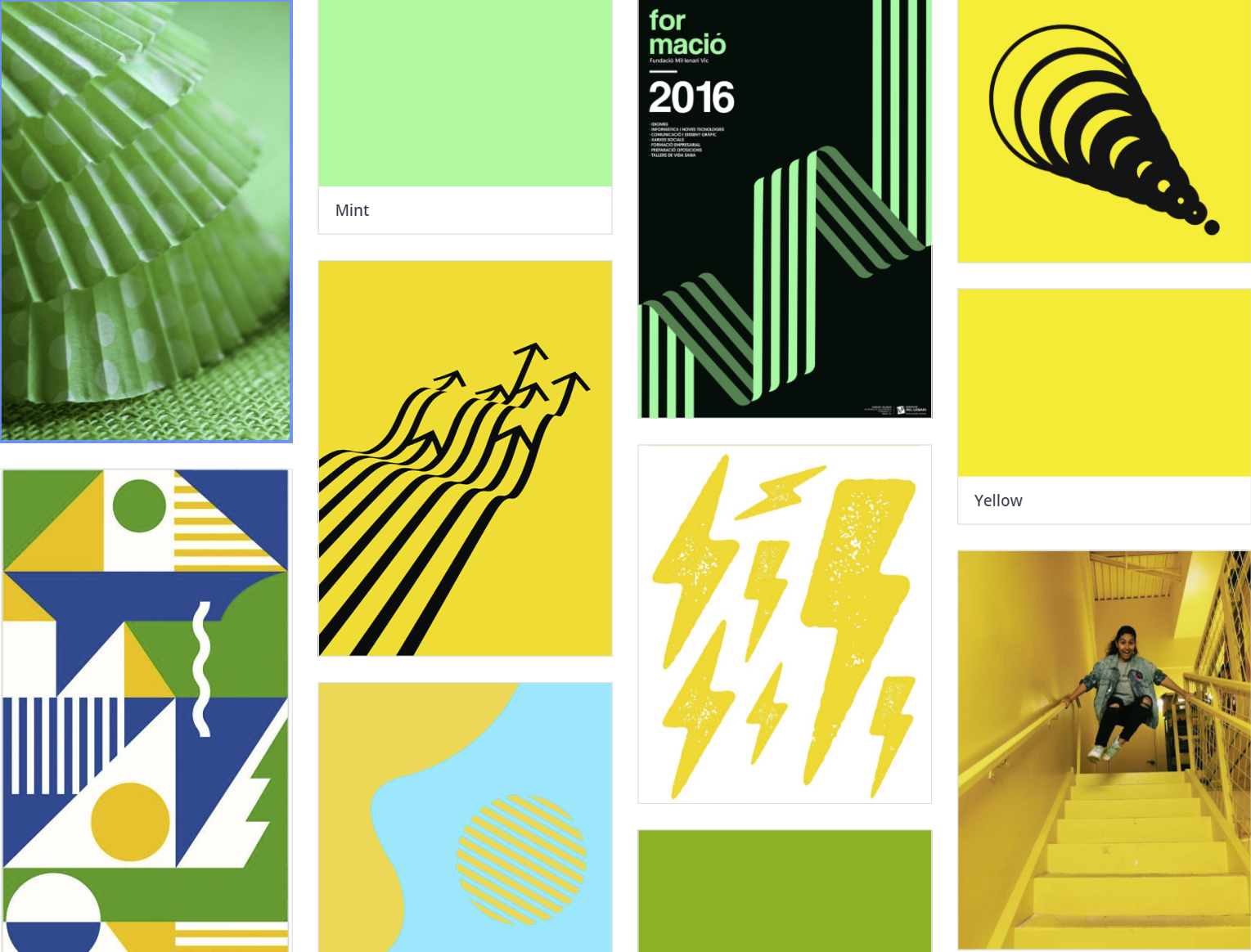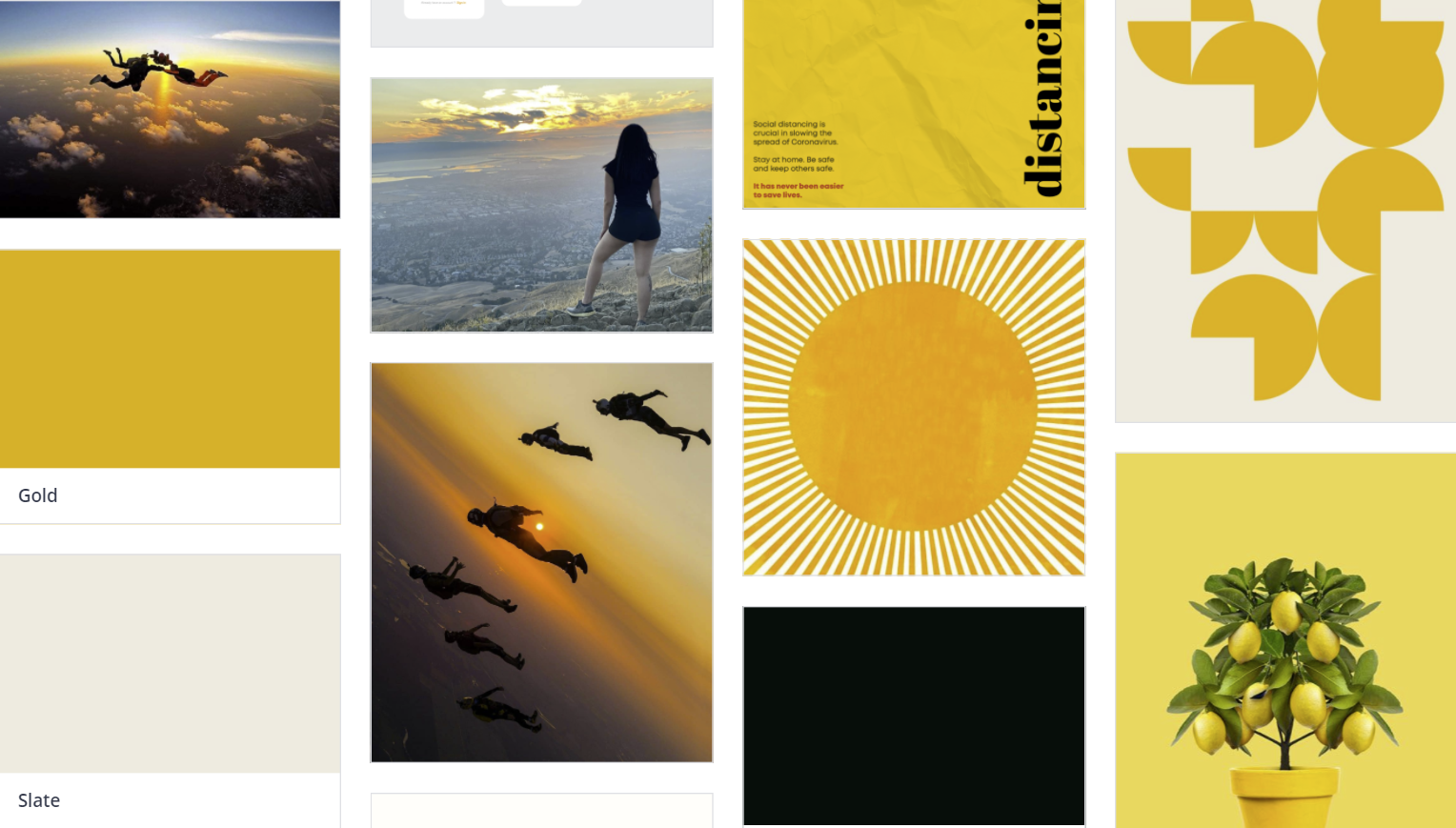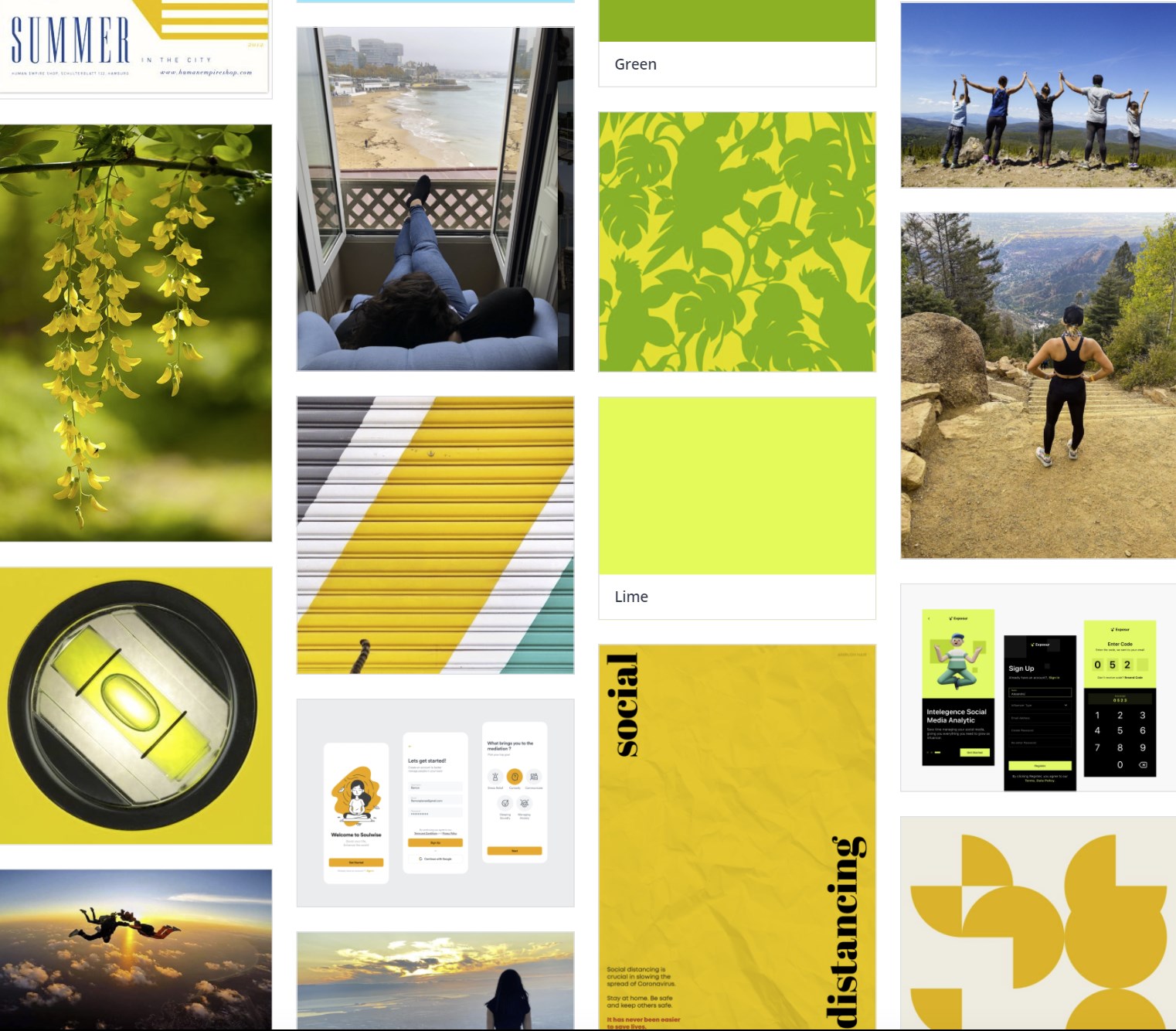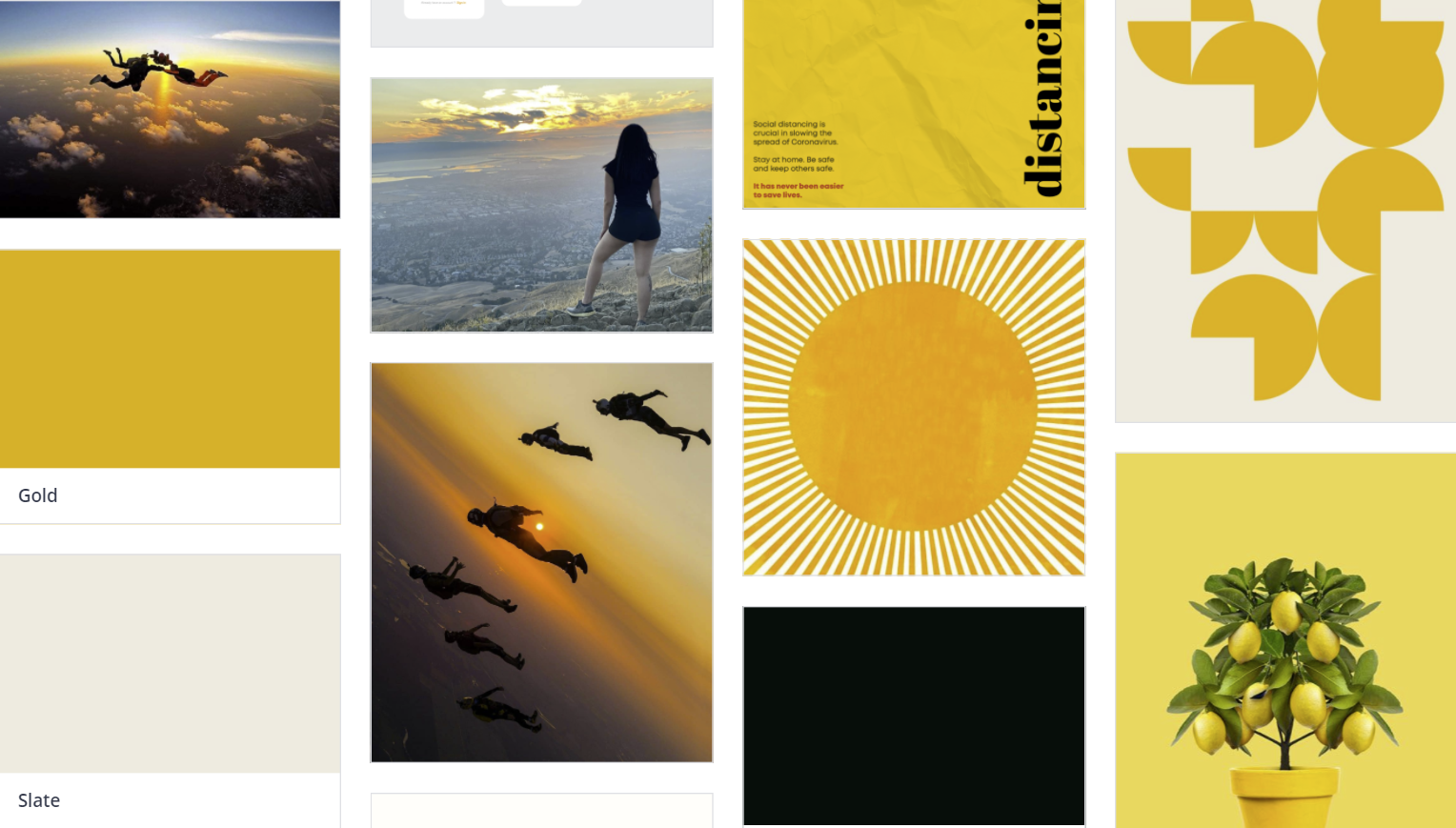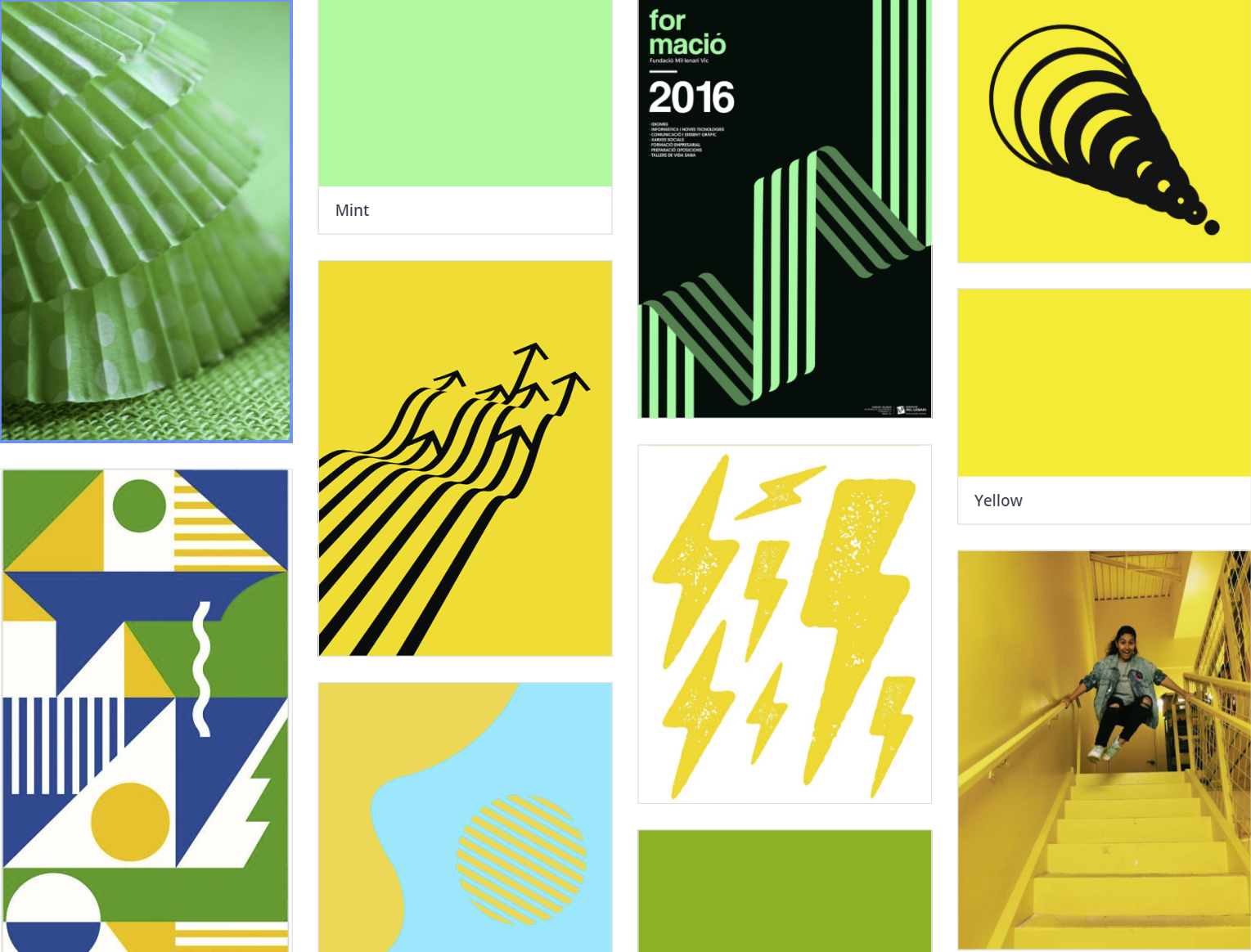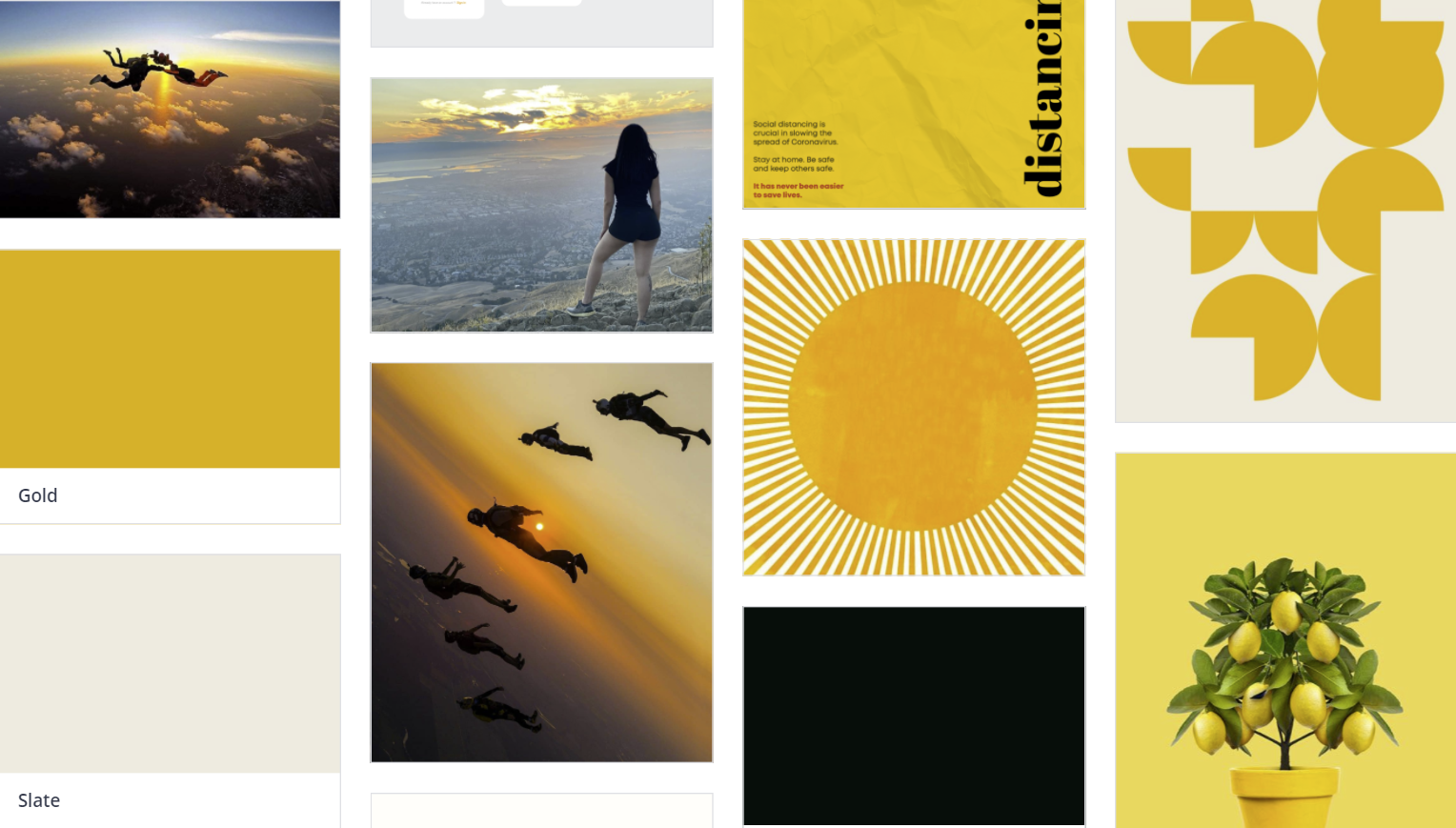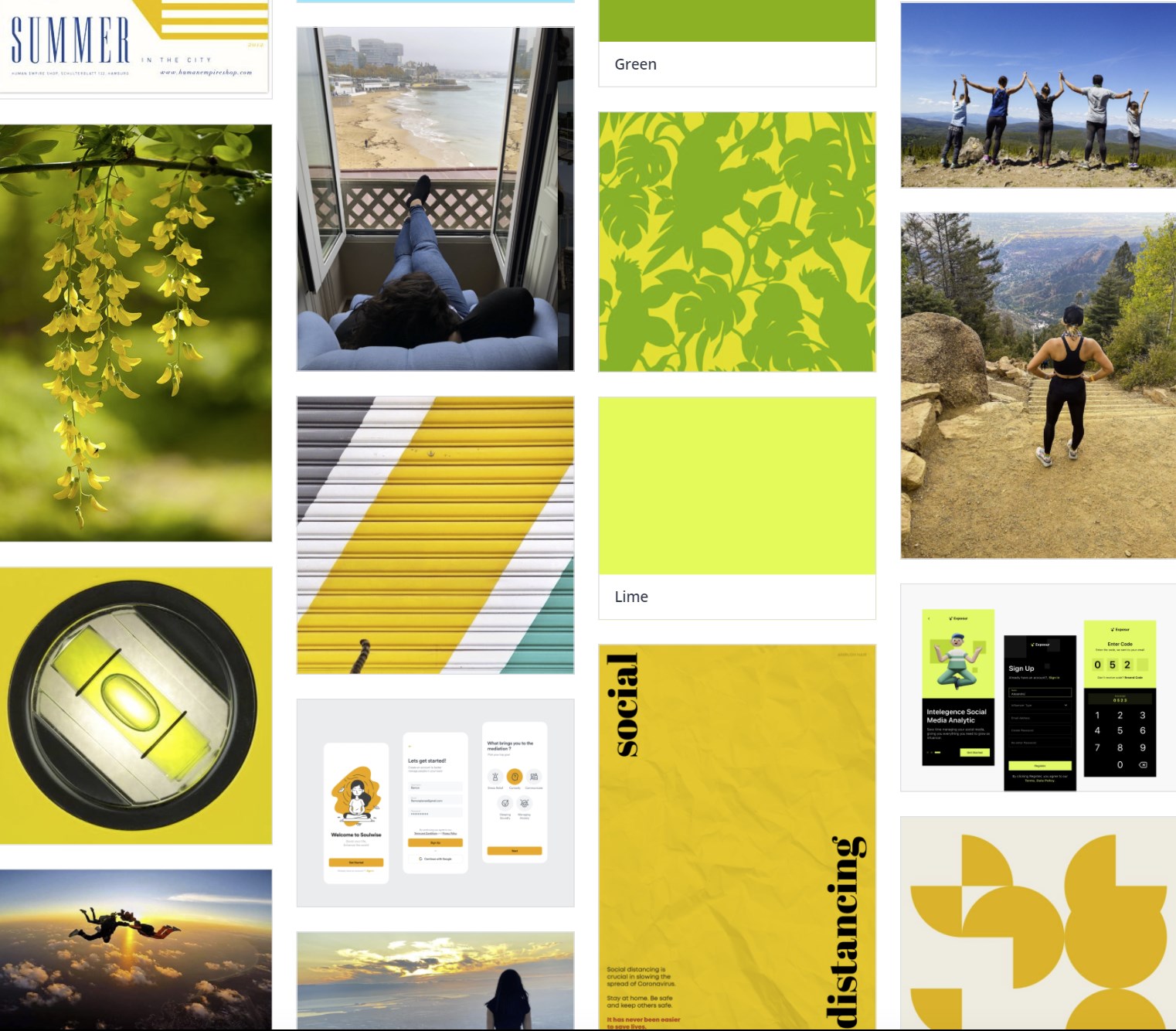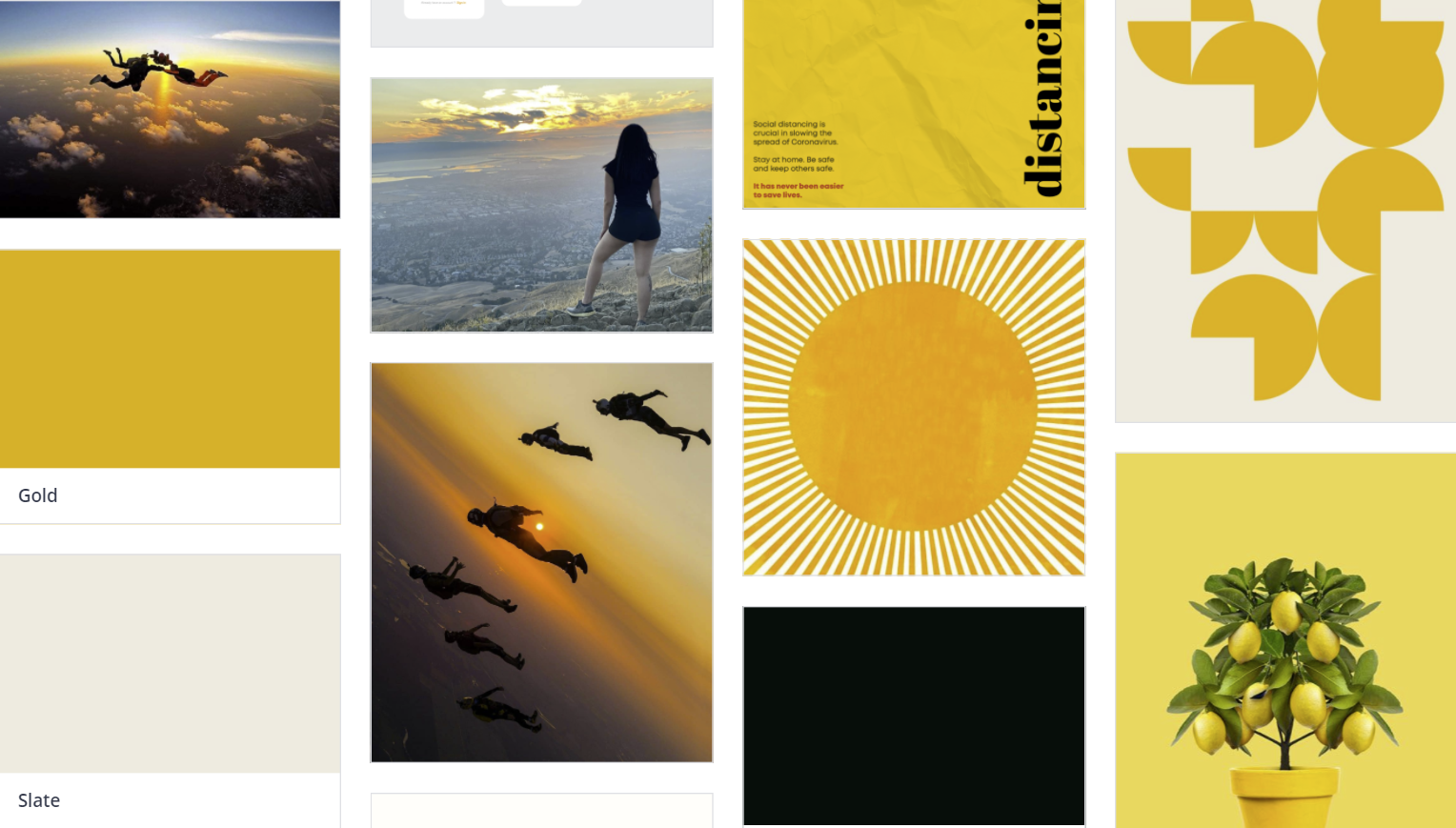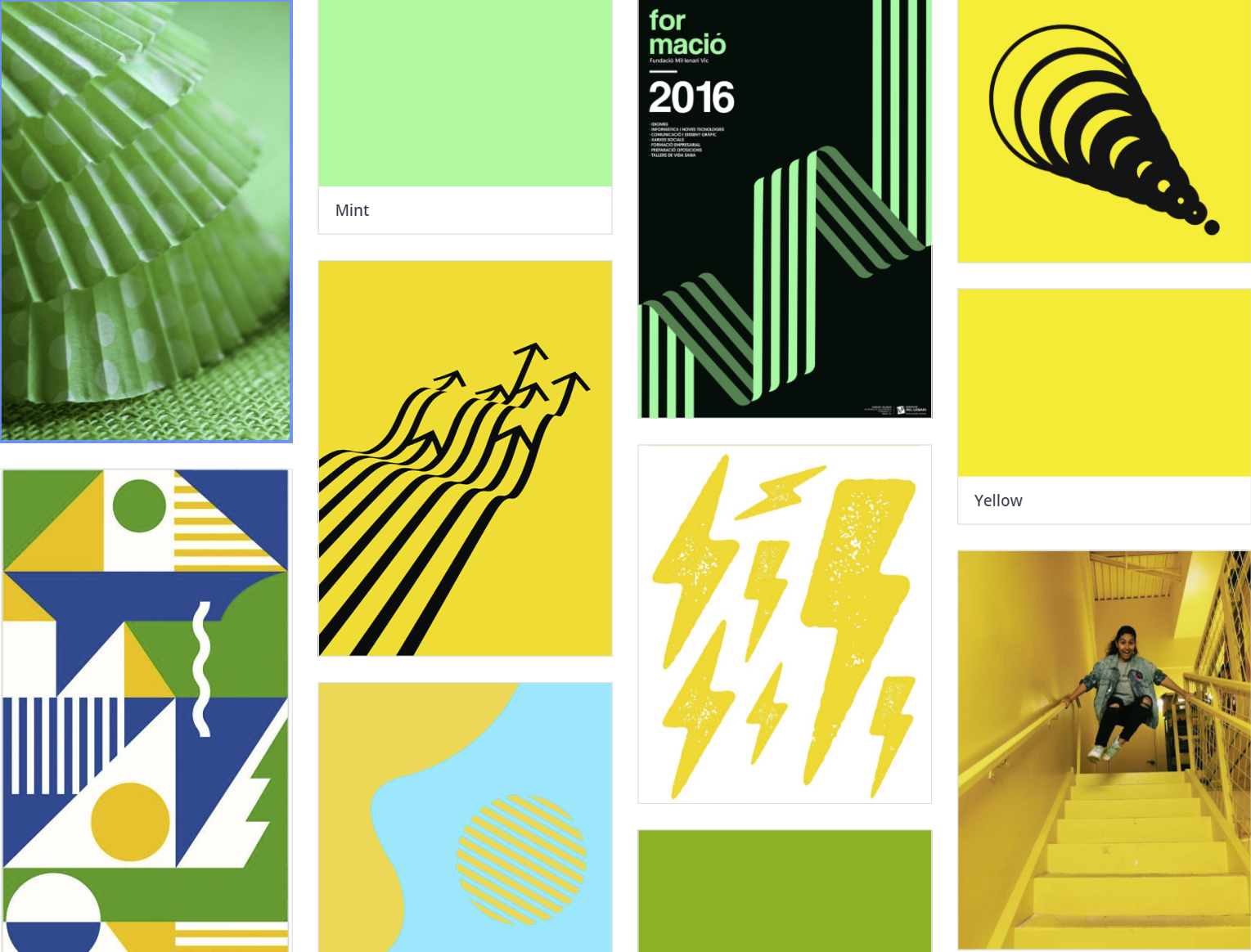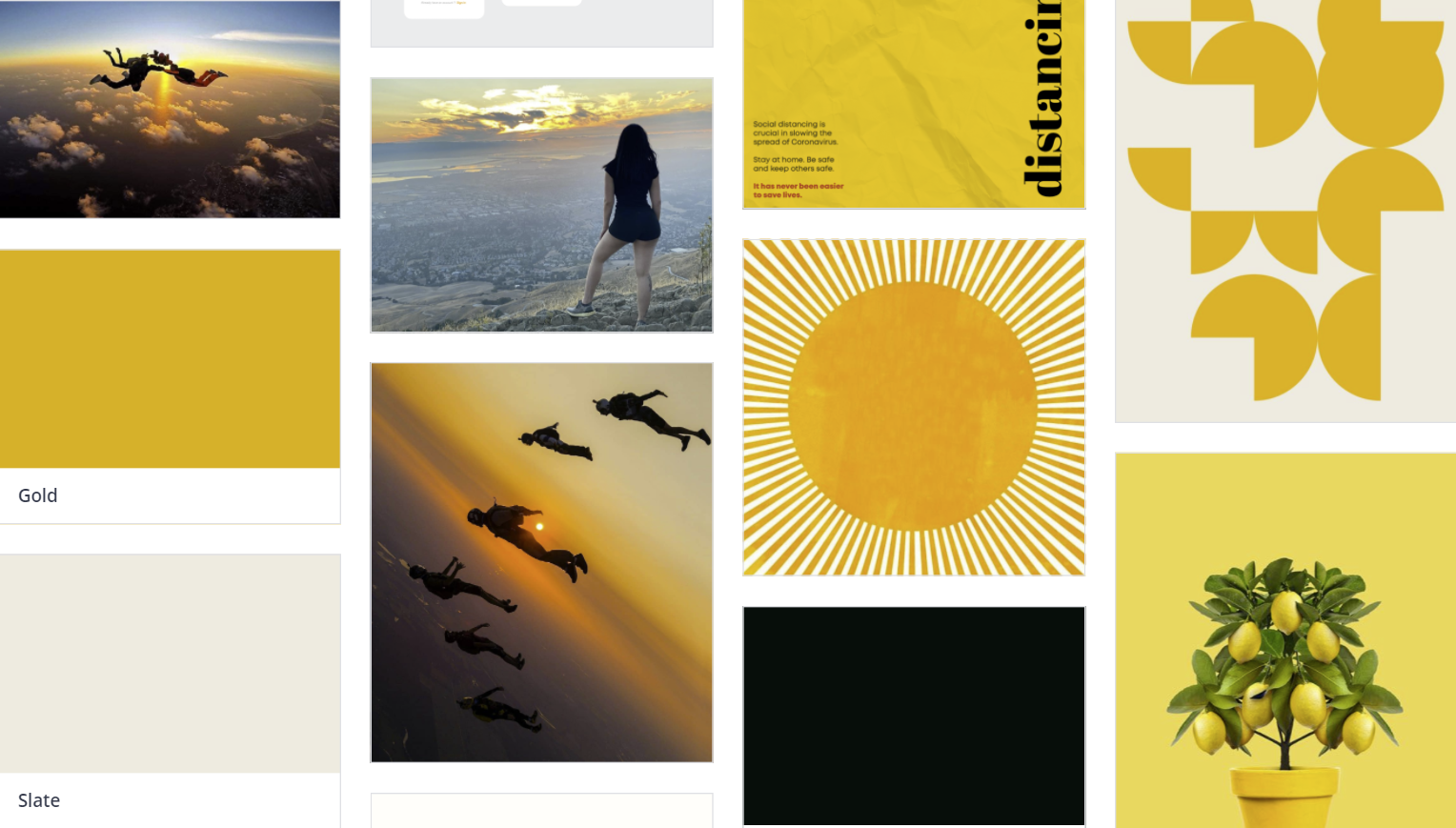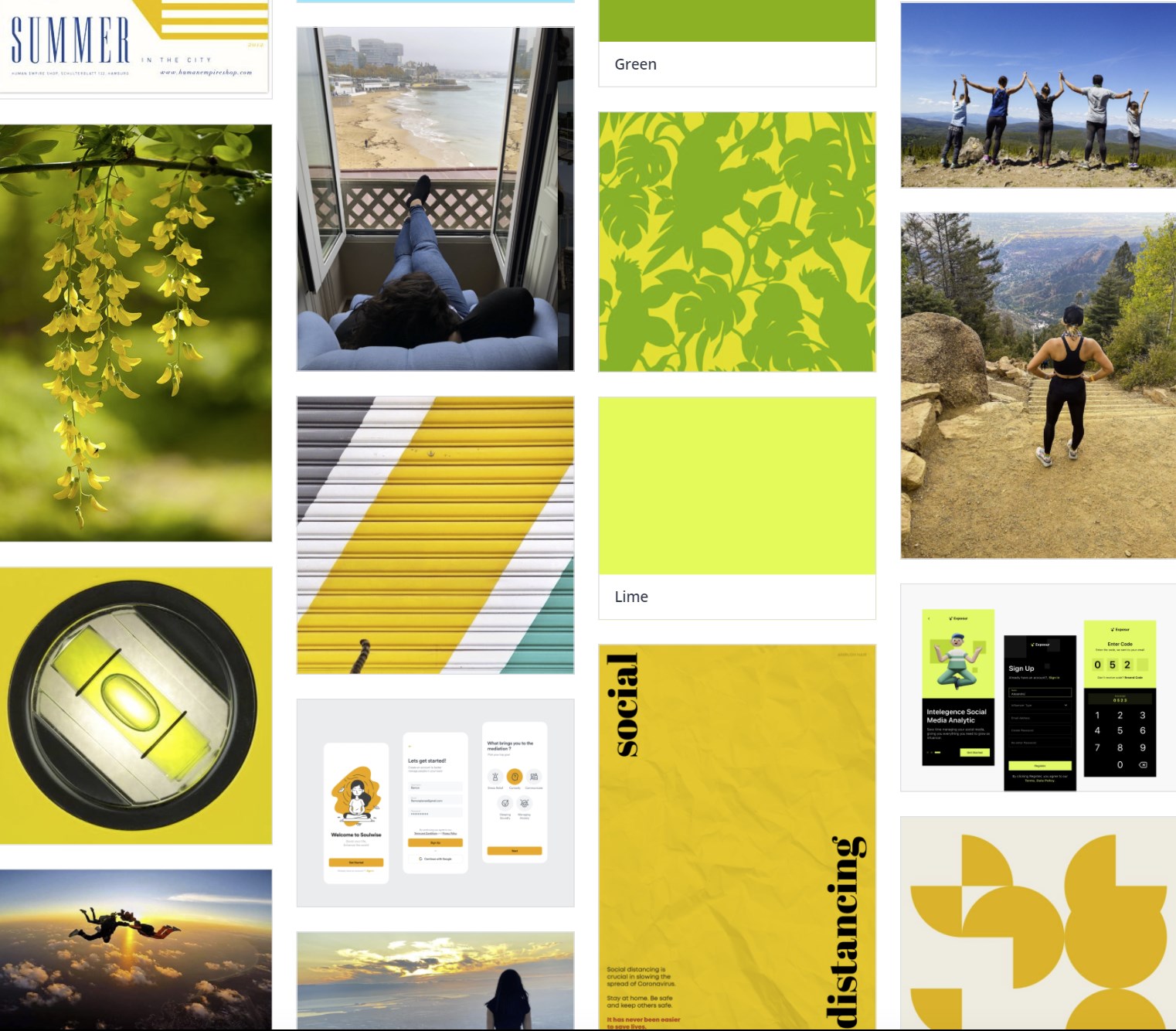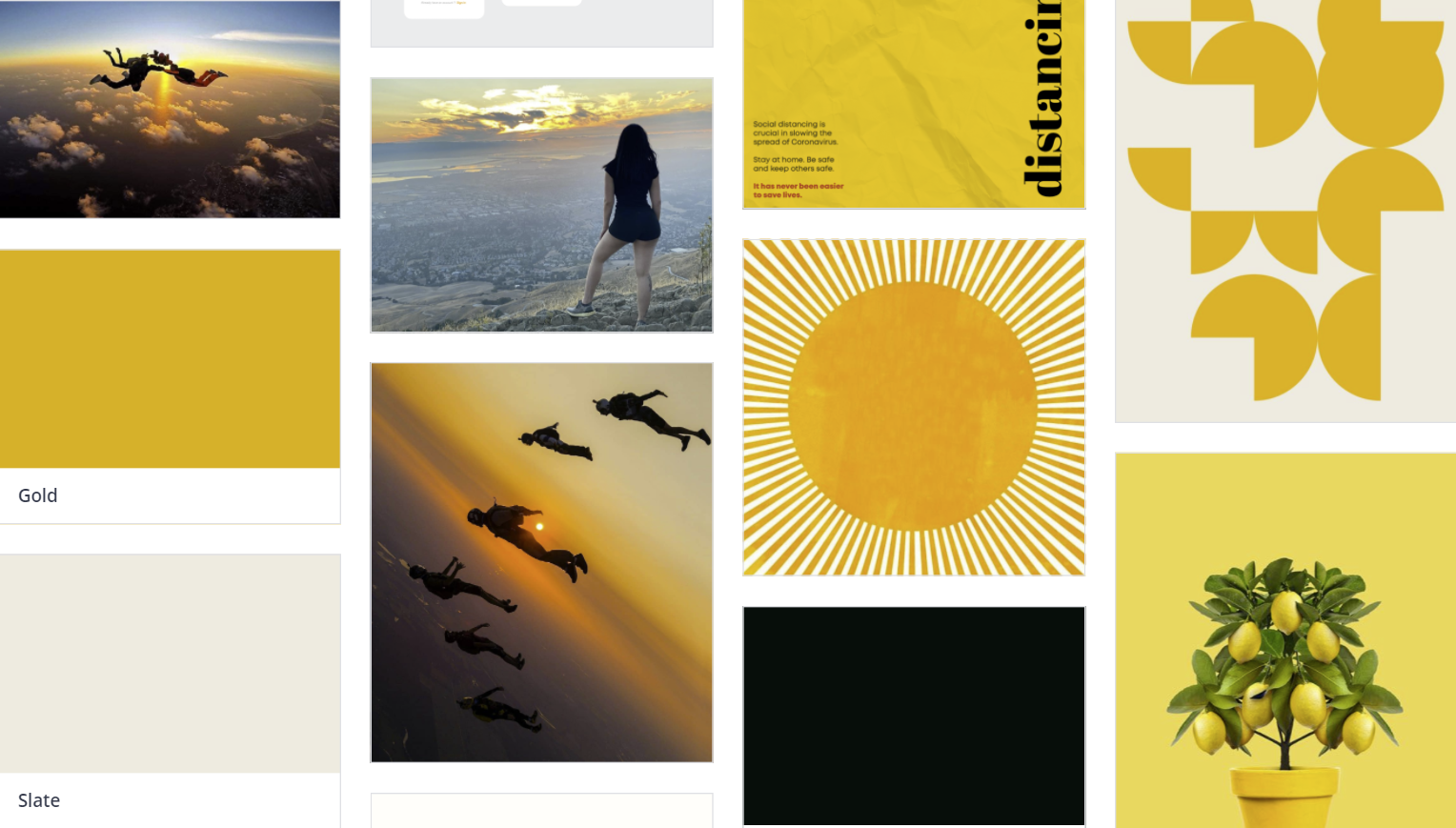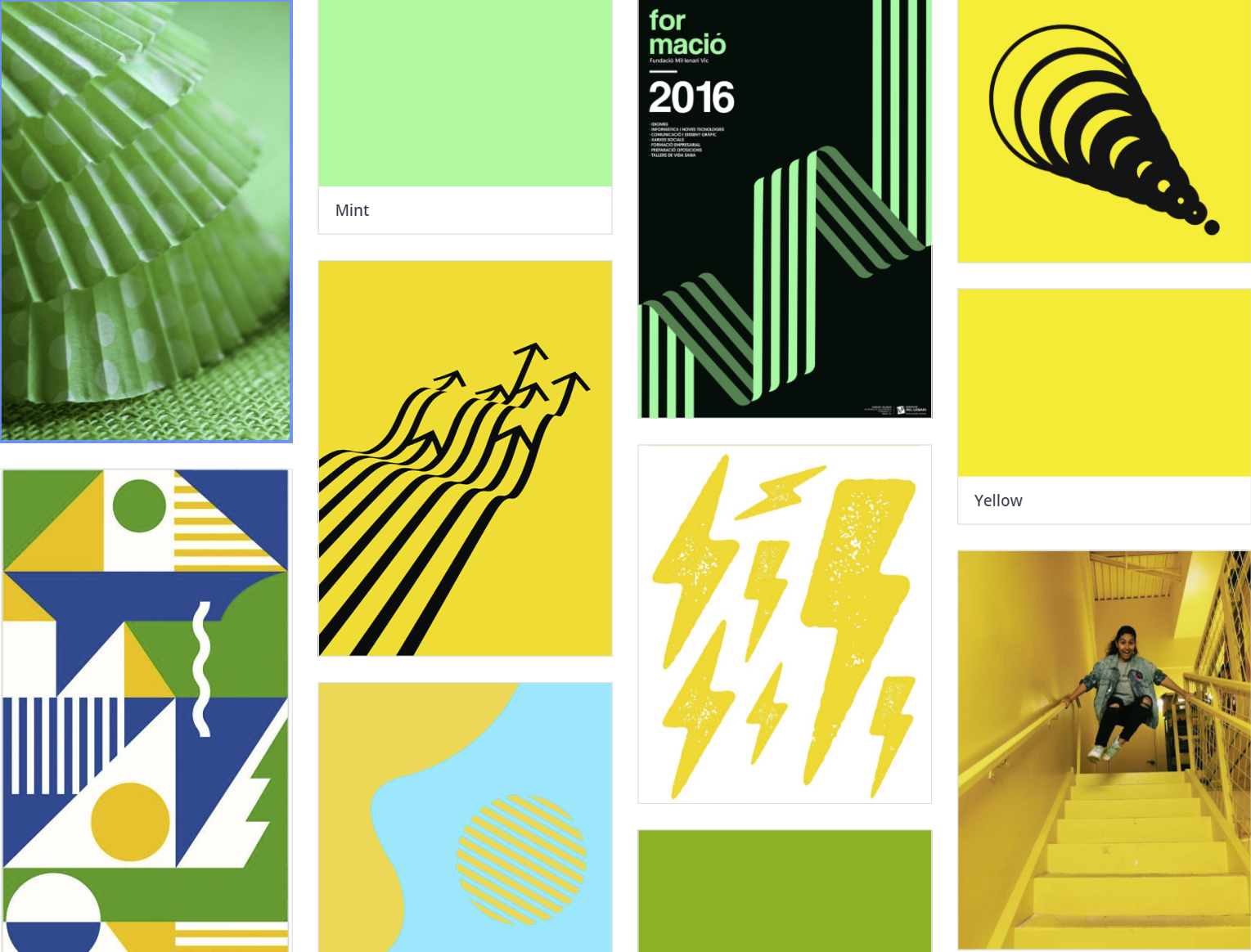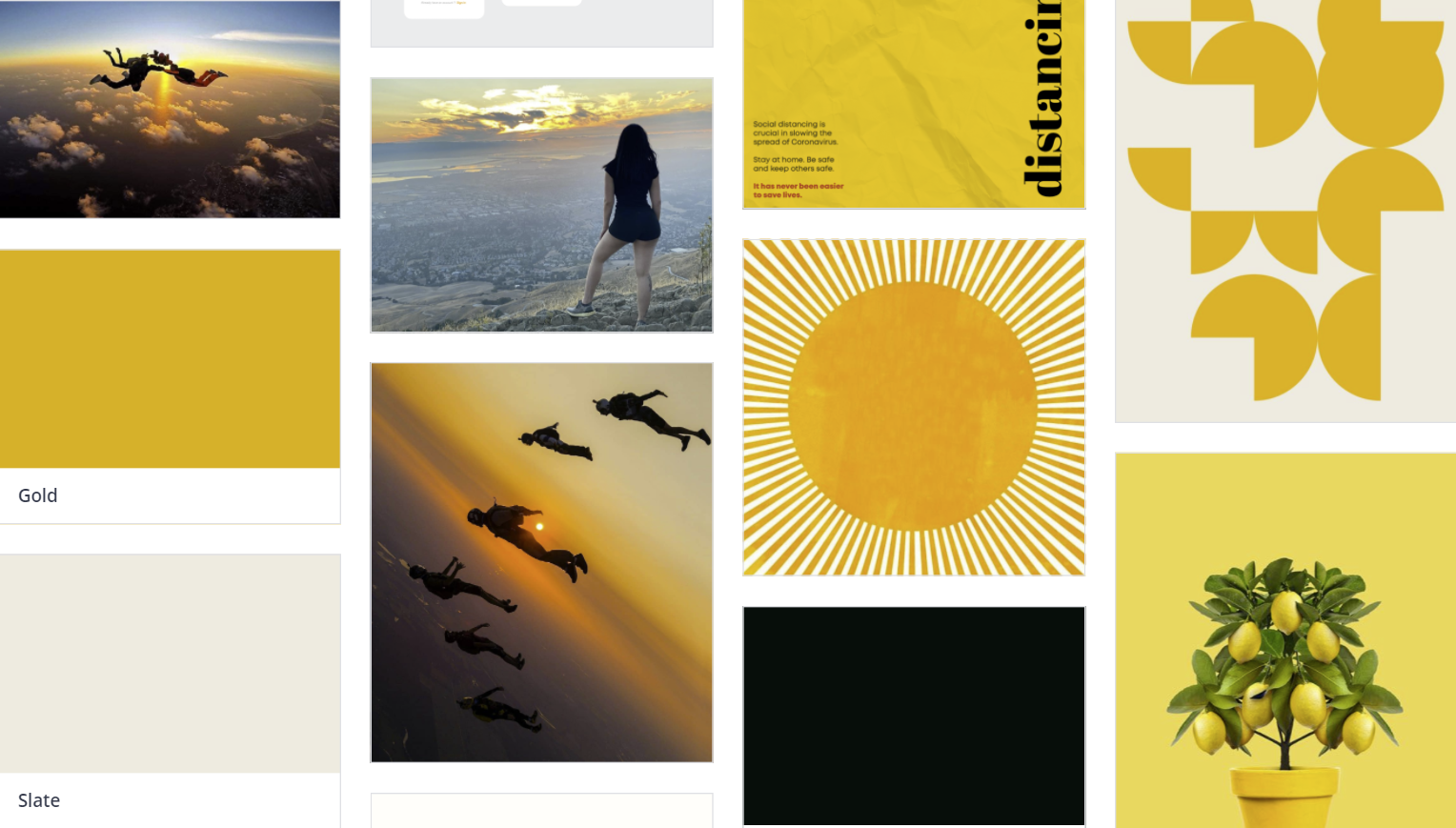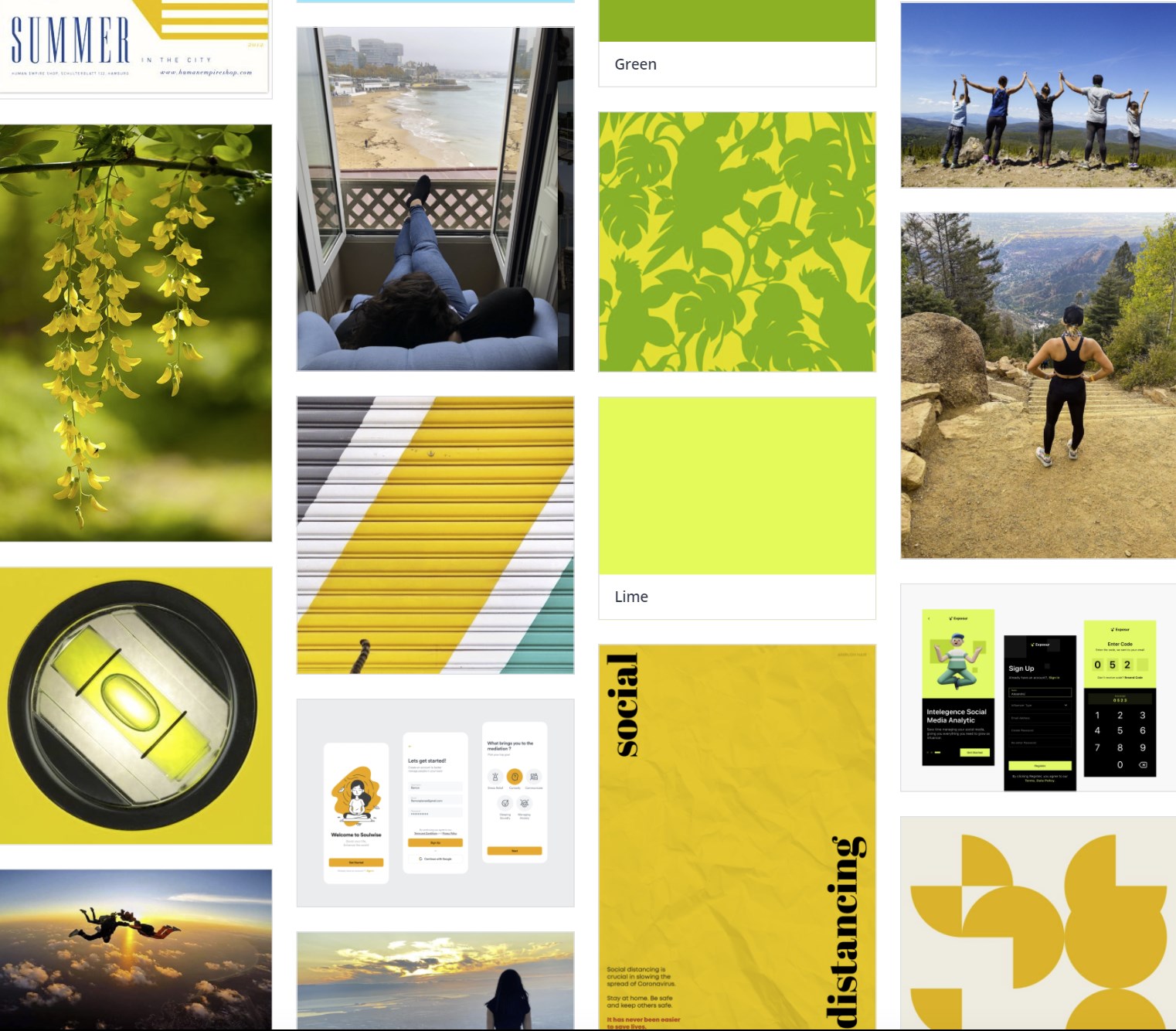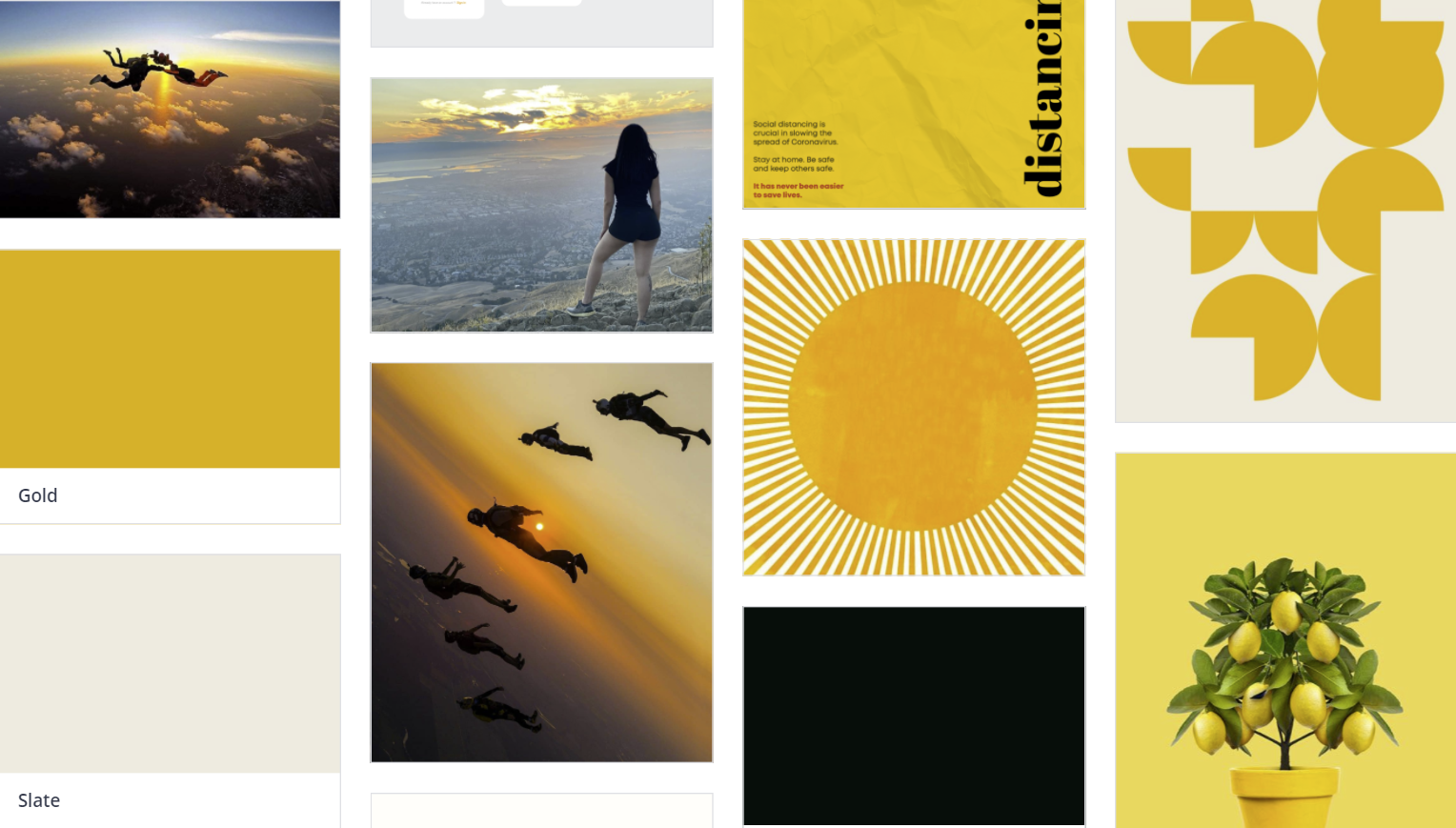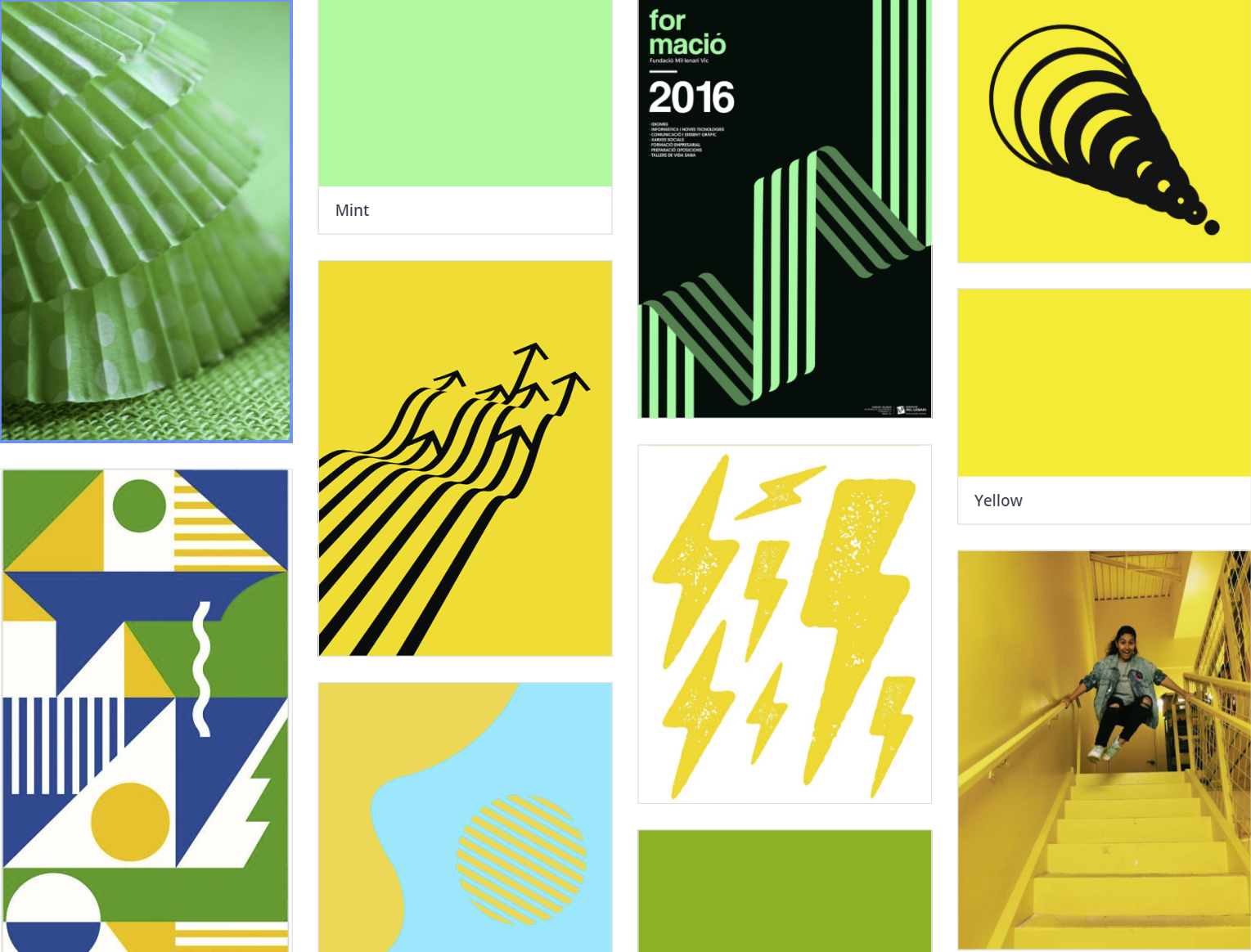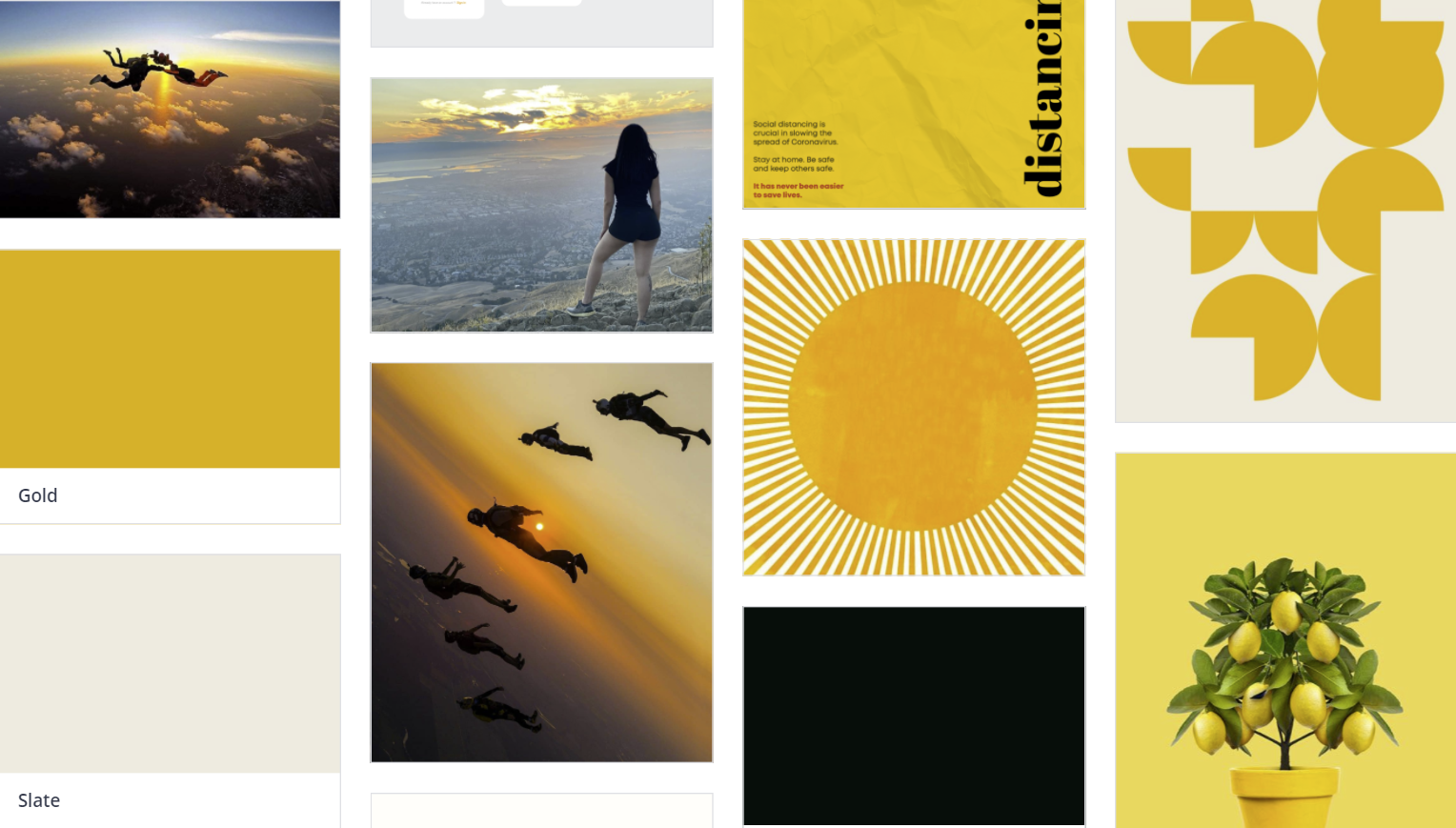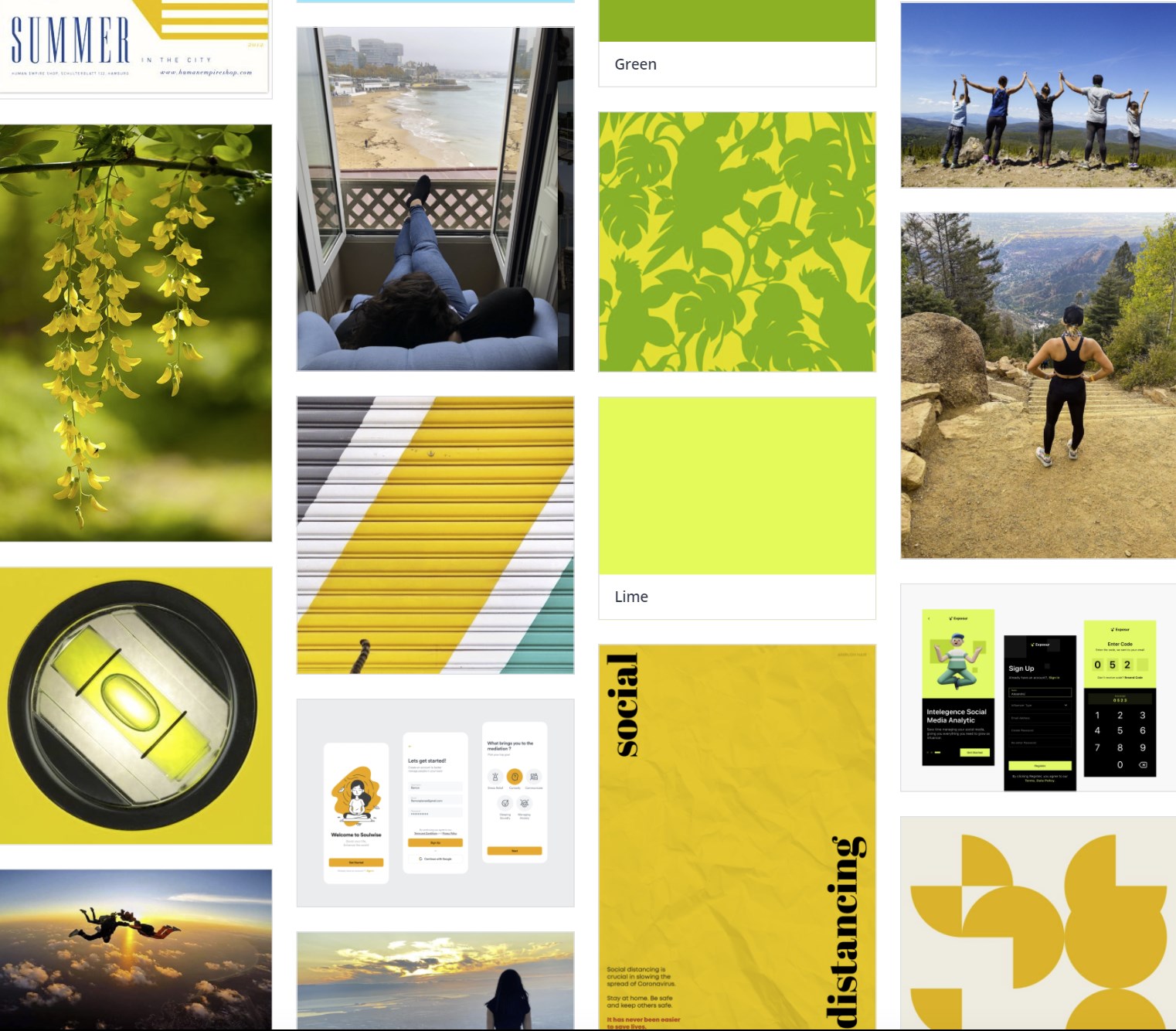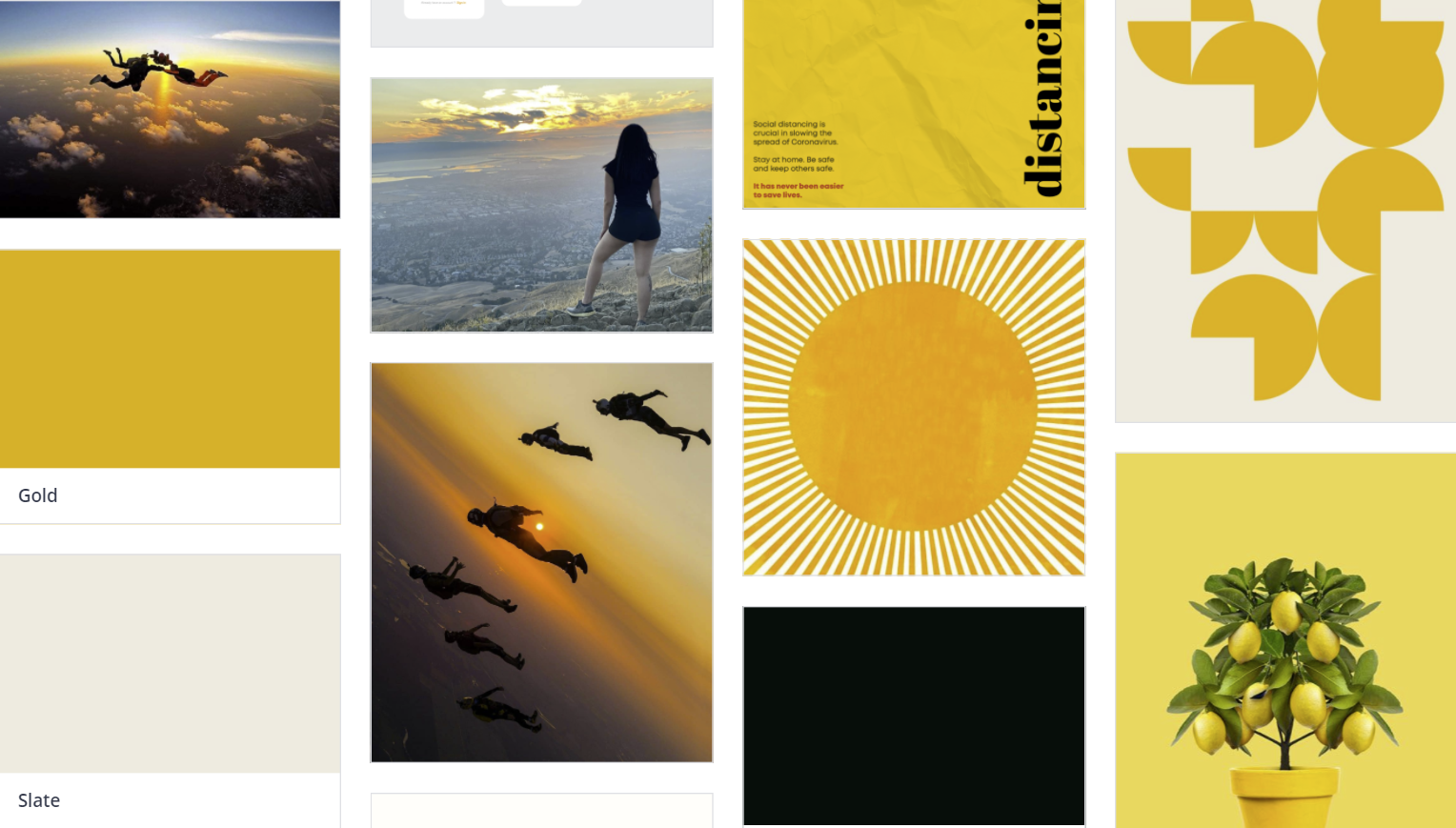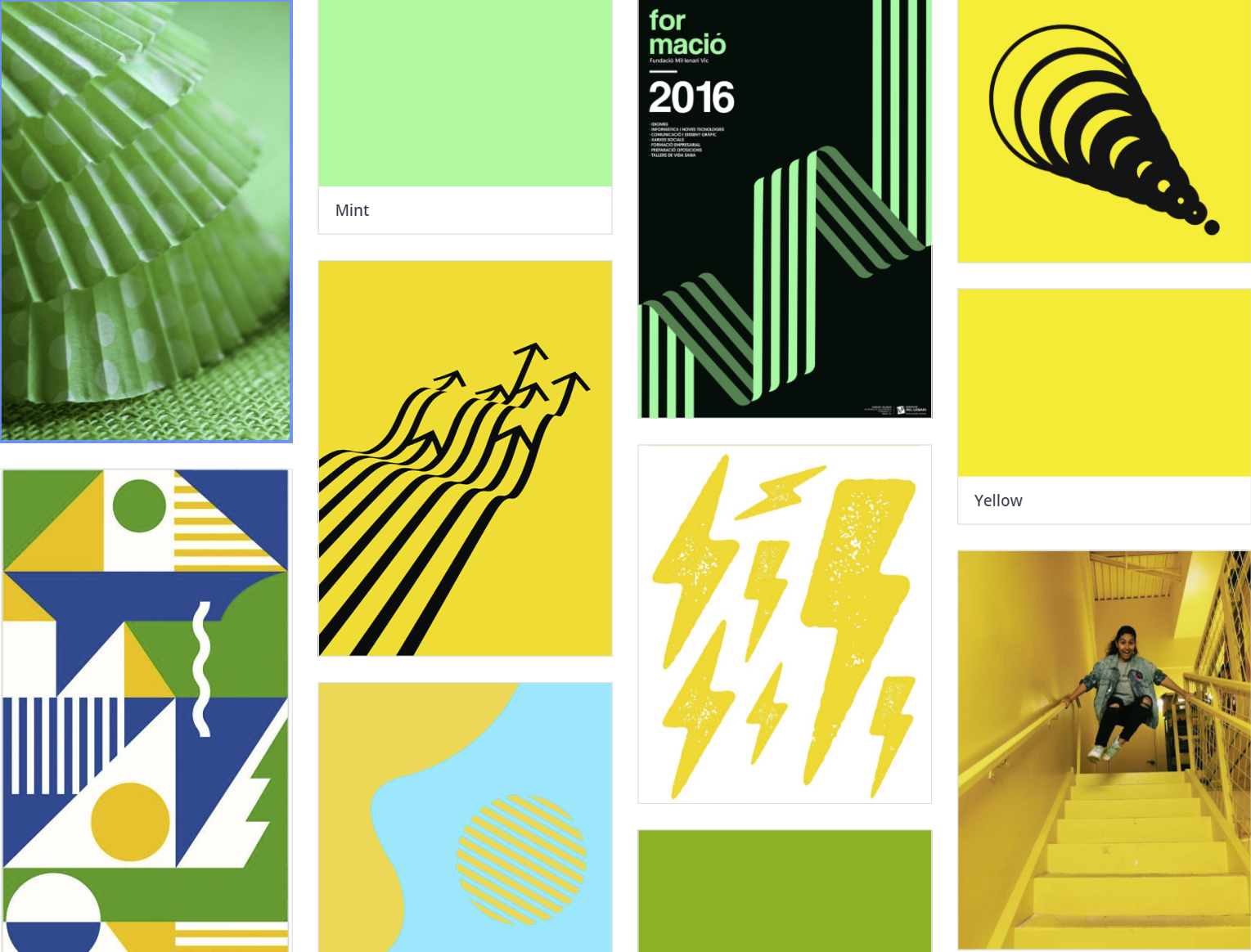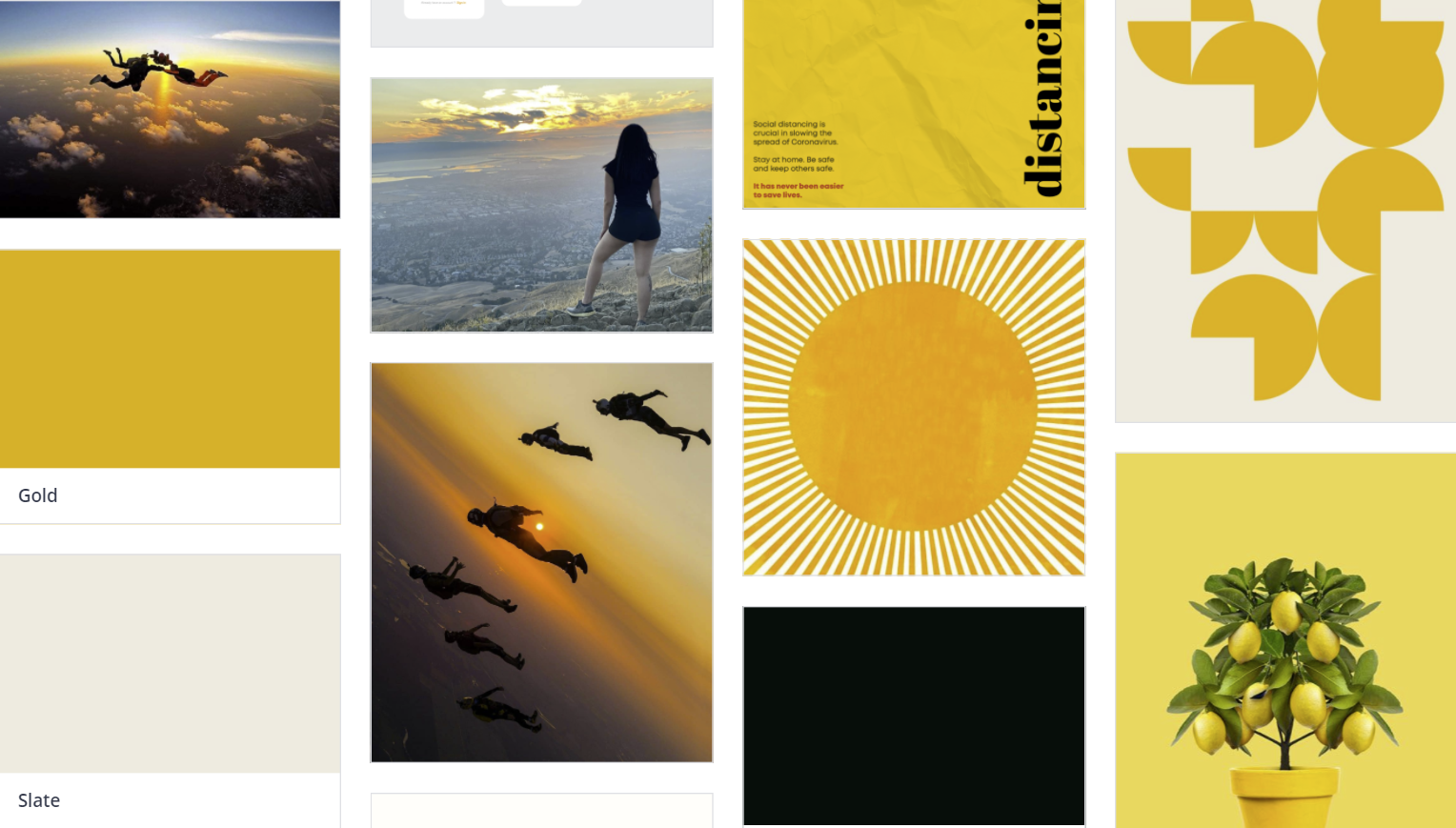 Next Steps
I recently connected with a developer who believes in this project and would like to build it out in full along with me.
Seeing further potential with this idea, I plan to revisit all of my stages with my newly trained eyes and mind to improve on my original efforts.
For starters, I want to make this prototype much more robust and complete—accommodating more task flows and actions to really support our organizers and participants. That being said, it is essential that I find more people like Carl to test this application to truly fine-tune its usability and thus improving their quality of life.